A warden says he wants an inspection of prison windows after an inmate charged with two murders and suspected of three others removed a seventh-floor window and escaped.
THE 12-INCH-BY-18-INCH window was found, intact, on the lower bunk of the cell from which Hugo Selenski and another inmate escaped on Friday, Luzerne County Correctional Facility Warden Gene Fischi said. Selenski remained at large Monday morning.
Similar windows at the jail are also vulnerable to being opened, Fischi said.
The inmates climbed down a rope assembled from 12 prison-issue bedsheets. Selenski's cellmate, Scott Bolton, fell during the escape attempt and was captured on a rooftop, critically injured. Bolton told officials that Selenski pushed him during their escape, but did not say whether it was an accident or not, Fischi said Sunday.
Selenski is charged with the murder of two people whose remains were exhumed from the yard of his home outside Wilkes-Barre. He also is a suspect in the deaths of three others whose bodies were also recovered from his property.
The escape occurred near the end of a two-hour period during which cells are unlocked and inmates in the overcrowded maximum security unit are permitted to leave them to socialize.
Selenski, 30, and Bolton, 39, walked into another inmate's unoccupied cell and removed the same window that was taken out in a failed 1990 escape attempt, Fischi said. The earlier attempt prompted the jail to weld windows to their frames, install bolts and add a layer of wire mesh to the interior.
Officials were examining the post-1990 improvements to see why they failed to stop Selenski and if further modifications are needed, he said.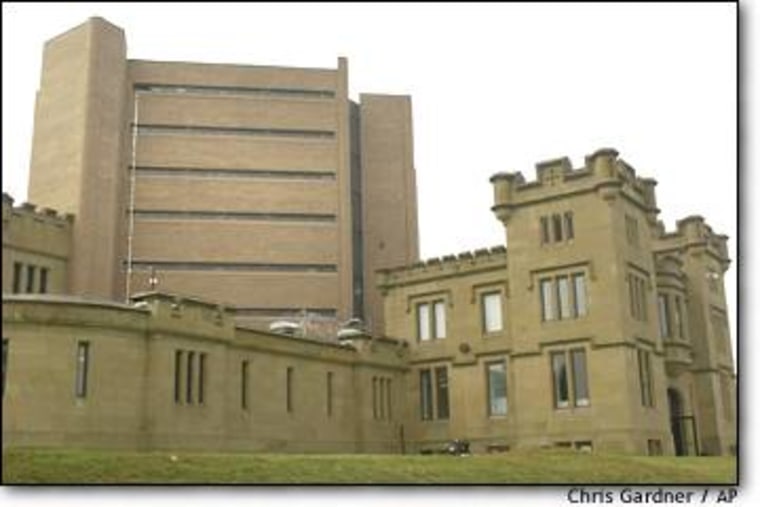 "I welcome an investigation. I want them to test those windows," Fischi said.
District Attorney David Lupas criticized prison officials for allowing Selenski to wear nondescript civilian clothing and for giving the men access to a broom handle that might have been used to pry open the window.
He also said the prison was wrong to allow maximum security inmates to have "free access to each other's cells."
Fischi said that guards are instructed to discipline prisoners they catch in a cell other than their own, but he said that the white T-shirt and gray sweat pants Selenski was wearing are standard exercise attire. The inmates typically wear green jumpsuits, he said.
In the short term, Fischi has added perimeter building checks and more regular inspections of cell windows.
Selenski's attorney, Demetrius Fannick, said neither he nor any of Selenski's family members have had any contact from him. A phone call Selenski made from prison less than two hours before the escape was to his girlfriend, but he did not mention his plans and she was unaware of them, Fannick said.
"She was completely shocked when the police showed up at her door," Fannick said.
Selenski has been in jail since June, when police acting on a tip obtained a search warrant and began digging up bodies in his yard. Prosecutors said two victims, Frank James, 29, and Adeiye Keiler, 22, were killed in May as part of a plot to make money by kidnapping and robbing drug dealers. No charges have been filed in the deaths of the other three: a pharmacist who had been linked to illegal drug sales, his girlfriend and a third person whose identity has not been released.
© 2003 Associated Press. All rights reserved. This material may not be published, broadcast, rewritten or redistributed.