/ Source: The Associated Press
The bullet-riddled bodies of a Chechen activist and her husband were found in the trunk of their car Tuesday, the latest in a string of high-profile killings in Chechnya under its Kremlin-backed leader.
Zarema Sadulayeva and her husband, Alik Dzhabrailov, both 33, had been abducted on Monday from the offices of Save the Generation, the children's charity she runs in the southern Russian republic.
Her relatives, who gathered in her home village of Shalazhi for her burial on Tuesday, said the men who took the couple away identified themselves as police.
The killings followed last month's kidnapping and shooting death of one of Chechnya's best-known rights activists, Nataliya Estemirova, whose body was found on a roadside. As head of Memorial rights group's Chechen branch, Estemirova had exposed alleged rights abuses by the forces of Chechen President Ramzan Kadyrov.
The United States urged an immediate investigation by Russian officials. "We do have deepening concern about the violence of those who are advocating human rights, the rule of law and independent media and humanitarian assistance in the North Caucasus," U.S. State Department spokesman P.J. Crowley said in Washington.
Amnesty International called the killing a reminder "of the climate of impunity in Chechnya," and said officials' failure to investigate the murders of rights activists was a "strong indication that those authorities are at least acquiescent to these crimes," according to a statement.
The Chechen leader, who has denied accusations of being behind Estemirova's July 15 killing, blamed the latest killings on unspecified forces that want to destabilize the republic.
"It was a cruel crime and a challenge to the authorities," Kadyrov said in televised comments. "People who committed this crime wanted to split society. Some don't like stability in the Chechen republic."
Lone witness
A lone security guard witnessed the abduction in Grozny, the Chechen capital. Those who talked to him, including Sadulayeva's uncle and a rights activist, said he described five or six men, some in military fatigues and others in civilian clothing.
Rights activist Kheda Saratova said the guard, who is now under the protection of Chechnya's human rights ombudsman, described the men taking Sadulayeva and her husband away from the office, and then returning to collect the couple's two cell phones and Sadulayeva's car.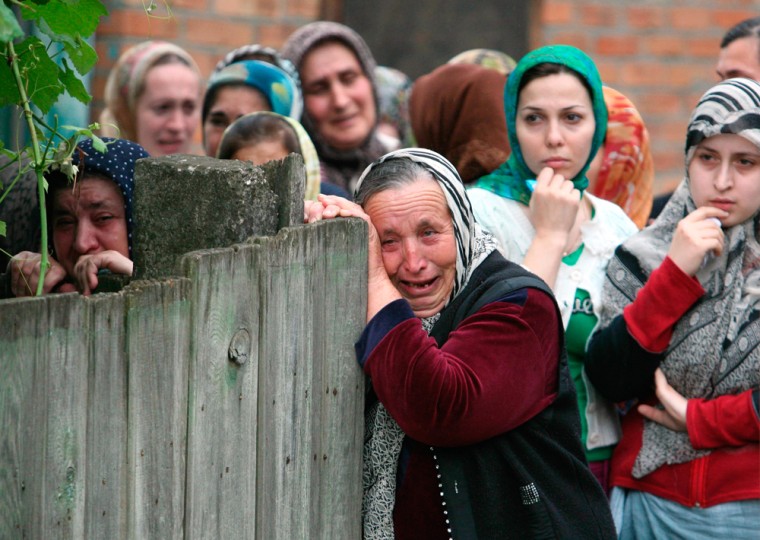 Vakhit Sadulayev, the victim's uncle, cited the security guard as saying the men identified themselves as police. Their main target appeared to have been Dzhabrailov, he said, and when they tried to take him away alone his wife insisted on going with them.
The couple were found shot in the head and chest, the Chechen Interior Ministry said. Their bodies had been stuffed into the trunk of their car, which was parked in a Grozny suburb, according to the rights group Memorial.
Sadulayeva and Dzhabrailov had married a few months ago, after he served time in prison on charges of being a member of a Chechen separatist movement.
Kadyrov speculated that Dzhabrailov was killed in a blood feud, and said he could see no reason for the death of Sadulayeva, whose work helping disabled children had "not bothered anyone."
Sadulayeva's group, which worked with UNICEF, had been helping Chechen children injured during the region's two devastating separatist wars over the last 15 years.
In 2005, a previous leader of the organization was taken into custody by security forces on suspicions of sympathizing with the separatists. He later turned up dead.
'Never driven by money'
At Sadulayeva's funeral Tuesday, her father told a story of her refusing to allow her grandmother to take a few pounds from a large rice shipment. "You have four sons who can buy you rice," Abdulla Sadulayev recalled his daughter saying. "These children have no one."
"She was never driven by money or riches, and honestly fulfilled her mission," he said.
Kadyrov promised to find the killers and punish them. Federal prosecutors also said they would join the investigation.
The Chechen leader had much harsher words for Estemirova, whom he denounced in a recent Radio Liberty interview as a person who "never had any honor, dignity or conscience." The interview was published on the broadcaster's Web site Saturday.
Activist killings
Chechen separatists battled Russian troops and pro-Moscow Chechen forces through two wars after the 1991 Soviet collapse. The fighting has dwindled in recent years as Kadyrov consolidated his control, but opponents accuse him of imposing a regime of fear and impunity. Many of his critics and political rivals have been killed.
Rights activists say that Moscow, by backing Kadyrov, has created a climate that encourages unchecked brutality.
"Our law enforcement structures no longer exist to protect us," Lyudmila Alexeyeva, head of the Moscow Helsinki Group, said Tuesday on Ekho Moskvy radio. "They are protecting the authorities from citizens."
Members of the Helsinki Group issued a statement decrying the killings and promising to continue the fight for the protection of human rights in Russia.
In preparation for the radio program, Ekho Moskvy tried to contact other rights activists in Chechnya.
"We looked down our list and next to almost every name is the word 'died,' 'died,' 'died,'" the anchor said.
More on: | Chechnya