/ Source: NBC News and news services
A wide-ranging State Department inquiry into allegations of lewd behavior and sexual misconduct among the private security contractors guarding the U.S. Embassy in Afghanistan could lead to the termination of the company's $189 million contract, a department spokesman said Wednesday.
The allegations made by an independent watchdog group describe "Lord of the Flies" conditions that include threats and intimidation and scenes of guards and supervisors in various stages of nudity at parties flowing with alcohol.
In at least one case, supervisors brought prostitutes into the quarters where the guards live, a serious breach of security and discipline, the Project on Government Oversight said. In other instances, members of the guard force have drawn Afghans into activities forbidden by Muslims, such as drinking alcoholic beverages.
"We expect to see prompt and effective action taken as a result of these investigations," the spokesman, Ian C. Kelly, told reporters. Other possible actions include rebidding the contract or replacing individual guards and supervisors employed by the contractor, ArmorGroup North America, he said.
Report alleges hazing
The State Department inspector general is leading the investigation of ArmorGroup. U.S. officials in Kabul also are conducting a review, Kelly said. And a team from the State Department's diplomatic security, management and contracting offices will go to Kabul to examine the situation.
ArmorGroup and the State Department came under fire Tuesday after the watchdog group said that the nearly 450 ArmorGroup guards live and work in an oppressive environment in which they are subjected to hazing and other inappropriate behavior by supervisors.
The situation has led to a breakdown in morale and leadership that compromises security at the embassy, where nearly 1,000 U.S. diplomats, staff and Afghan nationals work, according to the nonprofit group.
With insurgent attacks in Afghanistan increasing, any lapses in security put the diplomatic mission there at risk, the group said in a 10-page letter to Secretary of State Hillary Rodham Clinton that details the results of its investigation of the guard force.
The State Department has been aware of ArmorGroup's failings, the letter said, but has failed to correct the problems. Instead, it has renewed the contract twice, with the most recent installment good through July 2010.
Kelly acknowledged that ArmorGroup has been notified eight times of poor performance since the original contract was awarded in March 2007.
Wackenhut Services, ArmorGroup North America's parent company, has not responded to requests for comment.
In a statement on Wednesday, the U.S. Embassy said it was aware of the POGO report. "Nothing is more important to us than the safety and security of all Embassy personnel — Americans and Afghan — and respect for the cultural and religious values of all Afghans," the embassy said.
"We have taken immediate steps to review all local guard force policies and procedures and have taken all possible measures to ensure our security is sound. We will work closely with the Office of the Inspector General (OIG) to investigate the issues raised in this report, but cannot comment further on this ongoing investigation."

Danielle Brian, the Project on Government Oversight's executive director, said Wednesday the investigation of ArmorGroup should be handled by Congress, not the State Department.

"I do not have faith that the State Department will do a good job because they are equal partners in the problem," she said. "They've let this happen."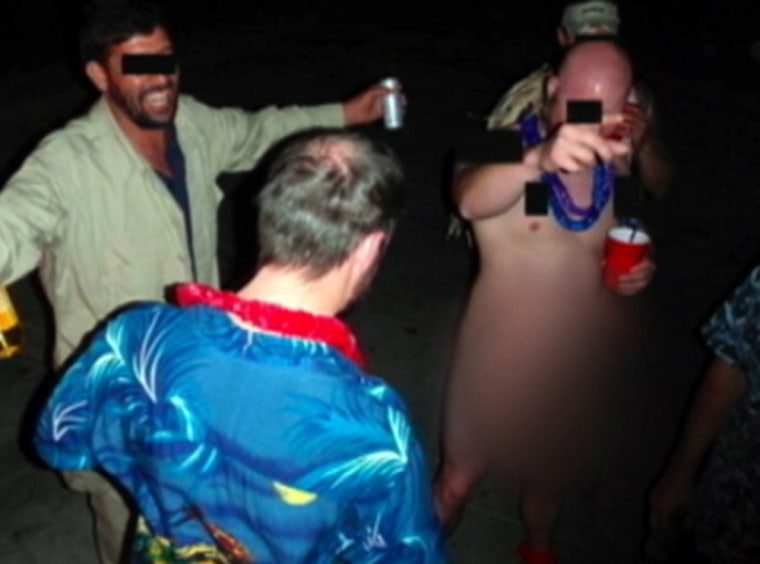 'Lord of the Flies'
Brian also said that she was given a copy of an e-mail that an ArmorGroup manager sent to guards telling them not to talk to government inspectors unless a supervisor is present. Such a restriction will make it difficult to do a thorough investigation, she said.

The Project on Government Oversight's findings are based on interviews with ArmorGroup guards, documents, photographs and e-mails that it said depict a "Lord of the Flies" environment. The reference is to the 1954 novel by William Golding about a group of British schoolboys who are stranded on a desert island and try, but fail, to govern themselves in a chaotic setting.

One e-mail from a guard describes lurid conditions at Camp Sullivan, the guards' quarters a few miles from the embassy. The message described scenes of abuse, including guards and supervisors urinating on people and "threats and intimidation from those leaders participating in this activity."
Photographs show guards and supervisors in various stages of nudity at parties that took place near the housing of other supervisors.
Multiple guards say these conditions have created a "climate of fear and coercion." Those who refuse to participate are often ridiculed, humiliated or even fired, they contended.
"There were some things going on in Kabul that we were not aware of, but we frankly should have been aware of," Kelly said.

ArmorGroup's management is aware of the conditions but has not stopped it or disciplined those responsible, the letter said. Two supervisors alleged to be the worst offenders have been allowed to resign and may now be working on other U.S. contracts, the group said.
The group's investigation found sleep-deprived guards regularly logging 14-hour days, language barriers that impair critical communications, and a failure by the State Department to hold the contractor accountable.