/ Source: The Associated Press
Did The Donald and the dictator make a backdoor deal? If so, the plan to pitch a tent in this suburb for Libyan leader Moammar Gadhafi went south pretty fast. Maybe someone should be fired.
A tent erected by the Libyan government on Donald Trump's estate in Bedford was dismantled Wednesday, and both Trump and the Secret Service said Gadhafi wasn't coming.
For Gadhafi, it was just another failed attempt to find a place to spend time during the UN General Assembly — after his requests for space in Central Park, Englewood, N.J., and Manhattan's Upper East Side were all rejected.
Long unpopular in America, the Libyan leader is now particularly unwelcome after he gave an effusive welcome-home reception for Abdel Baset al-Megrahi, the Libyan convicted of the bombing Pan Am Flight 103. Al-Megrahi was recently freed from prison because he's dying of prostate cancer.
Questions persist
For Trump, questions persisted.
Did he know he might be handing over the use of his lush, 213-acre Seven Springs estate to Gadhafi? Or was the mogul unwittingly renting some upscale digs on his suburban lawn 33 miles north of the United Nations?
Neither explanation would fly on Trump's former hit reality show "The Apprentice," said Rabbi Shmuley Boteach, an author who helped kill plans for Gadhafi to set up a tent on the grounds of a Libyan compound next door to Boteach's home in Englewood, N.J.
Trump "would say `You're a loser, and you're fired," Boteach said.
Trump returned a reporter's call Wednesday but refused to answer questions on the record.
In a statement about the dismantling of the tent, he did not name "the tenant." On Tuesday, the Trump Organization hinted he had been hornswoggled when he agreed to rent his prime acreage.
"We have business partners and associates all over the world," it said. "The property was leased on a short-term basis to Middle Eastern partners, who may or may not have a relationship to Mr. Gadhafi. We are looking into the matter."
'Very sensitive, very delicate'
Rhona Graff, a Trump vice president, said Wednesday she had nothing to add about the deal.
"It's a very sensitive, very delicate matter," she said. "I want to make sure I'm 100 percent correct before I get anything to you."
She did not immediately respond to e-mailed questions about what Trump knew and how he felt about a Gadhafi tent on his land.
Bedford officials — who learned the tent had been pitched on Tuesday — grew impatient with the real estate titan. Before the tent was dismantled at about 4:45 p.m., town attorney Joel Sachs said Trump's people were not cooperating.
Sachs threatened criminal charges for violating zoning and housing laws, with financial penalties, if the tent was not taken down. Trump could pitch a tent once he obtained the necessary permits, which would take longer than Gadhafi's weeklong trip to New York.
Residents of the upscale suburb said Gadhafi was unwelcome in Westchester.
"We are outraged that this known criminal would attempt to set up camp in our community, and we intend to do everything in our power to deny them temporary residence," town Supervisor Lee Roberts said.
Gadhafi, who stayed at the city's Libyan Mission after arriving Tuesday, addressed the General Assembly on Wednesday, castigating the Security Council by saying, "It should not be called the Security Council, it should be called the 'terror council.'"
Calls to the mission were unreturned or went unanswered Wednesday.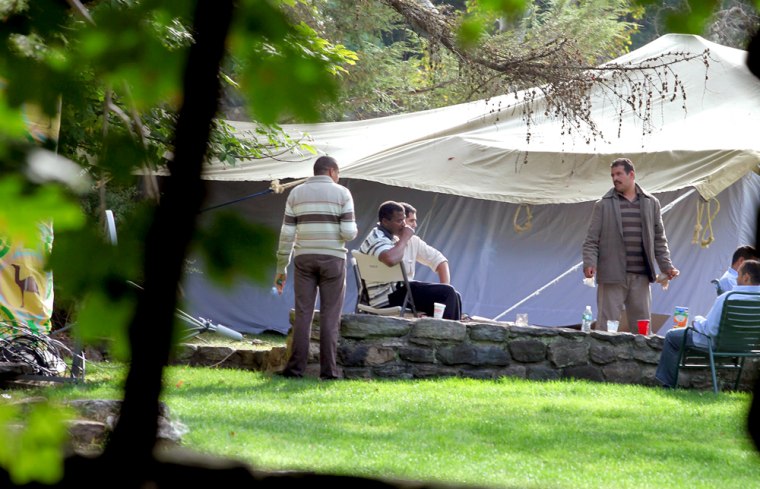 Demonstrators kept away
Demonstrators were kept well away. Among them was Boteach, an author and frequent TV commentator.
"It's very disheartening to hear that Donald Trump has seemingly opened his doors to Gadhafi," he said.
Gadhafi tried other venues for a tent before turning to Trump's estate. The Libyan government asked to use Manhattan's Central Park for a tent, but that request was denied. And at least one real estate agent added to the resistance.
Jason Haber, a broker at Prudential Douglas Elliman, said Wednesday that Libyan representatives asked to rent an Upper East Side townhouse for a "very important person."
When he told them only part of the building was available, they said they needed the whole house and asked, "Isn't there some way we can make this work?"
"If you send Megrahi back to Scotland, I'm sure we can work something out," he responded, and they hung up.
More on: |