The Immigration and Naturalization Service is putting the final touches on a new computer database of all 7,500 U.S. educational institutions and exchange programs authorized to enroll foreigners. Officials say the system will give immigration authorities their first ever means of identifying every foreign student in the country. But the system has its critics, and many point out that nothing about the new database would have prevented the Sept. 11 terrorists from carrying out their attacks.
THE NEW SYSTEM is known as SEVIS - Student and Exchange Visitor Information System. The database draws information from all the colleges, universities and exchange programs around the United States. Previously, the federal Immigration and Naturalization Service tracked such students only if questions were raised by law enforcement and intelligence agencies, and even then, as Sept. 11, 2001, tragically proved, only in a cursory manner.
The INS told schools last year that they would have to register for the database by Feb. 15, 2003, to be eligible to enroll foreign students in the future. The INS says it knows of no major institution that missed the deadline, despite a considerable amount of complaining from universities about the bureaucracy involved.
However, MSNBC.com has learned that only 4,087 of the more than 7,500 potential candidate institutions identified by the INS have been certified to enroll foreign students so far.
Chris Bentley, an INS spokesman, confirmed that some 1,800 applications are still awaiting certification, a situation that could greatly affect the number of foreign students enrolled in American schools next year. Traditionally, the late winter and early spring are when decisions on admissions and student aid grants are finalized.
MISGIVINGS
Even if the backlog is cleared up, many universities have misgivings about the new system.
"It is a good system for providing INS ready statistics on foreign students, but it cannot tell INS who is good and bad," says Masume Assaf, assistant director of the foreign student office at Pennsylvania State University. "One can be a full-time student and still be engaging in undesirable activities."
Victor Johnson of the Association of International Educators, a group that represents foreign students, says the system threatens to lump all foreign students into a "suspicious persons" category. "No doubt that errors in the system caused giving of student visas to the terrorists, and those defects have to be looked into patiently," he says. "But what is not needed is a disproportionate response to that in terms of singling out foreign students for additional vigilance."
BREACH OF TRUST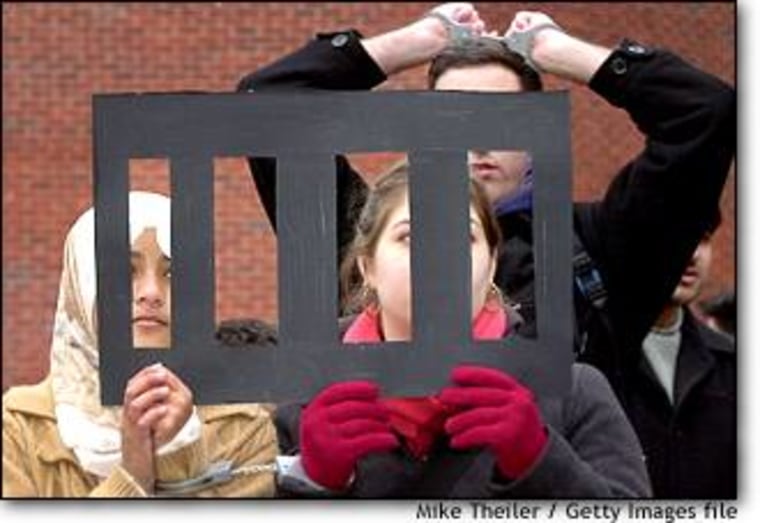 Attorney General John Ashcroft, announcing the launch of the SEVIS program last summer, reaffirmed the administration's commitment to keeping
America's schools open to foreign students, a practice that Ashcroft said promoted American culture and "the love of freedom."
But he also added: "We can no longer allow our hospitality to be abused."
The program he outlined that day is an Internet-based tracking system that requires schools to regularly report on foreign students' status — whether they drop out, fall below the full load of coursework required for their visa status, graduate early or face disciplinary action. This information will be available at all U.S. ports of entry, at visa offices overseas and to U.S. law enforcement officials.
The system has cast universities in the uncomfortable role of enforcement agencies. A school's previous efforts on behalf of foreign students, according to Michael A Brzezinski, director of Purdue University's foreign student office, largely were confined to making them feel at home in a very different cultural setting. Now, he says, there is a watchdog relationship.
"We are helping the students to be in the right status as the INS expects them to be," says Brzezinski. "We try to make sure make sure they do not make any ill-informed decisions affecting their visa status."
At the University of Pennsylvania, an Ivy League school with about 5,000 foreign students, this has become a serious new burden on university staff.
"Just to collect the information and put it into the database is an onerous responsibility and has made our work go up in scale," says university official Shalini Bhutani. "Keep in mind that much of all this tracking existed before the new database was announced. Now what has happened is that the consequences are more severe if a student fails to meet all conditions."
FALLING BETWEEN THE CRACKS
Some foreign students fear disruption of their studies largely because they do not understand all the nuances of the changed rules. Claire Yi, a graduate student from China in the liberal arts program at Pennsylvania State University, says she is afraid she will run afoul of the law by accident.
"I have been in the program for three years. I changed my residence once and informed INS, as required by the new regulations," says Yi. "But my biggest worry is whether I will be able to come back or not, if I go home for vacation."
Bhutani says a lot of her staff time will be devoted to ensuring such mistakes don't occur. Still, she fears they may be inevitable.
"Recent events have affected us adversely. One has to be very careful, and we feel we are under scrutiny all the time," says Felicisimo Jay Ver, a University of Pittsburgh student from the Philippines. "Even a miscommunication or an error in making entry on the part of administrative staff at schools could send you back to your country."
Vidushi Sinha is an intern and George State University student working at MSNBC.com this winter.