A string of better-than-expected first-quarter earnings has convinced some on Wall Street that Corporate America is on the comeback trail. But skeptics say the economic outlook is still too murky to call for a sustained recovery in profits.
With the busiest weeks of first-quarter earnings season now in the rear-view mirror, Wall Street is getting a clearer picture of how corporate profits are shaping up. And in general companies are beating analysts' earnings expectations by wide margins.
More than two-thirds of the companies the Standard & Poor's 500-stock index have now reported earnings that beat analysts' expectations by an average of 6.9 percent, according to research firm Thomson/First Call. That's well above the historical norm of a 2.7-percent rise, noted Ken Perkins, a research analyst at Thomson.
About 63 percent of the companies that have reported first-quarter earnings have beaten analysts' estimates, 22 percent matched estimates, and 15 percent have missed estimates, according to Thomson.
"It's a good sign, but it doesn't mean we're going to see a huge rebound in earnings," Perkins said, noting that while this season's batch of quarterly profit reports has bested expectations, many companies issued cautious outlooks.
Perkins also notes that much of the rise in overall earnings has come from a surge in oil and natural gas prices during the first quarter, which in turn has boosted earnings for a number of energy-related companies.
Wall Street cheers earnings
Judging by the stock market's advance this month, Wall Street is pleased with corporate America's performance.
For the month of April, the Dow Jones industrial average has climbed 6.1 percent, while S&P 500 index, a closely-followed measure of the market's health, has risen 8.1 percent, its biggest monthly gain since October 2002. Since hitting pre-war, 4-month low of 800.73 on March 11, the S&P index has gained about 15 percent.
"We're seeing the mood shift in the marketplace," observed Al Goldman, chief market strategist at A.G. Edwards. "Earnings season has been a pleasant surprise, the Iraq war is over and oil prices are falling nicely. We're looking for the economy to recover in the second-half and that's what the market is starting to discount."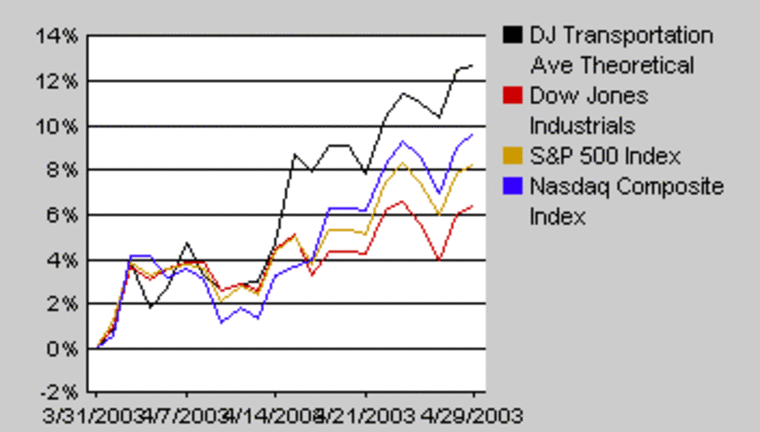 While the tone of earnings season has been upbeat, and earnings for the S&P 500 index are poised to finish the quarter up an impressive 12.8 percent, experts caution that the quarter is benefiting from a favorable year-over-year comparison with the first quarter of 2002, when earnings for the S&P 500 slumped by 11.5 percent.
Indeed, the technology sector, which is beating first-quarter earnings expectations by 10 percent, is mostly benefiting from an easy earnings comparison from the same period one year ago, when earnings for the sector slumped 27 percent, according to Thomson/First Call's Perkins. "Tech earnings are starting to look a bit better, but there isn't a dramatic improvement," he said.
In other sectors earnings for basic materials, utilities and consumer cyclical stocks are surpassing analysts' estimates, posting gains of 21 percent, 17 percent and 14 percent, respectively. Relative to earnings expectations, the energy sector is not tracking much better than analysts' expectations, Perkins said, as estimates for firms in the group were revised higher in March as energy costs soared amid tight supplies and a looming war.

Another concern, according to Ozan Akcin, chief market strategist at New York-based investment firm Ehrenkrantz King Nussbaum, is earnings in the quarter have been produced for the most part by cost-cutting, and not by a rise in revenue, which would indicate that the U.S. economy is seeing sustained improvement.
"In the first quarter we're looking at earnings growth of between 11 and 12 percent, but revenue growth is between 2 and 3 percent," said Akcin.
"It's good to see bottom line growth, as it means businesses are retaining some income and will have more of it to put towards business expansion," Akcin added. "But this quarter is very low on the revenue side, and we need to see that pick up going forward."
Another factor boosting quarterly earnings is corporate America's affinity for managing earnings expectations, according to Akcin. Specifically, companies temper down their earnings outlook, only to wow Wall Street with a better-than-expected result.
Year-end recovery expected
Many on Wall Street still expect earnings to rise dramatically towards the end of the year, when economic growth is expected to take hold. Analysts expect 6.3 percent earnings growth in the second quarter, 12.6 in the third quarter and 21.2 percent in the fourth quarter, according to Thomson.
The vital ingredient for earnings growth is business spending, according to Perkins.
"We're seeing a drop in earnings next quarter because Wall Street doesn't think [capital expenditures is] likely to materialize," Perkins said. "When there's a clear signal it's on the rise, we'll see the stock market start to move up and then a pick-up in earnings. Until then, corporate America will continue to be cautious."
A good sign of whether businesses are starting to spend will be Thursday's monthly manufacturing index from the Institute for Supply Management, according to Ehrenkrantz King Nussbaum's Akcin. He said he expects the index to show growth for April after falling below the 50 demarcation line late last year. (A reading below 50 for the index reflects a shrinking manufacturing sector.)
"The war is out of the way and the fact we have earnings growth is good," noted Akcin. "These are the sorts of conditions where we expect to see business spending going up, but there has been a lack of confidence on the part of businesses."
Reuters contributed to this story.