/ Source: msnbc.com news services
Turkey will not send troops to Iraq to relieve U.S. forces, the government announced Friday, after Iraqi officials made it clear that they did not want Turkish soldiers to join the coalition. Turkish officials had earlier signaled the possibility of that decision, which is a setback for the Bush administration.
"WE SAID from the beginning that we were not too eager anyway," Foreign Minister Abdullah Gul said Friday. "We had said we would send if our contribution would be of use. We saw that this is not the situation. That's why we took this decision."
Turkey's Parliament voted last month to allow a contingent of troops to join the U.S.-led occupation of Iraq, Turkey's neighbor to the southeast. U.S. officials had pressed Turkey, the only majority Muslim nation in NATO, to approve sending troops.
Prime Minister Recep Tayyip Erdogan said Turkey had never guaranteed that its soldiers would go to Iraq. "We said when Parliament granted us the authority that it did not necessarily mean we would send troops there," he said.
Turkey said earlier this week that it would not send peacekeeping troops without an invitation from the Iraqi Governing Council. Some council members had expressed opposition to Turkish deployment, citing ethnic tensions and uncomfortable memories of the Ottoman empire, which ruled Iraq for about 400 years.
The Pentagon had been counting on a third multinational division, possibly led by Turkey, but that has not materialized.
Washington acknowledged Friday that Turkish troops might not add to stability in Iraq, where attacks on U.S.-led forces are a daily occurrence.
"Obviously, we would have preferred if this [had] all worked out very nicely to everybody's satisfaction, but let's remember that the goal is stability in Iraq," State Department spokesman Richard Boucher told reporters.
"There is recognition, I think, on all our parts — the United States' side, Turkish as well as the Iraqis — that maybe this deployment at this time would not add to that goal in the way that we had hoped it would," he added.
U.S. ROTATION PLANS
The news from Turkey followed the Pentagon's announcement Thursday that the U.S. military would undertake its largest series of troop rotations since World War II when it sends 85,000 new Army and Marine combat forces to Iraq to replace soldiers ending one-year tours.
In addition, 47,000 National Guard and reserve forces are being notified that they will be activated to serve in Iraq or Afghanistan, Defense Secretary Donald Rumsfeld told reporters.
Some of the troops rotating into Iraq will be returning for their second tours of duty there, some of them only a short time after they were sent home, Rumsfeld said.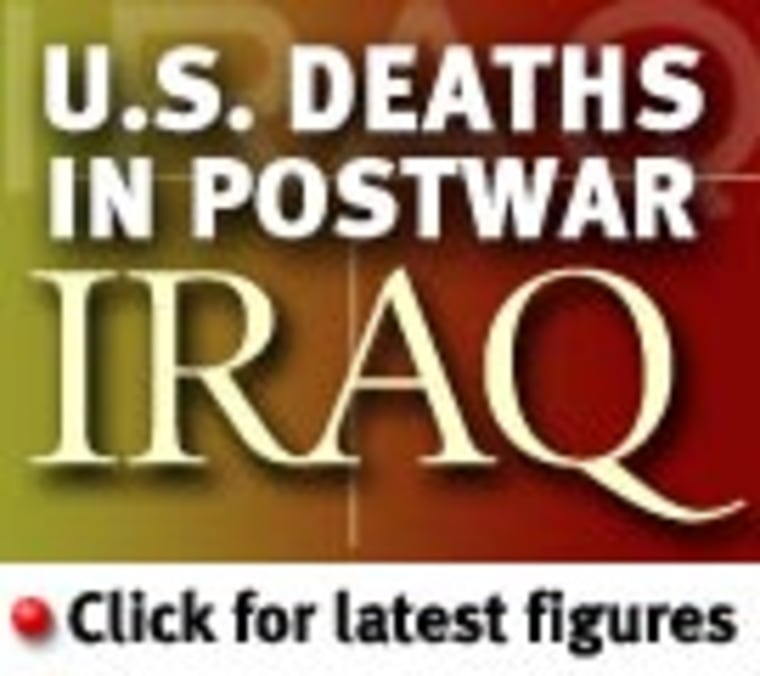 But their time there will be limited. Reservists will be called up for a maximum of 18 months, with a year in Iraq, Rumsfeld said, while the Marines will be deployed for a year, with seven months in Iraq.
Marine Gen. Peter Pace, vice chairman of the Joint Chiefs of Staff, said Wednesday that the 132,000 U.S. troops now there could decrease to just more than 100,000 in May.
The reduction contrasts with calls from some in Congress for increased force levels. The Bush administration says it can improve security and stability in Iraq with fewer U.S. forces because it is rapidly increasing the number of Iraqis trained for security missions.
The Associated Press and Reuters contributed to this report.