Think of them as the gifts that let you keep on giving: Following in the footsteps of Beanie Babies, Pokemon cards and video games, more and more kid gadgets start out with the basics and offer add-ons that should see you through birthdays, holidays and tooth-fairy treats for months to come. Of course, that can be a good thing or a bad thing.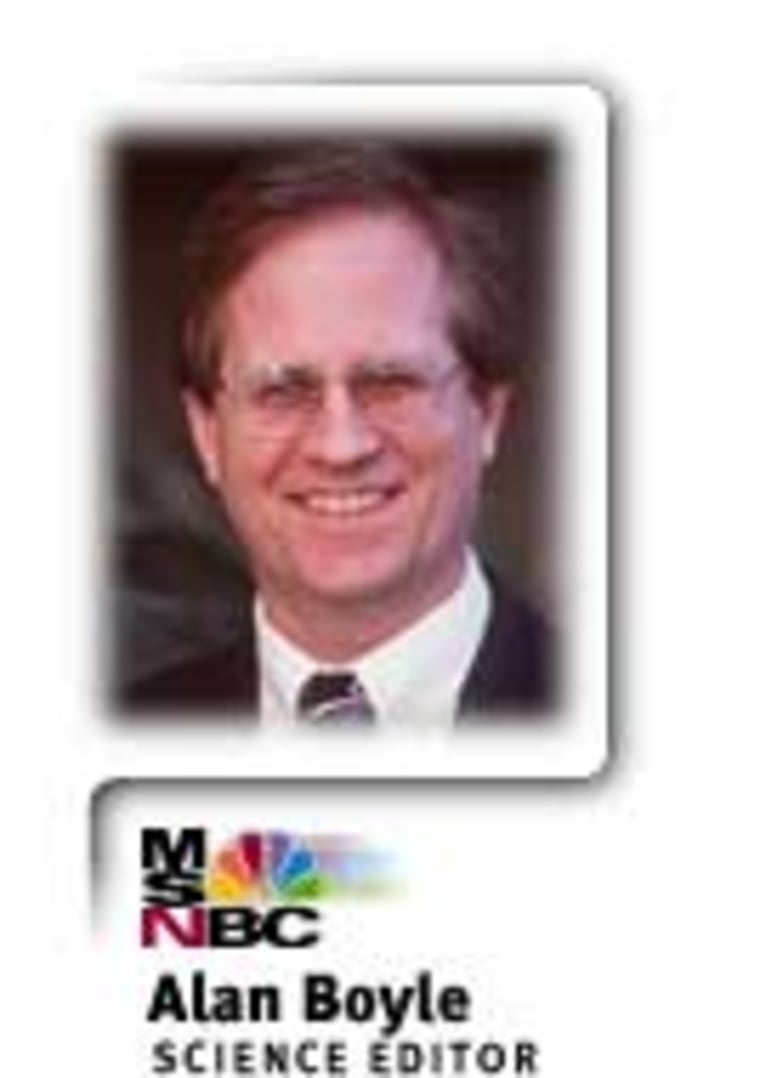 THE WIDE LINE of educational toys put out by LeapFrog would definitely qualify as a good thing: Leapfrog's newly released Quantum Pad learning system was voted one of the top educational toys in the "Today" show's annual toy test, filling out a spectrum of products that can literally take kids from their ABCs to the SATs.
The basic idea behind the products — My First LeapPad (ages 3 and up, $40), LeapPad (ages 4-8, $50), Turbo Twist (ages 6-11, $30), Quantum Pad (ages 8-10, $50) and the iQuest handheld quiz device (ages 10-18, $60) — goes back to the electric quiz games of the 1950s. Kids navigate through interactive pages using a "magic pen," and the devices' electronic innards respond with answers and encouragement.
The devices for younger types look like glorified Etch-a-Sketch toys, but the Quantum Pad resembles a laptop, and the iQuest looks more like a Game Boy or a handheld computer. For each device, LeapPad puts out libraries of books and cartridges, with each themed package (say, on phonics or astronomy or college test preparation) selling for $13 to $25. There's also a subscription service for learning activities that can be downloaded from the Internet.
MICROPETS
What do you get when you cross a Beanie Baby with a Furby? If you could reduce the result to an inch and a half in size, it'd probably come out like MicroPets, a series of pint-size plastic playthings produced by Tomy for kids aged 5 and up.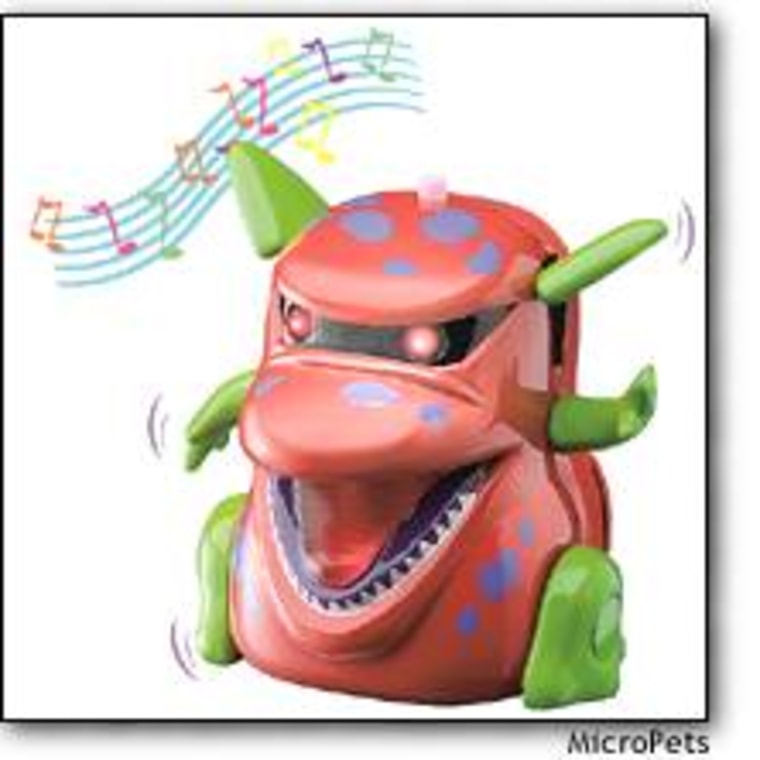 The under-$10 robo-creatures are sculpted to look like dogs, cats, bears or fanciful monsters — and they're programmed to move, sing or flash in response to voice commands. The catch here is that you're not supposed to stop at just one — if you buy additional MicroPets, they interact with each other. And besides, it makes a better package for the eBay auction.
In fact, the first 10 MicroPets were quickly "retired," in a none-too-subtle attempt to increase their collectible value. But Thomas R. Graham, a grown-up from Massachusetts who spent weeks putting the MicroPets through their paces, reported on Epinions.com that the toys themselves didn't match the hype.
"It takes quite a bit of time and practice just to learn how to get the MicroPets to consistently respond to a few commands; I wonder if children (6-10, for example) will have the patience needed to make the MicroPet work like they would want it to," he said.
REMOTE-CONTROLLED MINI-CARS
This year, the field of radio-controlled (or infrared-controlled) cars has more entrants than the starting-line rundown for the Indy 500.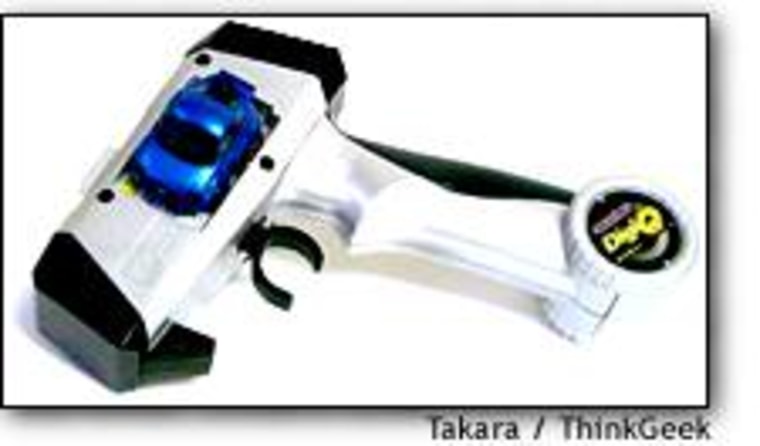 You can choose from several lines of matchbox-size RC cars, including the classic BitChar-G, MicroSizers, the Digi-Q and the iRacer, the Mini Z, HPI Micro and RadioShack's ZipZap cars. Usually, you charge up the cars for a few minutes in order to get a few minutes of race time.
Starter sets run from $20 to $60. But that's exactly the point: They're just the start. You can customize and accessorize your mini-cars — or buy an assortment of cars with different frequency settings for racing. For brand comparisons, check out the postings at the Micro RC Car Center.
HITCLIPS
Tiger Toys' HitClips and their younger siblings, KidClips, take the "think small" trend to the music world. The music players are miniaturized earbuds or fit-in-your-palm boomboxes that play minute-long samples of songs on electronic chips.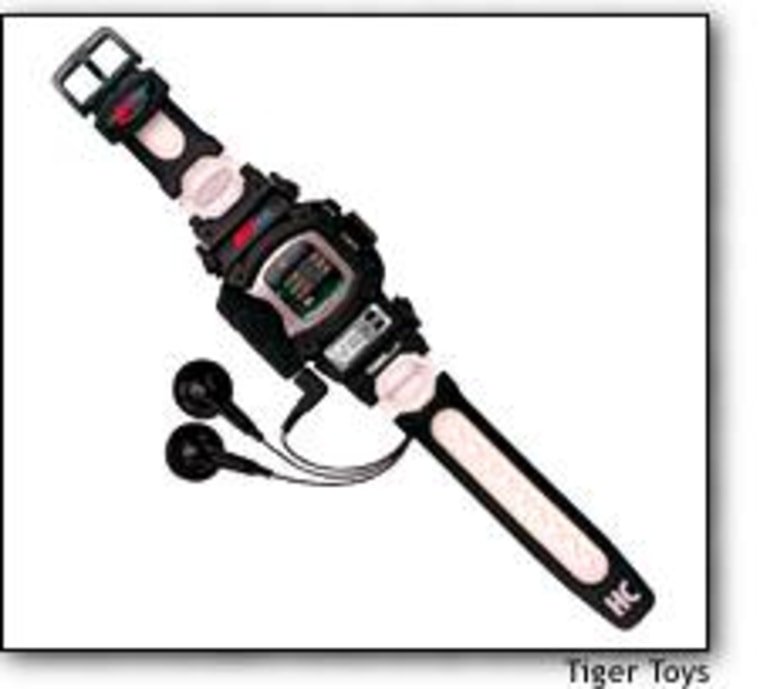 The KidClip selections (ages 3 and up) tend toward the Disney and Sesame Street end of the the spectrum, while HitClips (ages 5 and up) get into 'N Sync, Britney Spears and the like.
The price tags for the players — as well as for 3-packs of the mini-tunes — are in the $8 to $15 range, just nibbling at the lower edge of the CD and MP3 market.
Reviews from kids on the ParentsTalk Web site have been mixed. "I think it's kewl cause you get to hear the song before you buy the CD," one 7-year-old reported. But a 10-year-old retorted: "I say save your money for a real MP3 player!"
EXTRA CREDIT
Here are some of the other tech toy trends: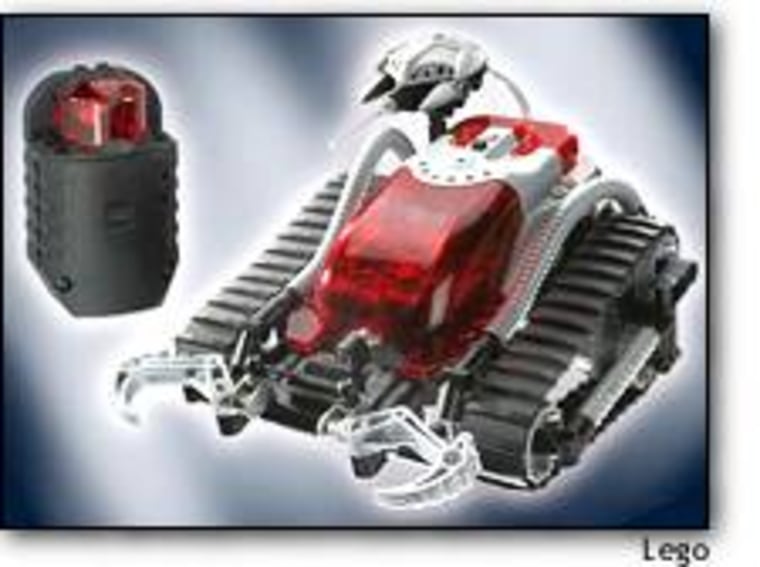 Robo-gifts: What would a high-tech holiday season be without robots? Kasey the Kinderbot (ages 3-7, $70) teaches reading, arithmetic and even foreign languages. "My Little Blue Robot" (ages 4-7, $22) is a book that can be converted piece by piece into a moving, talking cardboard automaton. Lego's sleek "Spybotics" contraptions (ages 9 and up, $60) can be programmed to take on secret missions and take the field in multiplayer games. This season's hot robo-pets are the cyberkitties known as FurReal Friends (ages 6 and up, $35). Check out Robotoys for more ideas.
Virtual-reality gifts: Remember those arcade games where you ride a snowboard while watching the course swerve around you on a video screen? Radica Games offers a whole series of "Play TV" games (ages 8 and up, $50), where toys and television provide the virtual-reality setting for pursuits ranging from baseball to bass fishing.
Build-it gifts: Speaking of arcade games, K'Nex has introduced an Electronic Arcade (10 and up, $100) that lets kids design their own pinball machine. For a wider choice of build-it-yourself toys, check out Hobbytron.
Retro-tech gifts: Ah, for the good old days of Estes Rockets and Edmund Scientific ... wait a minute, they're still in business! You can still order an Estes Alpha (ages 7 and up, $10) and follow in the footsteps of the rocketeers, or buy a chemistry set (ages 10 and up, $33) or a human-powered light bulb ($4) from Edmund. They even publish paper catalogs — just like the good old days.