/ Source: The Associated Press
Outnumbered and outgunned, Taliban fighters are mounting a tougher fight than expected in Marjah, Afghan officials said Sunday, as U.S.-led forces converged on a pocket of militants in a western section of the town.
Despite ongoing fighting, the newly appointed civilian chief for Marjah said he plans to fly into the town Monday for the first time since the attack to begin restoring Afghan government control and winning over the population after years of Taliban rule.
With fighter jets, drones and attack helicopters roaring overhead, Marine and Afghan companies advanced Sunday on a two-square-mile (5.2-square-kilometer) area where more than 40 insurgents were believed holed up.
"They are squeezed," said Lt. Col. Brian Christmas, commander of 3rd Battalion, 6th Marine Regiment. "It looks like they want to stay and fight but they can always drop their weapons and slip away. That's the nature of this war."
U.S. officials signaled their intention to attack Marjah, a major Taliban supply and opium-smuggling center, months ago, apparently in hopes the insurgents would flee and allow the U.S.-led force to take over quickly and restore an Afghan government presence.
Bombs, booby traps
Instead, the insurgents rigged Marjah with bombs and booby traps to slow the allied attack, which began Feb. 13. Teams of Taliban gunmen stayed in the town, delivering sometimes intense volleys of gunfire on Marine and Afghan units slogging through the rutted streets and poppy fields.
Afghan Defense Ministry spokesman Gen. Mohammad Zahir Azimi said the U.S. and its allies had expected the Taliban to leave behind thousands of hidden explosives, which they did. But they were surprised to find that so many militants stayed to fight.
"We predicted it would take many days. But our prediction was that the insurgency would not resist that way," Azimi told The Associated Press in Kabul.
In a statement Sunday, NATO acknowledged that insurgents were putting up a "determined resistance" in various parts of Marjah, although the overall offensive is "on track."
Marine spokesman Lt. Josh Diddams said Sunday that Marines and Afghan troops were continuing to run into "pockets of stiff resistance" though they were making progress. Diddams said no area is completely calm yet although three markets in the town — which covers about 80 square miles (207 square kilometers) — are at least partially open.
"Everywhere we've got Marines, we're running into insurgents," Diddams said. In many cases, the militants are fighting out of bunkers fortified with sandbags and other materials.
Before the assault, U.S. officers said they believed 400 to 1,000 insurgents were in Marjah, 360 miles (610 kilometers) southwest of Kabul. About 7,500 U.S. and Afghan troops attacked the town, while thousands more NATO soldiers moved into other Taliban strongholds in surrounding Helmand province.
It was the largest joint NATO-Afghan operation since the Taliban regime was ousted from power in 2001.
Moving slowly
NATO's civilian chief in Afghanistan, Mark Sedwill, said the military operation was moving slowly "because of essentially the ruthlessness of the opponent we face and the rules that we've set for ourselves" to protect civilians.
"We could have swept through this place in a couple of days but there would have been a lot of casualties." he said.
NATO said one service member died in a roadside bombing Sunday, bringing the number of international troops killed in the operation to 13. At least one Afghan soldier has been confirmed dead. Senior Marine officers say intelligence reports suggest more than 120 insurgents have died.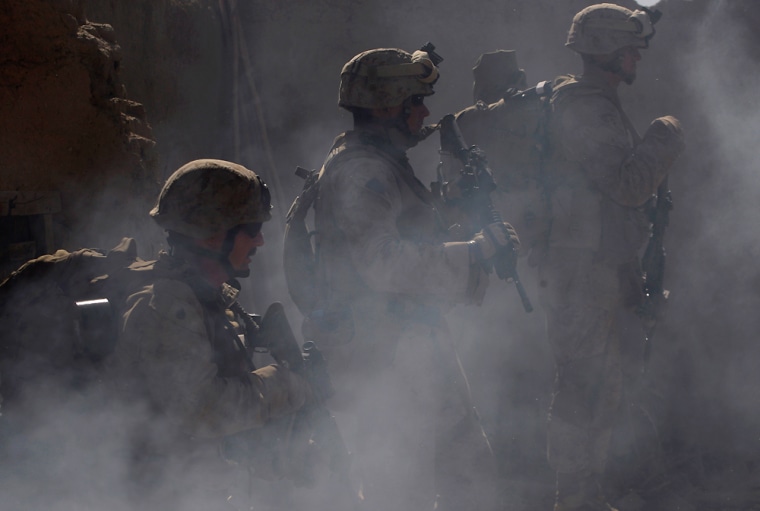 The Marjah operation is a major test of a new NATO strategy that stresses protecting civilians over routing insurgents quickly. It's also the first major ground operation since President Barack Obama ordered 30,000 reinforcements to Afghanistan.
In a setback to that strategy, the Dutch prime minister said Sunday that his country's 1,600 troops would probably leave Afghanistan this year. Prime Minister Jan Peter Balkenende spoke a day after his government collapsed when a coalition partner insisted the Dutch troops leave in August as planned.
Most Dutch troops are stationed in Uruzgan province, which borders Helmand to the north. Afghan officials expressed concern that Taliban fighters driven out of Helmand could regroup in Uruzgan without a robust NATO presence.
During Sunday's fighting, Marines found several abandoned Kalashnikov rifles along with ammunition hidden in homes, suggesting that insurgents intended to blend into the local population and fight back later.
Sporadic volleys of insurgent machine-gun fire rang out through the day.
"They shoot from right here in front of a house, they don't care that there are children around," said Abdel Rahim, a member of the nomadic Kuchi ethnic group.
Abdul Rahman Saber, chief of the local council for Marjah, said the situation in much of the town was improving — that some residents had been able to return to their homes.
Leader to arrive Monday
Anxious to begin the task of restoring government authority, Zahir, the new district leader, said he plans to meet Monday with community leaders and townspeople about security, health care and reconstruction.
"The Marines have told us that the situation is better. It's OK. It's good," said Zahir, who like many Afghans goes by one name. "I'm not scared because it is my home. I have come to serve the people."
Life in Marjah, however, remains far from normal. The price of food had soared, with the price of sugar and other staples doubling as the fighting continues.
"The Taliban are fleeing the area, but there is sporadic shooting," Saber said. "Two or three days ago, 12 civilians were wounded by bullets when they were escaping."
On Saturday, President Hamid Karzai urged NATO to do more to protect civilians during combat operations to secure Marjah, although he noted the military alliance had made progress in doing that — mainly by reducing airstrikes and adopting more restrictive combat rules.
U.S.-led troops launch a major assault on Taliban strongholds.
NATO forces have repeatedly said they want to prevent civilian casualties, but acknowledged that it is not always possible. On Saturday, the alliance said its troops killed another civilian in the Marjah area, bringing the civilian death toll from the operation to at least 16.
Karzai also reached out to Taliban fighters, urging them to renounce al-Qaida and join with the government.
But the process of reconciliation and reintegration is likely to prove difficult.
On Sunday, Mohammad Jan Rasool Yar, spokesman for Zabul province, said authorities arrested 14 police in the Shar-e-Safa district on Saturday who had defected to the Taliban's side last week. They were found on a bus heading to Pakistan.
NATO said two insurgents, including a suspected Taliban commander, were captured Friday in northern Helmand province. The men are believed to have been involved in making roadside bombs. They, along with three others earlier in the week, had been caught as part of an operation to break up the Taliban's weapons supply line.