At least 75 U.S. soldiers have died so far in Iraq in November, making it the deadliest month for American troops since the U.S.-led invasion began on March 20, U.S. military statistics show.
A TOTAL OF 436 U.S. soldiers have died since the start of the war, according to the Pentagon and the latest casualty figures released by the U.S. military in Baghdad. They include 299 soldiers killed in combat, while the others died from other causes such as accidents.
Seventy-five soldiers from other allied nations - including 52 from Britain and 17 from Italy - also have died, bringing the total number of coalition deaths since the war started to more than 500.
U.S.-led occupation authorities in Baghdad say they do not have a number for Iraqi deaths. A survey by The Associated Press counted at least 3,240 civilians killed during the invasion, which lasted more than a month. The total number is believed to be much higher.
A tally of all reports of fatalities released by the U.S. military command and compiled by AP showed that at least 75 American soldiers died since the start of November, surpassing deaths recorded in any previous month since the invasion.
Until now, the deadliest month was April, when 73 troops died at the height of the war. The single deadliest day was March 23, when 30 U.S. soldiers died.
President Bush declared major combat over May 1.
It was not possible to ascertain the breakdown of combat deaths and those resulting from other causes in November. Many of the fatalities have yet to be officially designated as falling into either category.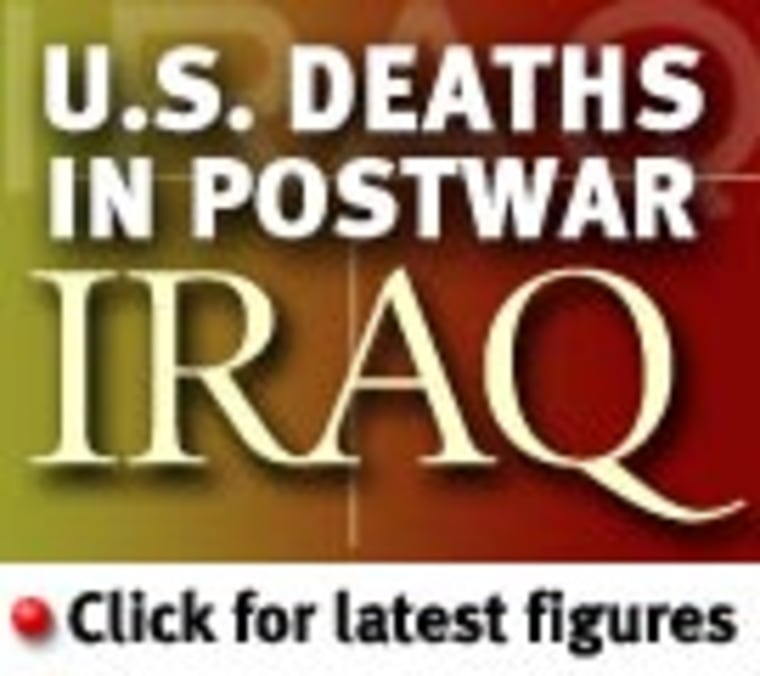 This includes the bloodiest single incident of the month - the collision of two Black Hawk helicopters during an anti-insurgency operation in Mosul on Nov. 15 in which 17 troops perished. While initial reports from the scene said the crash occurred when one of the choppers was struck by ground fire, the military says its investigation of the incident continues.
Over half of the U.S. deaths this month occurred in helicopter crashes in Mosul, Fallujah and Tikrit, while most others resulted from ambushes involving roadside bombs or rocket-propelled grenades.
Since the start of military operations, 2,094 U.S. service members have been injured as a result of hostile action, according to the Defense Department's figures as of Wednesday. The number of soldiers injured in non-hostile incidents was 350.
© 2003 Associated Press. All rights reserved. This material may not be published, broadcast, rewritten or redistributed.