/ Source: msnbc.com staff and news service reports
The sun is out. The water is falling. Traffic is starting to flow again. While things appear to be looking up in Rhode Island, the state hit hardest this week by three days of rain and record flooding, health and environmental officials warn there's still danger below the surface.

Raw sewage, garbage and oil are swirling around in the muddy floodwaters, creating a threat to people as they make their way toward and then down New England's rivers and streams. In Rhode Island, the pollution stands to interrupt swimming and the important shellfishing industry in Narragansett Bay, the ocean inlet whose nooks and crannies give the tiny state more than 400 miles of coastline.

"The impact on this infrastructure is unprecedented," said Curt Spalding, administrator of the New England region of the Environmental Protection Agency. "It's a very rare occurrence when wastewater plants are completely disabled by flood, literally taken out and become inoperable. This is a very serious matter."

The flooding has forced hundreds of people from their homes and businesses, and Gov. Don Carcieri said Thursday that damage could reach into the hundreds of millions of dollars.
But there are bright spots: A stretch of Interstate 95, a major East Coast link, reopened to traffic. State offices reopened, and public colleges and universities were set to do the same Friday.
Detouring from his schedule, President Barack Obama on Thursday thanked emergency workers struggling against the floods across the Northeast.

"When these kind of natural disasters hit, what matters are the people on the ground," Obama told crews at the Massachusetts Emergency Management Agency headquarters some 20 miles west of Boston.

Members of the state's congressional delegation are calling on the federal government to step up aid to help the economically battered state cope with the flooding. Obama issued an emergency declaration for the state earlier in the week.

In Massachusetts, state officials said nearly 3,500 residents have already applied for federal emergency flood assistance. And in some good news from Connecticut, emergency management officials said the Connecticut River is expected to crest about 1½ feet below major flood levels.

Even before the flooding began in earnest, the Rhode Island Department of Environmental Management, anticipating the danger, closed most of the bay and southern coastal ponds to shellfishing until further notice. Fishing was restricted in parts of Massachusetts, as well.

People who eat contaminated seafood or expose themselves to or swallow the bacteria-contaminated water can become sick with potentially fatal illnesses including diarrhea and E. coli poisoning.
'A lot of polluted runoff'
"There will be a big load of sediment that hits Narragansett Bay. There'll be a lot of polluted runoff, oils and things that are on our streets normally, on our lawns, on the watershed," Spalding said. "It will come all at once."


But so far, he added, he has not seen any major release of hazardous chemicals.
No public water supplies are known to have been contaminated, but people supplied by four small water systems are urged to boil it as a precaution, and health officials have asked restaurants to close if they were flooded in any area. And anyone who walks through the filthy floodwaters is potentially at risk.

Rhode Island health director David Gifford said he was unaware of anyone who had reported becoming sick but was monitoring the situation because of the extent of the flooding.

"This is happening in a lot of places; it's pretty widespread," Gifford said. "So it's affecting a lot of people."
Wastewater treatment plants ordinarily treat and purify waste to suitable levels and then discharge it back into the water.

But this week, as the region experienced the end of its rainiest month on record and the Pawtuxet River, normally 9 feet deep, crested at a record 20.79 feet, treatment plants in Warwick and West Warwick had to be shut down and a pump station in nearby Cranston gave out.

The two plants and the pump station process more than 20 million gallons of raw sewage a day, said William Patenaude, an engineer for the state Department of Environmental Management.

Robin Schutt, Cranston's director of administration, said concerns have shifted now that the water has receded in some areas and many people have moved into a cleanup phase.

"We've been blessed with no fatalities," she said, "but now with cleanup and people going back in, it's one of the most critical times for safety."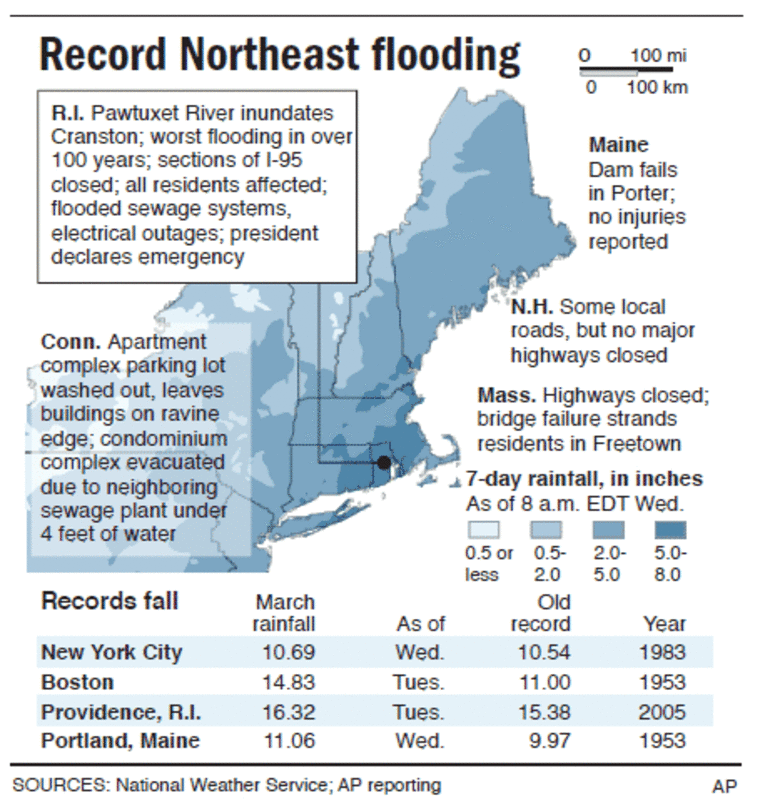 The economic impact may be even worse. Business districts were among the hardest-hit areas, and Rhode Island was already seeing double-digit unemployment even before the floods devastated some small businesses.
Stacey Marcure of West Warwick thought she and her family had survived the worst of flooding two weeks ago, when no more than 5 inches of water seeped into her basement. Then she woke to a fresh burst of heavy flooding spurred by record-setting rainfall that caused havoc in this former mill town and much of the Northeast.
Her family made it out safely Tuesday morning, though her husband had to be rescued by boat after he returned to raise valuables to the top floor. Now she's staying with relatives, unsure what will become of possessions such as her daughter's first communion dress — or the home that had been in her family for 70 years.
"It's definitely not going to be livable, at least not for a while," said Marcure, 38, a teacher's assistant.
The latest flooding there was far worse than an inundation earlier this month in the same areas, and the ripple effects were vast and still being tallied: Hundreds were forced from their homes and thousands of properties lost power. Bridges and highways were washed out from Maine to Connecticut and sewage systems were overwhelmed to the point that families were asked to stop flushing toilets.
Amtrak suspended some trains for a second day because of water over the tracks.
Homes and cars were submerged along the banks of the Pawtuxet River, which flooded several blocks past its banks in many spots and crested Wednesday at 20.79 feet — 12 feet above its ordinary level of 9 feet.
Water flowed like a torrent around the Warwick Mall, with rapids encroaching outside an Old Navy and Macy's.
"We live about five minutes away from there," Gail Mastrati, 54, who works for the state government, told msnbc.com. "And it was just like a lake. You could see the waves crashing against the Macy's store. I felt I was just ready to cry looking at the mall. Places you visit every day are just underwater."
"Looking at the damage throughout the state, it's just incredible," she added, noting her home had four inches of water. "I consider ourselves to be one of the lucky ones because everyone is safe."
"This is something to show pictures of to your grandchildren," she said. "Hopefully we'll never see anything like this again."
Stonington, Conn., a coastal town on the Rhode Island border, was largely cut off as two of its three bridges went out. A bridge also gave out in Freetown, Mass., isolating about 1,000 residents.
A two-lane bridge in Coventry, R.I., where abutments washed out appeared safe from immediate collapse after the water rushing underneath it receded, said town manager Tom Hoover.
"The National Guard is there with huge boulders, so if anything does let go we can slow the flow of water down," added Steve Kass, a spokesman for the state's Emergency Management Agency. "It could take out a few other dams on the way down."
He said the dam water would likely threaten homes and businesses, but how badly was uncertain. "We have never had this happen before. When we  try to anticipate where it's going to go, it's a guess rather than a certainty."
The flooding caps a month that set rainfall records across the region. Boston measured nearly 15 inches for March, breaking the previous record for the month, set in 1953. New Jersey, New York City and Portland, Maine, surpassed similar records. Providence registered its rainiest month on record, period, with a total of more than 15 inches of rain in March.