About 11 years ago, house-builder, philosopher and entrepreneur, Jay Shafer built his first tiny house, moved in, and has been living a super-simplified lifestyle, happily-ever-after. 
He says that in a commercial world of bloated "McMansions", his 89-square-foot, self-built, "munchkin-house", is smaller than some people's closets, and  looks more like a doll's house than a suburban home. But it is a home, and oddly, it is also a business.
Shafer loves to conduct personal tours of his tiny home. He points out the Chinese-puzzle-like carpentry, and compact multi-purpose construction that cleverly maximizes his use of space.  Shafer also uses the web to show off his ingenious designswhich permits him to pack in all the basics of a conventional home into the space of a woodshed, here in the small town of Graton, Calif.  He also enjoys sharing is vision of a spare lifestyle on the web through his blog. 
On the other side of Sonoma Valley, about a hundred miles north of Sacramento, Michael Janzen was so inspired by Shafer's philosophy that he's begun his own project to  simplify his lifestyle.
"Watching the economy crash around me, and being concerned, like everybody, for their jobs and layoffs, " Janzen says, "I began to explore different ways of, housing my family."
Janzen is building an even smaller house using wooden pallets and other discarded building materials. Like Shafer, he too publishes a blog about living small.  Its called: Tiny House Design. While retaining their idealism for "lean living," they each have found ways for their blogs to generate income.
Shafer marvels at the impact that blogging has had on how he now makes his living:  "This year, we haven't sold a single house.  And yet, we've sold more plans than ever."
His business partner, Steve Weissmann, explains that after last year's housing bust, he and Shafer essentially stopped building houses entirely and instead concentrated on building their blog and website: "We made this huge shift in how we were going to survive as a business and we changed from selling houses to selling plans and workshops and books to the do-it-yourself market."
The payoff for shifting from building construction to blog construction has been huge for them.  As a hammer and nails builder,  Shafer's business merely supported one person, living alone on a shoestring.  As "blogpreneurs," Weissmann says: "... now basically Jay and I canboth make a living. It's not a great living but, you know, we're getting by."
And most importantly, they are not alone when it comes to making a living by blogging.
"I started the blog more as a hobby than anything," says Kent Griswold. "I did not realize it would turn into a career."
Kent Griswold, also from California's Sonoma Valley, started blogging-for-profit when he was laid off from his mortgage banking job last year.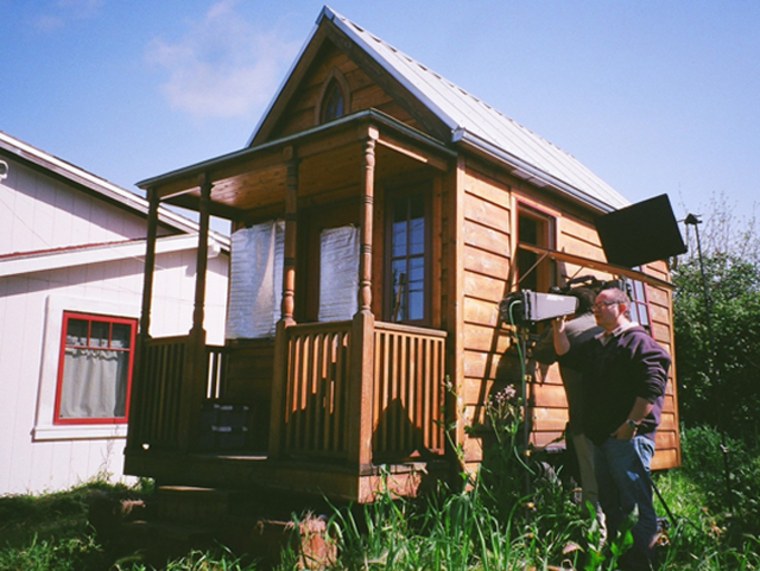 "They cut me back to half time," he recalls. "So I took that opportunity to spend more time learning more about blogging."
What Griswold learned is that there are many ways to make money with a blog. And often the are not tied directly to the blog, itself. 
Through their blogs about small-scale living, these four have become friends. Today they've gathered at Shafer's bungalow to exchange advice on monetizing their blogs. They are talking about things like 'search engine optimization' (which means getting found on the web), 'conversion testing' (which means finding better ways to convert browsers to buyers) and the relative values of keywords like 'cabin', 'tiny house'  and 'small house'.
Weissmann explains that two small changes resulted in a big increase in sales of their self-published book, titled: "The Small House Book." First, he says he changed the tab on the navigation bar from "Books" to "Small House Book." That increased the traffic to the page where the book is listed and described. Then he says, he increased the text information provided about the book.  He tells the group that he's discovered that if you want to sell a more expensive item you need to write longer text describing it.
"Okay, so for a $3 item you want to keep your description text very short" Weissmann says, "because people don't want to spend a lot of time thinking about a $3 product. If it's a $37 product, which is our book, it needs to be longer because if people want to buy something, but they're not sure if they should, then they have to find more reasons to justify the purchase it.  It's the job of your text to give them the reasons they need to buy it."
Selling self-produced merchandize isn't the only means to making money as a "blogpreneur." The easiest way to monetize a blog is start with Google-supplied advertising called, Google Adsense. It's an arrangement where Google supplies ads to a blogger's site and each time a blog-visitor clicks on an ad, Google's advertisers pay the blogger a small fee. They all agree this is one of the best ways to start earning money with your blog.
Weissmann, says "You don't have to have a large website to have Google ads. In fact, you can have one visitor a day and you can sign up for google ads.
Griswold adds that: "It took me three months before I got the first check. So I was making $25, $30 a month. And but once I hit a certain amount of traffic it took off."
Even after 'taking off', Griswold's revenue from the Googlesense is still fairly modest. He says it can't be his only source of advertising revenue: "Its just a piece of the pie, and a slim piece of the pie, at that!"
Shafer and Weissman say selling products such as their own books and plans and workshops is the most important part of their revenue strategy. As income earners, they are about equal. "The ads really don't play a large role for us."  Steve says. "Our  products have really been the focus."
To make those sales, Steve operates the blog and the website, while Jay, (the "idea" guy), comes up with new designs and products to sell. The division of labor works well for them. Jay says he's happy to have Steve focus on the implementation of the technical stuff and the business side of everything, which leads Jay free to do almost entirely design. "Which I love," he says.
Kent's approach is quite different. You might call him more of an 'curator' than an 'innovator'.   He combs through the web and his emails, to find products that interest him and his readers and he puts ads on his site for other people's products.  Any sales that result from the ads on his site yield a small percentage back to him.  "You sell somebody else's product and you get a, usually a cut of the profits." He says his blog becomes a marketing arm for all sorts of products created by other people.  "It helps them out because I'm giving them exposure and increasing their sales, and it helps me out and yet I'm not creating my own product."
While they may be competitors, these "blogpreneurs" say that cooperation and "links" between their sites is another key factor to building up their segment of the market and increasing their total profits.
As Janzen describes it: "Kent sells one of my plans, Kent's one of my affiliates.  I pay him a commission.  If I sell one of Jay's plans, I make a commission.  So at the end of the month, we often trade each other money — back and forth. The combined websites are all generating and amplifying the traffic and it benefits us all in a business way — better than if we were fighting against each other as competitors."
Looking at blogs this way, these four have clearly moved beyond the 'soap-box-for-loud-mouths' image that is held by the general public.  Janzen is very aware of this distinction: " What blogs have turned into, and what they really are, are a publishing system — really a content management system — that any novice can use.  If you can send an e-mail, you can blog."
What's astonishing about this business model is that it takes very little start up money, it allows the entrepreneur to start out focusing on almost any personal passion and provides a platform to develop a business. Call it "blogging-for-profit" or whatever, it allows them to generate revenues that can fuel their dreams. 
As far as profits go, Weissmann is highly optimistic:  "One of the great things about it is that it's very scalable.  So if you hit it big, you hit it big, and it doesn't really take any more work.  You don't really have to hire a team of people to make this happen.