/ Source: The Associated Press
Heads are still spinning over credit card bills and charges.
Earlier this year, the enactment of consumer protections mandated that cardholders receive more detailed monthly statements. Yet there's lingering confusion about what credit card companies can and can't do.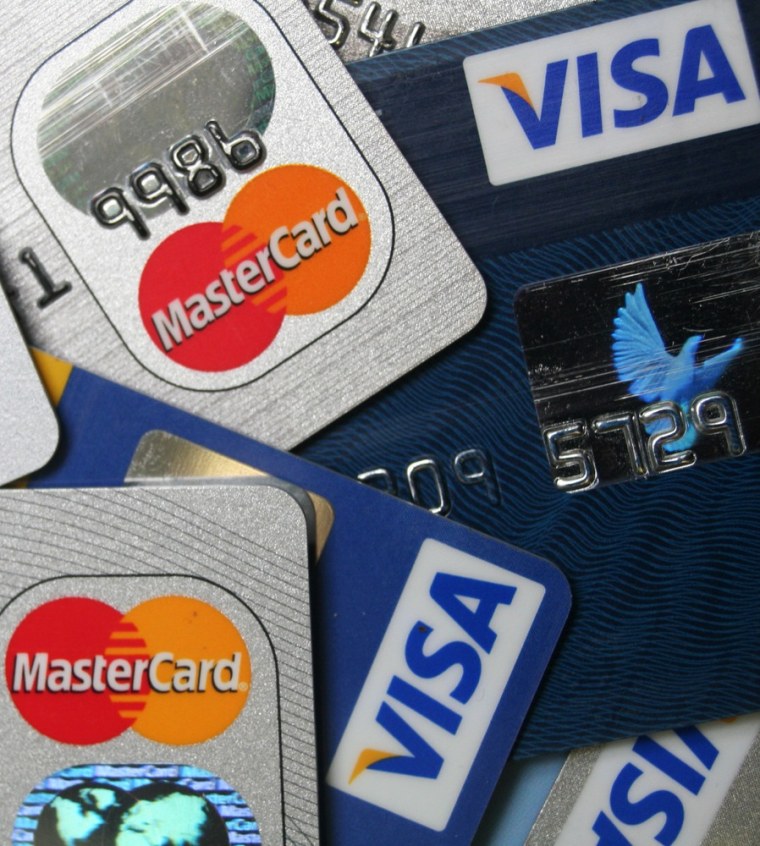 Here are some questions readers have encountered in recent weeks:
Q: The new rules say cardholders must be given 45 days notice before an interest rate increase. Yet I've heard banks can start charging the higher rate after just 14 days. Is this true?
A: To an extent. Here's how it works.
Let's say you receive a notice that your interest rate will rise from 10 percent to 15 percent. Two weeks later, you make a $100 purchase. The new charge will incur the lower interest rate. Once the 45-day notice period ends, the higher interest rate can apply to the remaining balance on any purchases you made two weeks after you got the notice.
It's confusing, but the idea is to prevent consumers from using the 45-day window to run up charges at the lower interest rate.
Q: Are there any new limits on the penalty fees banks can charge?
A: Not yet. But as part of the new law, the Federal Reserve is expected to set some ground rules in coming weeks. Card issuers will have to comply by Aug. 22.
The rules haven't been released. But in March, the Fed proposed capping penalty fees to the dollar amount of the violation. So if you went $10 over a credit limit, the fee couldn't be more than $10.
The proposal would also limit late payment fees to no more than the minimum payment required. So if your minimum payment was $25, the late fee couldn't be more than that. Banks also wouldn't be able to charge multiple penalty fees for a single transaction under the proposal.
Of course, the final rules may differ from the proposals.
Q: My bank is requiring a higher minimum payment. Are there any rules banks have to follow regarding minimum payments?
A: For existing balances, banks can't raise the minimum payment to more than double the previous rate. So if your minimum was previously 1 percent of the balance, your bank could raise the rate to 2 percent.
There is one exception; the rate could also be raised to the amount necessary to pay off the balance in five years. This might happen if you close an account with an unpaid balance.
A card issuer can also raise the minimum payment for purchases going forward, however. As long as banks give 45 days notice, they can raise the required minimum as they see fit.
Banks usually don't disclose minimum payment requirements in marketing materials, so be sure to ask before you open an account.
Q: Why has my payment due date changed?
A: The new law requires that due dates fall on the same day every month — so your due dates might be June 15, July 15, Aug. 15 and so on. Statements also need to be sent out 21 days before a payment is due to give consumers time to make the payment. Previously, banks sometimes sent out statements not long before payments were due. Due dates could also change month to month.
So your due date may have recently changed to accommodate the rules.
Q: Can a penalty charge, such as a late fee, push me over my credit limit?
A: No. Banks also can only charge one over-the-limit fee per billing cycle. And you can only be charged a total of three consecutive times for a single over-the-limit occurrence.
Under the new law, banks can no longer automatically enroll cardholders for over-the-limit coverage either. Consumers must opt into it. That's to prevent consumers from inadvertently spending more than their credit limits.
Note that some credit card issuers, including Bank of America and Discover, have gotten rid of their over-the-limit programs altogether. They may still let you go over your limit, depending on how creditworthy you are. But you won't be charged a fee for doing so.
Notice any questionable charges on your credit card bill? Write to Candice Choi at cchoi@ap.org.