/ Source: The Associated Press
O.J. Simpson's lawyer told a panel of Nevada Supreme Court justices Friday that the former football star's conviction in a gunpoint hotel room heist amounted to prejudicial "payback" for Simpson's 1994 double-murder acquittal.
"This was not a search for truth but became a search for redemption," attorney Yale Galanter said as he pleaded for the court panel to overturn Simpson's conviction and grant a new trial in the September 2007 confrontation with two sports memorabilia dealers in Las Vegas.
Questions from Justices Mark Gibbons, Michael Cherry and Nancy Saitta focused on the racial makeup of the jury and the conduct of the trial judge, who Galanter accused of preventing him from presenting the jury with Simpson's theory of defense. A ruling by the court is not expected until later this year.
"Mr. Simpson really believed he was recovering his own property," Galanter said. "Our theory of defense was never put before the jury."
Minutes later, the justices posed pointed questions about whether convicted co-defendant Clarence "C.J." Stewart received a fair trial alongside Simpson.
Both men were convicted of kidnapping, armed robbery, conspiracy and other crimes for what Simpson maintained was an attempt to retrieve family photos and mementoes. Four other men took plea deals and received probation after testifying for the prosecution.
Stewart's lawyer, Brent Bryson cited a 2001 poll that found 72 percent of the American public believed that O.J. Simpson was wrongly acquitted in the 1994 slayings of his ex-wife, Nicole Brown Simpson, and her friend Ron Goldman in Los Angeles.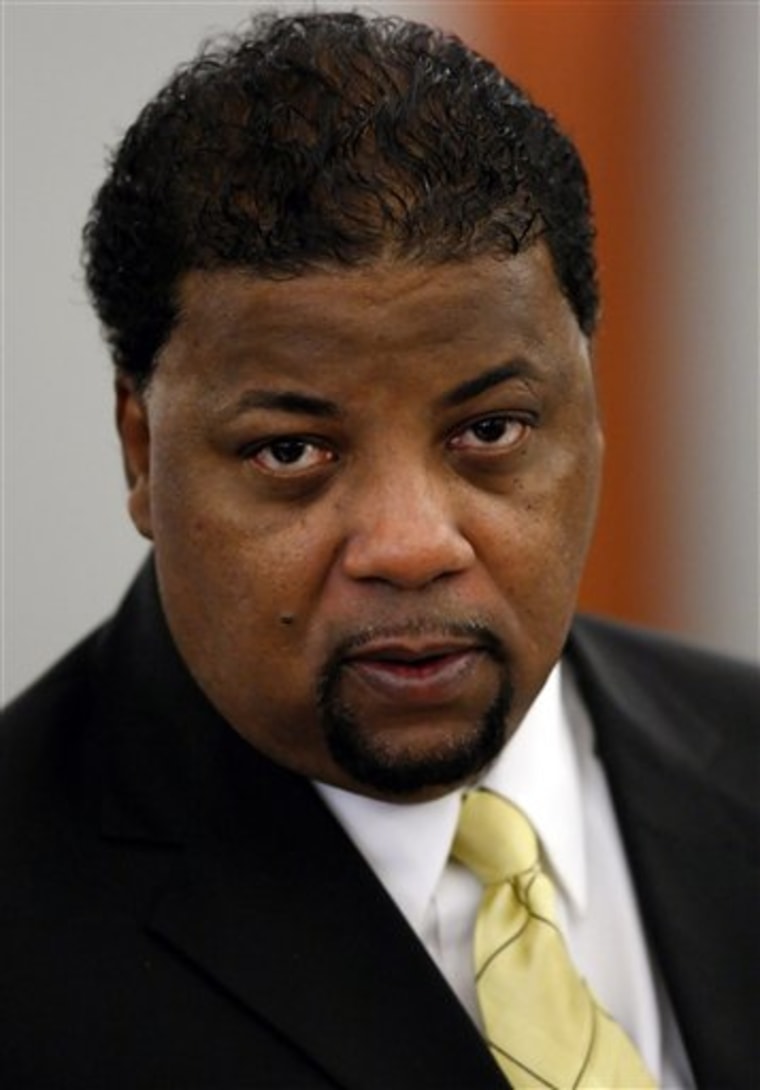 Neither Simpson nor Stewart were in court for the crucial oral appeals. Their attorneys previously lost a bid for the same three justices to let them out of prison until their appeals are settled.
Simpson, an NFL hall-of-famer, actor and advertising pitchman who turns 63 next month, is serving nine to 33 years at a state prison in the northern Nevada town of Lovelock.
Stewart, 56, a former Simpson golfing buddy from North Las Vegas, is serving 7½ to 27 years at High Desert State Prison northwest of Las Vegas.
Clark County District Attorney David Roger called the September 2008 trial contentious but fair, and the sentences just. He urged the justices to deny both appeals.
Justices questioned Roger, Galanter and Bryson about the dismissal of the last two black women from the prospective jury panel before a jury was seated. The final panel had no blacks. Both Simpson and Stewart are black.
Roger said race wasn't a factor. Both women said they had negative experiences dealing with prosecutors and police that could have made them biased against the state, he said. They also claimed hardships and religious beliefs that would have made jury service difficult.