/ Source: msnbc.com staff and news service reports
Four strong earthquakes struck the same region of eastern Indonesia Wednesday, leaving at least three people dead, two seriously injured and dozens of buildings collapsed on two islands, news agencies reported.
The buildings fell in Biak and Yapen, islands off the northern coast of Papua in the easternmost part of Indonesia, news agencies reported.
The victims were crushed under their collapsed homes on Yapen island, police said.
Homes, buildings collapse
At least 20 homes collapsed on Yapen and several buildings fell in Biak, officials said.
"Two people have been evacuated to General Hospital in Biak as they got serious injuries in the quake," a health ministry officials told Xinhua over phone.
The strongest quake, reported by the U.S. Geological Survey to be magnitude 7.0, struck at 12:16 p.m. local time (11:16 p.m. Tuesday ET). The epicenter was 18 miles beneath the ocean floor off the northern coast of Papua province. A 6.4 quake preceded the largest shaker, which was followed a half-hour later by a 5.1 temblor, and a 6.2 rocker 20 minutes later.
Yapen island, with a population of about 70,000 people, appeared to be the worst-hit area with one church destroyed and at least 150 homes damaged, police said.
Tsunami fears
In the town of Biak, hundreds of people ran out of their homes on the reef-fringed tropical island around lunchtime, resident Yan Pieter Yarangga told The Associated Press. Fearing a tsunami, people fled beaches and some raced for higher ground.
"I ran too, I was afraid there would be a second quake," said Yarangga.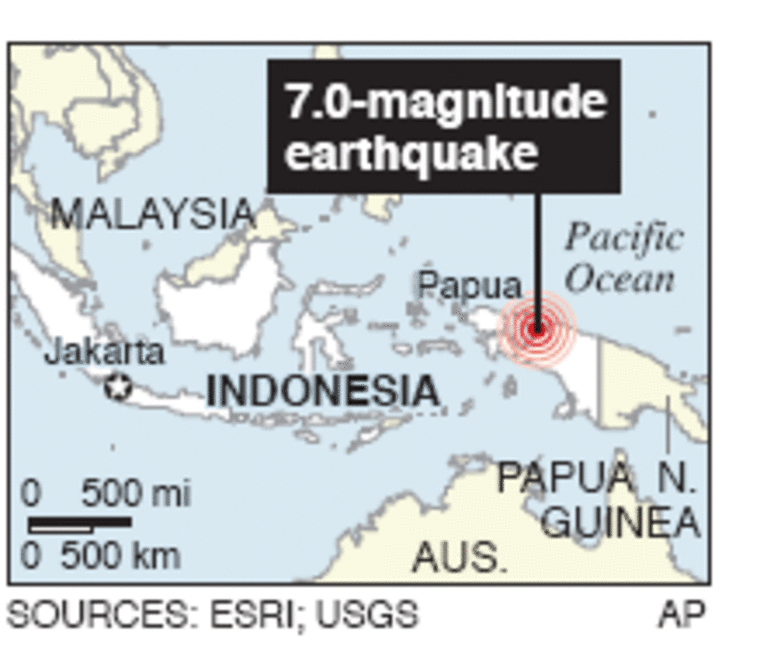 When the electricity went out, some women and children started screaming in terror, said Sgt. Junaidi, a local police official, who like many Indonesians goes by one name. "Many were crying, they were so afraid of a tsunami."
Biak resident Osibyo Wakum said he was driving his car to the office when the quake hit.
"I felt a huge tremor for about one or two minutes; the car was being flung around," Wakum said.
In the West Papua provincial capital of Manokwari, people fled to open spaces as buildings swayed and the earth shook.
"There was a swaying movement for about 40 seconds. People ran out of their homes, shouting 'get out, get out, the earth is shaking'," said an AFP correspondent in the town.
Many people remained outside as powerful aftershocks rattled the region.
Warning lifted
The Indonesia Meteorology and Geophysics Agency initially said the strongest in the quake series had the potential to trigger a tsunami, but the warning was later lifted.
Earlier in the day, a magnitude-5.3 quake on Sulawesi island, nearly 1,200 miles to the west, triggered landslides that badly damaged at least 50 homes, killing one person, the official Antara news agency reported. Others were injured, but it was not immediately clear how many.
Indonesia straddles a series of fault lines that make the vast island nation prone to volcanic and seismic activity. A giant quake off the country on Dec. 26, 2004, triggered the Indian Ocean tsunami that killed 230,000 people, half of them in Indonesia's westernmost province of Aceh.
The quake that hit Wednesday was located more than 2,000 miles from the country's capital, Jakarta.