/ Source: The Associated Press
Using heat from a forge that turns orange-hot metal into everything from car parts to hand tools, a Michigan manufacturer is developing an energy-efficient way to warm a year-round greenhouse on the company's roof.
Trenton Forging President David Moxlow started growing fruit and vegetables atop the plant southwest of Detroit in November and has already harvested greens, peppers, broccoli, strawberries and tomatoes that are shared with employees and visitors. The company is among a number nationwide that are developing technology and techniques for rooftop gardening as interest in local and homegrown food grows.
Sky Vegetables Inc. aims to build hydroponic farms on roofs in New York, Washington, D.C., and the Boston and San Francisco areas to make more fresh produce available in cities. Another company based near Chicago, GreenGrid Roofs, sells a modular system of plastic bins that make it easier to install rooftop beds.
Gayla Trail, author of "Grow Great Grub: Organic Food from Small Spaces," has gardened for a decade on the roof of the three-story apartment building where she lives in Toronto. In that time, she's seen growth in automatic watering systems and other products geared toward rooftop or balcony gardeners.
"When I started, I didn't know anybody else that was doing what I was doing," she said. "Finding the information to deal with the extreme of that (rooftop) environment was next to impossible."
Few growing options
Trail, 36, said gardening makes people better consumers because they're more aware of how food is produced. She started growing on the roof because it was her only option for a place to garden, and that's true for many urban residents with small or no yards. Manufacturers, meanwhile, often have large, unused flat roofs but little land to spare.
"If you're landlocked, your only option is to go up," Moxlow said.
Rooftop gardens provide environmental benefits similar to traditional green roofs, in which plants are used to reduce storm water runoff, filter pollutants and cut heating and cooling costs. But, the gardens also can make it easier for city residents to get fresh fruit and vegetables, which is seem as a way of improving public health.
It's hard to say how many rooftop gardens have been built, because in cities like New York, there isn't a permit category specifically for them and growers sometimes don't seek permits. But a permit search by San Francisco's Department of Building Inspection found 18 projects that would accommodate rooftop gardens were completed between 2001 and 2010, compared with just four during the previous decade.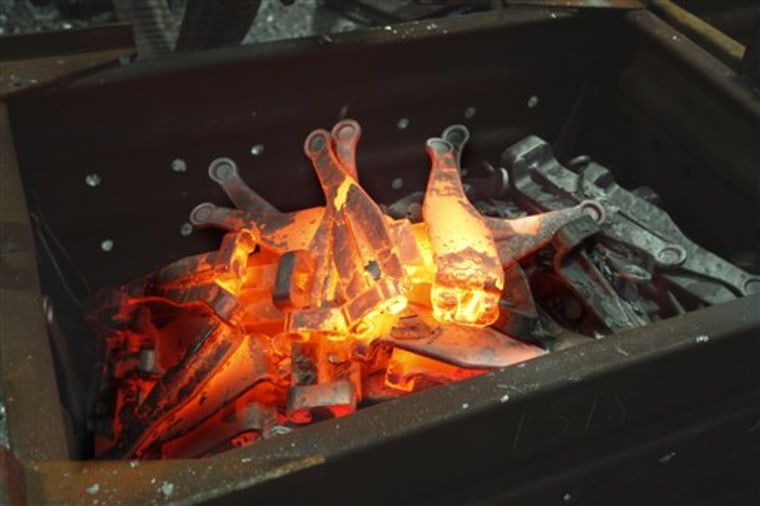 Moxlow, who grew up gardening, built a plastic-covered greenhouse, known as a hoop house, on a stretch of his company's flat roof and used forced-air and a hot-water heater to keep it warm during the winter. But he has designed and is testing a system to harness heat from the forging operation that would otherwise be wasted.
The forge heats metal to between 1,600 and 1,800 degrees. After they're formed, pieces are put into big bins and set outside to cool. Moxlow's system would roll some bins under a 4,000-gallon tank inside the plant to heat water to warm the greenhouse. In northern states where greenhouses often shut down for the winter because of the high cost of heating, the system could make year-round growing more practical, he said.
New technology, products
Sky Vegetables, based in Needham, Mass., says its hydroponic systems could help building owners save money on heat. Designed for commercial and residential roofs that are at least 10,000 square feet, its systems would use solar panels to heat greenhouses where plants grow in water. The greenhouses should lower buildings' utility costs by absorbing sunlight in the summer and providing additional insulation in the winter, the company says.
Sky Vegetables may eventually license its technology, but right now it plans to rent roofs where it will install its greenhouses and then sell the produce to supermarkets and other customers. The goal is for it to take only 48 hours for food to go from farm to table.
"We're talking to subsidized housing groups," president Bob Fireman said. "We're talking to public buildings, where fresh lettuce can go into a cafeteria and can people take home fresh vegetables."
GreenGrid, which is owned by Vernon Hills, Ill.-based Weston Solutions Inc., makes rooftop gardening systems that can be used on smaller private homes as well as businesses. It began using plants planted in recycled plastic bins for green roofs and later began offering deeper containers for growing vegetables.
Theo Mallinson and his wife installed a GreenGrid system on the Houston town house they built in 2008 and have turned their roof into a garden with herbs, tomatoes, cucumbers, eggplants and citrus trees. The bins weighing 25 to 30 pounds were delivered on a shipping pallet and lifted to the roof with a forklift. Some were pre-planted, while others just contained soil. Along with vegetables, the Mallinsons raise native Texas wildflowers, ornamental grasses and other plants.
"It's a neat little ecosystem," said Mallinson, 36, who works as a chemical engineer.
He said the bins were more convenient than hauling bags of soil up to the roof of the three-story building and knowing their weight in advance helped ensure he didn't put too much weight on the roof. Also, the bins can be moved for repairs — or removed if the town house is sold to someone who doesn't want a garden, he said.