/ Source: The Associated Press
A common theme haunts Sunday's state and local elections across Mexico: drugs.
One gubernatorial candidate has been photographed with a powerful kingpin. Another was arrested and accused of protecting two cartels. A third was assassinated after pledging to bring peace to his violent state.
Many Mexicans are scared to vote, and others wonder why they should bother if the cartels seem to be in charge anyway.
The elections for governors, mayors and local posts in 12 states is the biggest political challenge yet for the government of President Felipe Calderon, who declared war on the cartels in 2006 and deployed thousands of troops and federal police to wrest back territory from drug traffickers.
A low turnout in the most violent states would signal Mexicans believe the drug lords have more control than ever.
And Calderon's conservative party is facing a resurgence of the Institutional Revolutionary Party, which ruled Mexico for 71 years through a combination of coercion and corruption that critics considered a veiled dictatorship. That party, known as the PRI, is favored to win in most of the 12 states and gain momentum to regain the presidency in 2012, just 12 years after losing it.
That would add uncertainty to the future of Mexico's drug war, backed by millions of dollars in U.S. aid and marked by an unprecedented increase in the number of drug suspects extradited to the United States for prosecution under Calderon's National Action Party.
Nowhere has drug violence so shaken campaigning as in the northern state of Tamaulipas, where PRI candidate Rodolfo Torre was assassinated Monday, less than a week before he was forecast to win the race for governor.
Even Calderon said the attack showed drug cartels were trying to sway the elections. He pleaded with Mexicans to vote and show they would not be intimidated. The PRI nominated Torre's brother Egidio to run in his place.
For many, the attack was a frightening reminder of the growing power of drug traffickers in Tamaulipas, a state of cattle ranchers and oil wells that is both a PRI stronghold and the birthplace of the Gulf cartel.
Cartel henchmen extort restaurants, car dealerships and junkyards. People avoid highways where caravans of armed men travel openly, their luxury SUVs sometimes stamped with the Gulf cartel acronym. Local media stopped reporting on much of the violence after reporters were beaten and threatened — the Torre assassination being a notable exception.
"For a long time, authorities in Tamaulipas have pretended to govern while criminal groups impose their law," political analyst Alfonso Zarate wrote in the Reforma newspaper.
Torre, a doctor who served as the state's health secretary, had mostly campaigned on fighting poverty, even as turf wars escalated following a split between the Gulf cartel and the Zetas gang of hit men. Local politicians often avoid discussing drug trafficking, insisting it is the federal government's responsibility to fight organized crime.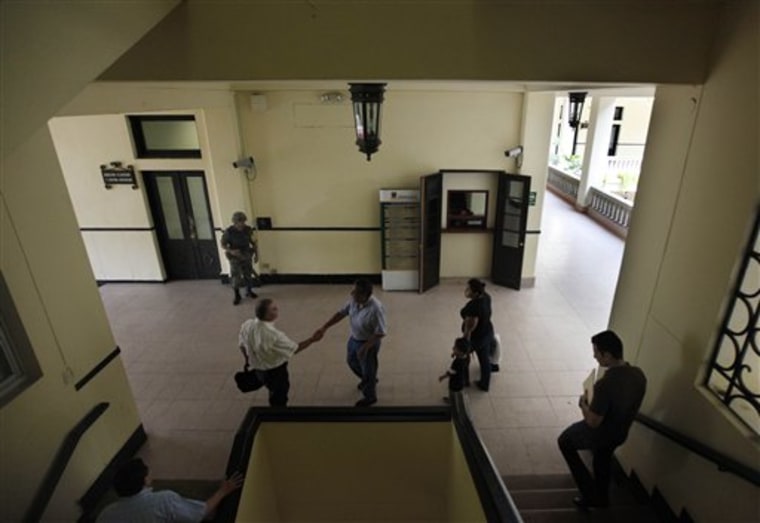 But Sunday, Torre announced that security would be a priority in his government. The next day, armed men ambushed his campaign caravan, killing him and four others, including his assistant and a state legislator.
Dozens of election workers have since quit, some because their homes were damaged by Hurricane Alex but others because they were afraid to show up at polling stations, said Arturo Miniz, a spokesman for the state election institution.
Many voters feel the same way.
"Here, wherever you go, you go with fear," said Jose Torres, who sells newspaper and shines shoes at a shopping mall in Ciudad Victoria, the state capital. "You hear a noise and you throw yourself to the ground."
Torres, who now shuts his newspaper stand three hours earlier than normal to avoid being out at night, can't decide whether to vote Sunday. "If I go vote, I will go very early in the morning, hoping that nothing happens," he said.
PRI supporters say Torre might have been targeted because current Gov. Eugenio Hernandez had appealed for more federal troops in his state. Calderon's government has said there was no indication of corruption in Torre's past.
But politicians in Calderon's party have long insinuated that the PRI protects the Gulf cartel. National Action leaders complained they couldn't find anyone to run for mayor in some Tamaulipas towns because of drug gang intimidation, and noted that the PRI had no trouble fielding candidates. In May, a National Action mayoral candidate was killed after ignoring warnings to drop his campaign.
Similar allegations have dominated the campaign for governor in the Caribbean state of Quintana Roo, home to Cancun, and northern Sinaloa state, the cradle of the powerful drug cartel by the same name.
In Quintana Roo, Cancun Mayor Gregorio Sanchez was arrested last month on charges of protecting two cartels, ending his campaign for governor for a leftist party. He has dismissed the charges as politically motivated.
"People start to think that voting is unnecessary," said Alejandro Ramos, a civil servant in Cancun. "People have long thought that the politicians have ties to organized crime."
In Sinaloa, a scandal broke out when the newspaper Reforma published a photograph of PRI candidate Jesus Vizcarra Calderon attending a party many years ago with kingpin Ismael "El Mayo" Zambada.
During a televised debate, his opponent, Mario Lopez, demanded to know if rumors were true that Zambada is the godfather of one of Vizcarra's children. Vizcarra refused to answer.
Lopez shot back: "To fight crime, you can't be a part of it."
Vizcarra in turn brought up a scandal from Lopez's own past: allegations that one of Lopez's underlings protected drug dealers when he was mayor of Ahome six years ago.
But cartels are so entrenched in Sinaloa that many voters believe politicians have no choice but to work with them.
"I think the best option is Jesus Vizcarra because he did a good job as mayor," said Jorge Vargas, 29. "Drugs are a very important factor of power in Sinaloa and I think you have to negotiate with the capos to stop the killings."
Pedro Angulo, a 22-year-old university student, said the same thing about Lopez. "For me, the best choice is Mario Lopez Valdes, and he can do what it takes to reduce the problem of violence in Sinaloa. Let him negotiate with whoever he needs to but all the deaths in the street have to stop."
Lopez is backed by both the conservative National Action and a major leftist party, one of several awkward alliances that Calderon's party formed in the hopes of ousting the PRI from its strongholds.
Polls suggest the strategy has the best chance of succeeding in the southern state of Oaxaca, one of the few states where the election has not been dominated by the drug war.
Campaigning has been tense anyway, with widespread fears of violence if the outcome is tight. In 2006, deadly protests broke out for five months over allegations that Gov. Ulises Ruiz of the PRI rigged his 2004 election victory against Gabino Cue. This year, Cue again is running for a National Action-backed allegiance against Ruiz' hand-picked successor, Eviel Perez.
Associated Press Writers Ricardo Gonzalez in Culiacan and Gabriel Alcocer in Cancun contributed to this report.