/ Source: The Associated Press
In an era of yawning budget deficits and teacher layoffs, schools in the Los Angeles area are looking at a nontraditional source for some extra cash — Hollywood.
School districts from Lawndale to Glendale are seeking to earn thousands of dollars a day from renting their campuses as locations for movies, TV shows, commercials, and even truck parking.
The money is being used to save teachers' jobs, upgrade school facilities and replenish districts' dwindling funds.
"Schools have historically been reluctant to make themselves available, but now they're falling over themselves," said Scott Graham, leasing director for the sprawling 1,000-school Los Angeles Unified School District.
Officials at FilmLA, the Los Angeles film promotion nonprofit, say they've had a flurry of inquiries from cash-strapped districts in recent months asking how they can market themselves to production companies.
The spike of interest from schools is coming at an opportune time. Youth networks such as the Disney Channel and MTV are moving away from reality shows to scripted programs that often feature kids at school, said Trisha Edgar, FilmLA's property management manager.
To serve the increased demand from both schools and producers, FilmLA recently rolled out a new website featuring photos of campuses and a description to make it easier for location managers to find what they're looking for, whether a football field, classroom or cafeteria.
Hollywood has filmed at some of Los Angeles' architectural standout schools for decades.
Viewers have seen the classic red brick-Ivy League look of El Segundo High School in the 1955 drama "Blackboard Jungle," and the TV sitcom that launched Will Smith, "The Fresh Prince of Bel-Air." Torrance High School's graceful Spanish-style arched walkways served as backdrop for TV shows "90210," "Buffy the Vampire Slayer" and "Medium."
In West LA, University High School starred in the romantic comedy "Valentine's Day," released earlier this year, and the 2003 Jim Carrey comedy "Bruce Almighty."
Not all schools allow movie shoots because of the disruption a crew can bring to campus. But with state education cuts resulting in thousands of teacher layoffs and furloughs for the third year in a row, filming is looking more appealing for Los Angeles-area schools.
"Any additional revenue is more critical than ever," said John Vinke, associate superintendent of Lawndale Unified School District, which has had sporadic productions at its nine schools through the years but is hoping to land more regular gigs through FilmLA.
School officials who permit movie shoots say it nets them big bucks. They get paid location fees ranging from Los Angeles Unified's $3,100 per day to Torrance's $5,500, plus sundries such as cleanup.
With more schools signing up for filming and ramped up promotion through FilmLA, Los Angeles Unified has earned the most it's ever made from filming this school year — $1.5 million from last July through March.
FilmLA takes a 16 percent commission for arranging the deals, the host school keeps three quarters of the remaining amount and the district takes the rest.
With movie money paying for everything from pools to playgrounds to some teacher salaries, some schools go to considerable lengths to accommodate filming.
El Segundo High Principal Jim Garza removed the school's palm trees so the campus would look less "Southern California" and fit a wider location demand.
At University High in Los Angeles, interiors and exteriors were painted, floor tiles replaced, landscaping overhauled and classes and lockers moved for "Drillbit Taylor." The school earned $90,000 for the 2008 comedy starring Owen Wilson.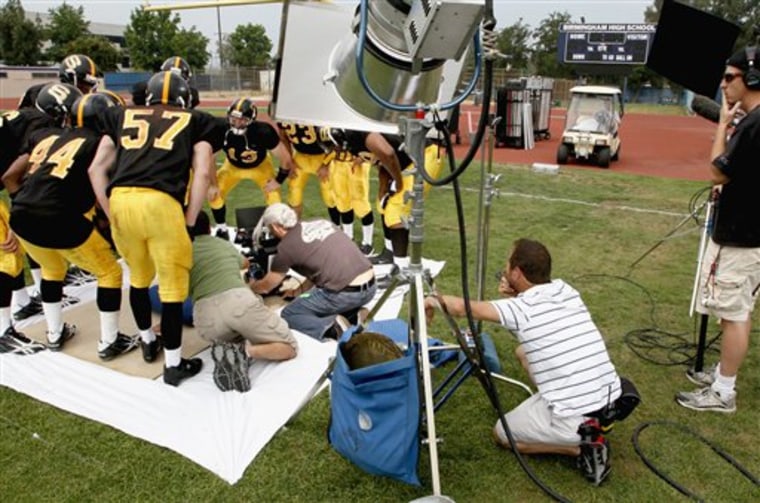 But allowing film crews on campus is not all glitz and glam.
University High students and teachers complained in the school newspaper that the "Drillbit Taylor" crew blocked access to classes and took over the parking lot. They also resented security guards stopping them from moving about campus.
Similar complaints about the filming of "90210" several years ago prompted Torrance High to restrict filming to outside school hours. "It was a distraction to students and the learning environment," said Mitchell Tabaldo, site supervisor, who now gets three or four inquiries a month but few takers after producers hear the restrictions.
At El Segundo High, opposition came from outside the school. Neighbors complained to the City Council about trucks occupying streets, noise from generators and crew members running through their yards. Over the school district's protests, the council last year limited filming at any city location to 20 days per year.
Principal Garza said the clampdown has virtually stopped the phones ringing at a time when the school year is being shortened because of lack of money to pay teachers.
Still, school administrators say they welcome the money and sometimes they can work in perks, too. As part of a $400,000 deal to lease Hollywood High School's football field for the summer, Disney hired students to work at a "Toy Story 3" mini-amusement park set up there.
"In a terribly difficult environment, it's wonderful," said Graham, LA Unified's leasing director. "They're going to get almost six teachers funded."