/ Source: The Associated Press
Four centuries in 30 minutes. That's what tourists get in trendy DUMBO. The history of this offbeat Brooklyn neighborhood includes Dutch settlers, George Washington, Walt Whitman, the Brooklyn and Manhattan bridges, and a 21st-century chocolate shop.
But history and chocolate are just a small part of what makes DUMBO — which stands for Down Under the Manhattan Bridge Overpass — worth visiting. The neighborhood and an adjacent area called Fulton Ferry Landing are also home to Brooklyn Bridge Park, which opened in March with panoramic views of the bridges, Empire State Building and Statue of Liberty, all in one turn of the head. For foodies, in addition to Jacques Torres Chocolate, destinations include Grimaldi's, famous for brick-oven pizza; the Michelin-starred River Cafe, and the Brooklyn Ice Cream Factory. And then there are the streetscapes — gritty and majestic, chaotic and charming. Every corner reveals a visual urban jazz that is uniquely New York.
To get to DUMBO from Manhattan, take the F train to the York Street station. Exit, turn right on Jay Street, and start your sightseeing by looking up. Wooden-barrel water towers dot the rooftops and "NECK FACE" graffiti adorns a building to your right. Continue a few blocks along Jay, then turn left on Water Street. Here stands the Manhattan Bridge overpass that gives the neighborhood its name.
Walk under the massive stone arch. Above, subway trains roar and clatter across the bridge, but layers of history can also be found by looking down. Beneath your feet, asphalt gives way to old granite paving stones crisscrossed with tracks from the Jay Street Rail line, which transported freight for the factories that once dominated the neighborhood. As you continue down Water Street, look to your right at the intersection of Washington Street. The Empire State Building is straight across the river.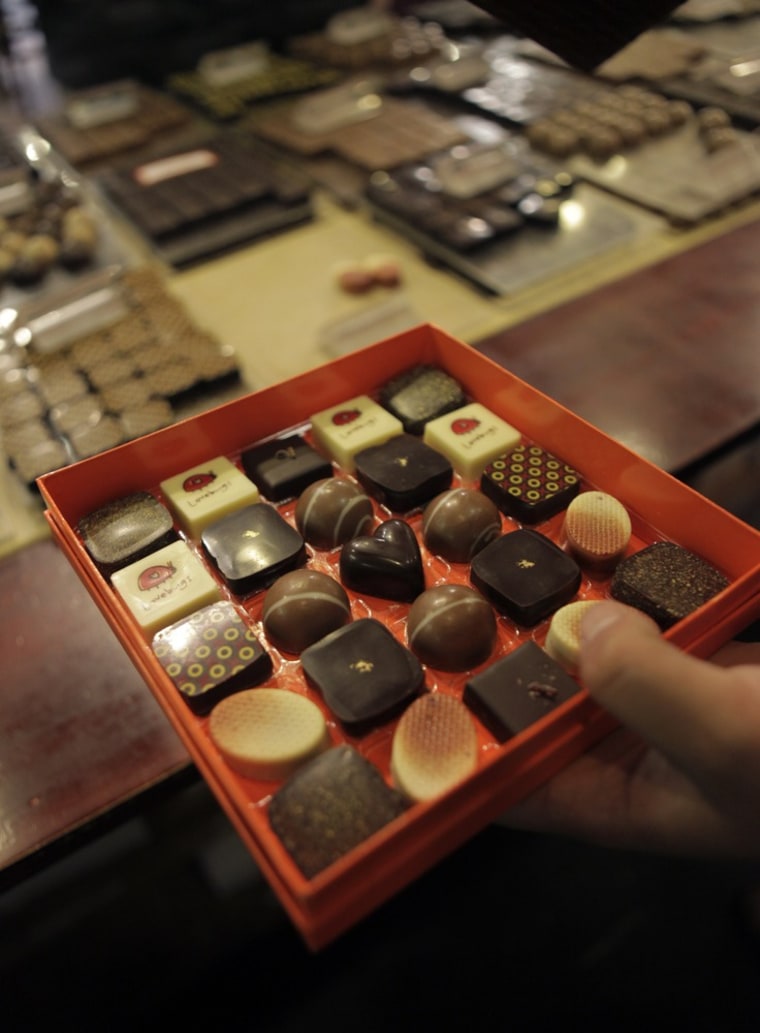 A stop at the chocolate shop, 66 Water St., is a must. The frozen hot chocolate is a divine summer treat, bonbons are $1.50 a piece and there's an ice cream annex next door. When the store opened in December 2000, "I was in a neighborhood that was deserted," recalled owner Jacques Torres, a former pastry chef at Le Cirque. "It was definitely a risk. It was not the neighborhood we know today."
Neighborhood history
The evolution from postindustrial to residential chic is ongoing, as evidenced by massive construction along Water Street and signs advertising new rentals and loft apartments in old factory and warehouse buildings. Brooklyn was the country's fourth-largest manufacturing center by 1880. DUMBO, with access to the river for easy shipping, was home to a sugar refinery, coffee-packaging plant, and factories that made soap, shoes, Brillo steel pads and house paint. A business that made paper boxes for companies like Nabisco and A&P employed 1,700 people in 10 buildings in the early 20th century. The box titan's name, Robert Gair, can still be seen on some buildings.
"It's incredible how many different products still recognized to this day were made there," said Marcia Reiss, who wrote a neighborhood history guide about DUMBO sold by the Brooklyn Historical Society.
At the foot of Water Street lies Fulton Ferry Landing. Ferry service between Brooklyn and Manhattan started here in 1642, when the area was a Dutch farming settlement. "It was just a man rowing a boat," said Reiss.
The ferry landing also played a role in the American Revolution. In 1776, George Washington and 9,000 of his troops rowed across the water in retreat after a terrible defeat to the British, "narrowly preserving the Continental Army," Reiss wrote in her book.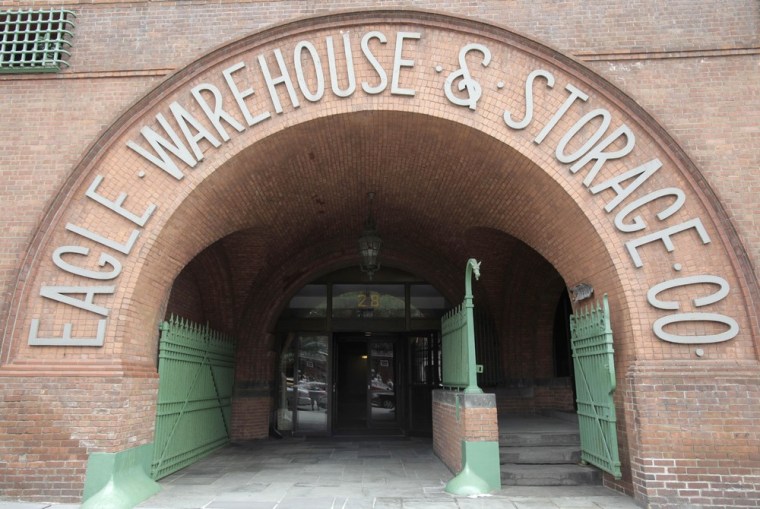 Notice the railing around the pier. Words stamped into the metal offer an excerpt from a Whitman poem, "Crossing Brooklyn Ferry." Whitman served from 1846 to1848 as editor of the Brooklyn Eagle, an important daily paper in its day. The massive arched entrance to the Eagle Warehouse, on the site of the paper's pressroom, is at 28 Old Fulton St., across from the pier on the right as you face the street. A plaque outside the building explains the connection to Whitman. The building was converted to apartments 30 years ago, and today a two-bedroom apartment there lists at nearly $1 million.
Connie Fishman moved into the Eagle in 1986. "For a decade nothing happened, and then all of a sudden, there was a new wave of people and a lot more tourists," she said. "Now they wander up and down our block looking for the entrance to the Brooklyn Bridge. There's always somebody lost trying to figure out where to go."
(Note to bridge-seekers: Look for a sign farther up Old Fulton Street, on the left, for the bridge stairs, which will take you to the pedestrian walkway leading back to Manhattan.)
Relatively unknown
The fact that DUMBO is still relatively unknown is part of its charm. Sean Cavanaugh, visiting on a recent summer day from Alexandria, Va., with his wife Jean and two children, admitted that he thought the neighborhood housed "a mini-amusement park." (Dumbo is a circus elephant character from Disney.)
Instead, the Cavanaughs found beautiful old buildings and the waterfront. "This is a great little area," Cavanaugh said, taking in the soaring view from the ferry landing of Lower Manhattan and the bridges.
It was near this spot that John Roebling, who designed the Brooklyn Bridge, was mortally injured, hit by a ferry as he surveyed the future construction site. His son Washington Roebling — who was also seriously injured supervising construction of the bridge — and Washington's wife Emily completed the project.
The Brooklyn Bridge, with its majestic Gothic arches and delicate filigree of cables, opened in 1883. At the time, it was the longest span ever built. "It was an achievement ahead of its time, an engineering marvel," said Ron Schweiger, a Brooklyn historian who has served as an official city tour guide for the bridge. The Manhattan Bridge, built to accommodate the increasing traffic between the boroughs, opened in 1909.
As beautiful as views from the ferry landing are, there's an even better spot for photographs. As you face the water, continue to your left, to the new Brooklyn Bridge Park. Enjoy the waterfront promenades, grassy fields and panoramic vistas.
Options for food here range from street vendors to the River Cafe at 1 Water St. ($98 prix-fixe dinner). The Brooklyn Ice Cream Factory is housed in a fireboat house on the ferry landing that dates to 1926. And there's always a long line outside Grimaldi's, at 19 Old Fulton St., across from the Eagle Warehouse. Or head back toward Jacques Torres, where the neighboring Water Street Restaurant offers a creative but unpretentious menu with many dishes under $20.
Other DUMBO attractions include Bargemusic, which hosts concerts on Fulton Ferry Landing; a free art gallery walk the first Thursday of every month, 5:30-8:30 p.m. — and big yellow water taxis that connect the ferry landing to Lower Manhattan and Governor's Island. In conjunction with the DUMBO Arts Festival, Sept. 24-26, the Brooklyn Historical Society is sponsoring two free 45-minute tours of DUMBO, Sept. 26, at 1 p.m. and 2:30 p.m., meeting at York and Jay streets by the F train stop.
DUMBO is also part of a 2 1/2-hour bus tour called A Slice of Brooklyn, $75, with stops at great pizzerias, landmarks and movie locations around the borough. The itinerary includes the ferry landing, Eagle Warehouse, Grimaldi's, and filming sites for "Once Upon a Time in America" and "Scent of a Woman."
"DUMBO has the modern things — Jacques Torres and Grimaldi's — but it also has the history," said the tour founder, Tony Muia. "It's a little hidden gem."