A top United Nations official on Tuesday denounced the Pentagon's trial of so-called "child soldier" Omar Khadr at Guantanamo Bay, saying the proceeding was a violation of international legal norms and "may endanger the status of child soldiers all over the world."
"Since World War II, no child has been prosecuted for a war crime," Radhika Coomaraswamy, the U.N.'s special representative for Children and Armed Conflict said in a statement distributed by the U.N. on the eve of Khadr's trial here.
"Child soldiers must be treated primarily as victims … The Omar Khadr case will set a precedent that may endanger the status of child soldiers all over the world," he said.
The sharp criticism from the U.N. official created yet another public relations dilemma for Pentagon officials as they prepare to try Khadr, a Canadian citizen who has spent nearly a third of his life at Guantanamo, in the first military commission trial during Barack Obama's presidency.
And although Coomaraswamy has issued objections to Khadr's case before, the statement came on the day a military judge will begin picking a jury to hear charges that the defendant committed murder and attempted murder in violation of the "law of war" for allegedly hurling a hand grenade that killed a U.S. Special Forces medic in Afghanistan eight years ago.
At the time of the alleged incident, Khadr, now 23, was 15 years old.
Hardened al-Qaida operative?
Pentagon officials have vigorously defended their case against Khadr, portraying him as a hardened al-Qaida operative who boasted of his role in planting improvised explosive devices that would kill Americans in Afghanistan.
During a pre-trial argument on Monday, a military prosecutor said that Khadr — the son of a trusted associate of Osama bin Laden — had told a U.S. interrogator that "the proudest moment of his life" was when he hurled the hand grenade that killed Speer.
Asked for comment about the U.N. official's statement, Joe DellaVedova, a spokesman for the military commissions, said a military judge has already ruled that there is no age limit under the Military Commissions Act that would prevent the case against Khadr from proceeding.
But privately, Pentagon officials have acknowledged that the criticism from human rights groups over their decision to proceed with a case against somebody who was a teenager at the time of his alleged crimes has created awkward public relations problems.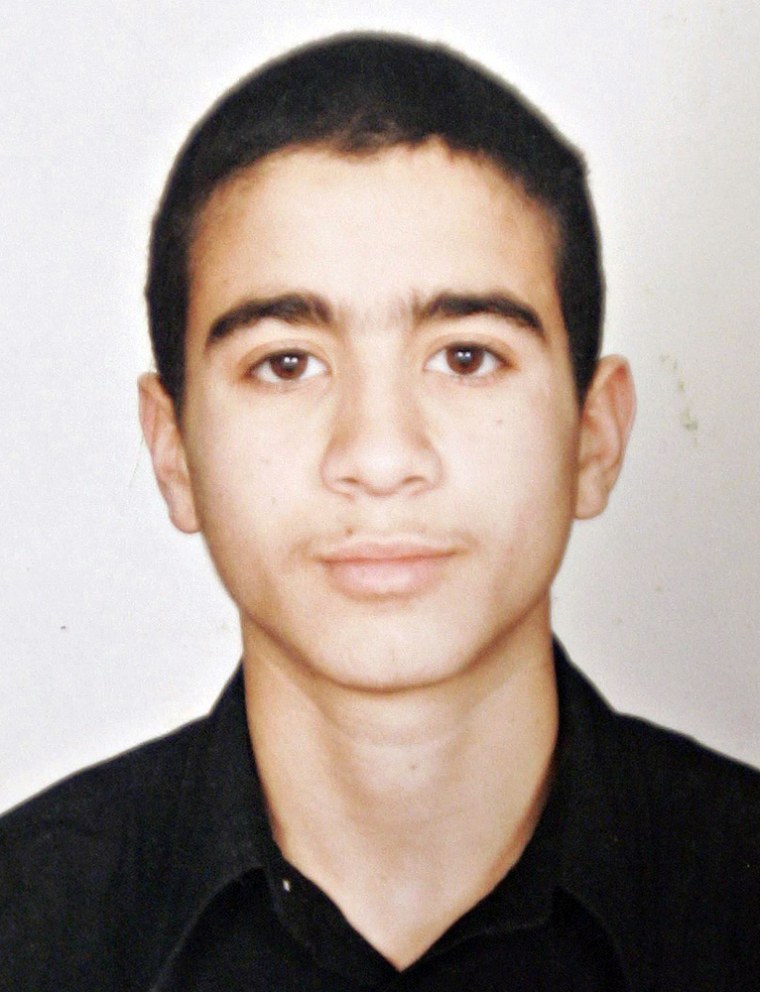 David Crane, a former Defense Department official, told NBC this week that when he served as the chief prosecutor for the International War Crimes Tribunal for west Africa, he specifically chose not to prosecute solders under the age of 18.
"No child has the mens rea — the criminal mind — to commit war crimes," Crane said.
The Khadr case is being watched nervously by senior Obama administration officials, who are well aware of the high stakes involved. Pentagon officials realize that their plans for trying as many as 40 Guantanamo detainees — including possibly 9/11 mastermind Khalid Sheikh Mohammed — before the new military commissions will rest in part on whether Khadr's trial is perceived to be fair and in accordance with established legal principles.
'Shame this process'
In a pre-trial proceeding on Monday, the military judge presiding over the case issued a ruling that, while it will greatly help prosecutors prove their case, could also prompt further criticism.
The judge, Army Col. Pat Parrish, ruled that confessions Khadr made at Guantanamo could be heard by the jury despite pleas from his defense lawyer that the statements were extracted by FBI and military interrogators only after he was threatened with rape and torture.
Khadr, who sat through morning arguments reading a soccer magazine, reacted with disgust after Parrish announced his ruling in the afternoon.
"We're just embarrassing ourselves by being here," Khadr said, according to his Canadian lawyer Dennis Edney.
Edney said he tried to buck up his client up by telling him: "Our job is to shame this process."
Khadr's claim that he was tortured gained some credence last month when one of his initial interrogators testified that guards and interrogators at Afghanistan's Bagram Air Force Base, where Khadr was initially detained, sought to scare prisoners by telling them they would be raped by "big black guys" and "Nazis" in a prison in the U.S. if they did not cooperate. (Khadr has alleged in a court affidavit that he was threatened with rape while at Bagram.)
Khadr's military lawyer, Jon Jackson, on Monday invoked that testimony to argue that anything Khadr said later at Guantanamo — when he confessed to being an al-Qaida operative and throwing the hand grenade — should be excluded from the case. When he made those later statements, Khadar was still in Defense Department custody, Jackson said.
"He was still under the control of the same people who threatened him with rape and death," he said.
But one of his military prosecutors contended that Khadr's later statements were made to trained FBI agents who treated him professionally and with respect. In those statements, Khadr confessed not only to throwing the grenade that killed Speer but also to having undergone al-Qaida weapons training and being taught to make improvised explosive devices.
Rather than abusing him, U.S. military officials had said they acted swiftly when they learned that Khadr — who was badly wounded in the firefight with U.S. soldiers — needed emergency surgery to save his eyesight.
That was the reason he was flown to Guantanamo, said the prosecutor, Air Force Capt. Chris Eason.
"They went the extra mile for this guy," he said.