/ Source: The Associated Press
One of the most fascinating things about Tokyo is the way it combines both the ancient and the modern. Or rather, the way it doesn't combine them at all, so the new and the old are side by side everywhere you turn.
Take the metro to the Chiyoda Ward in central Tokyo and you'll find yourself surrounded by a tangle of glass and steel skyscrapers — until out of nowhere appears a moat, a pavilion of neatly trimmed grass and the hulking stone walls of the Imperial Palace. There's hardly a guard in sight and entrance to the surrounding gardens is free and open to the public.
That's another fascinating thing about Tokyo: Despite its enormous size and high-tech opulence, much of the city is remarkably affordable for budget travelers. Just know the right sites to visit and the best spot for a cheap sushi meal.
Accommodations
Unless you speak Japanese, you won't make it very far cold-calling Tokyo's budget-priced hotels. Good English is generally spoken only at top-of-the-line accommodations and pricier business hotels.
A good place for budget travelers to start is Agoda.com, an English-language website that specializes in travel bookings in Asia. A search for Tokyo hotels turns up hundreds of hits, including quite a few for under $70 a night — a steal by Tokyo standards.
A recent three-night stay at a comfortable, quiet — albeit small — one-bedroom at the Dormy Inn Hatchobori ran $72 a night for three nights. This was well below the hotel's $100 standard nightly rate.
More adventurous travelers can choose between two more budget-minded routes: a traditional ryokan hotel (akin to a bed-and-breakfast) or, cheaper still, a capsule hotel, where the units are little more than beds with doors. Expect lots of noise and little English, particularly at the latter.
Getting around
Tokyo has one of the finest underground train systems in the world. It's cheap, safe and oh-so-fast.
The downside is that, for first-time visitors, the tangled web of train lines can be extraordinarily confusing. Mercifully, stations have signs in both English and Japanese. Pick up a free map from any station upon your arrival and study it as best you can.
If you plan to hit a lot of sites in one day, your best bet is a one-day metro line pass, which can be bought at the bilingual ticket terminal at any station. These will run you 710 yen ($8.31). For a bit more, you can get passes that give you access to additional train routes circling the city, called Toei lines, but it's not necessary.
If you prefer to pay as you go, you can try to guess your fare each time you enter a train station, but this is likely to be an exercise in futility. Fortunately, riders can enter stations by paying a minimum 160 yen ($1.87) fare, then pay the difference upon arriving.
Taxicabs can be hailed around the city in a pinch, but they are expensive and the fares can quickly add up.
Old Tokyo
One of the first stops for budget-minded travelers should be the sprawling Tsukiji fish market. You can spend hours roaming the market's corridors, ogling ice troughs full of arm-sized fish and chowing down on some of the freshest sushi on the planet. It's best visited early in the morning, when the vendors are still well-stocked.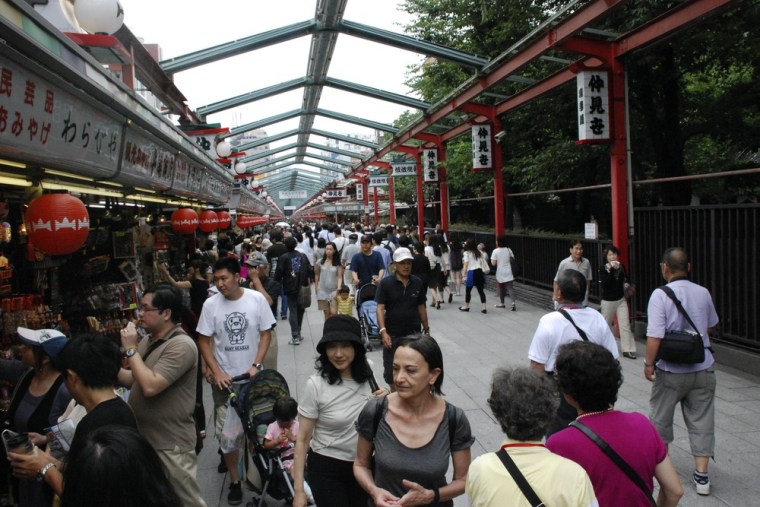 Another piece of old Tokyo not to be missed is the Meiji Jingu shrine. This Shinto shrine was constructed 90 years ago under Emperor Meiji, who led the way in opening Japan to the rest of the world. The gardens, lily ponds and temple grounds are a pleasant respite from noisy Tokyo. Entrance is free, but it costs 500 yen ($5.85) to visit the iris garden, a fee worth paying.
You could kill a whole day at the Asakusa temple if you wanted, where you are likely to encounter the curious sight of groups of quiet worshippers praying just steps away from a bustling souvenir shop. Be sure to drop a few coins into a donation jar here and take a fortune that spells out your fate in great detail.
The Asakusa temple is also an excellent budget shopping area, where the sprawl of small shops offers an abundance of inexpensive Japanese goods.
Round out your tour of old Tokyo with a visit to the Imperial Palace in the city center. Only the gardens surrounding the palace are open to the public on a regular basis, but they make for an enjoyable walk and the high stone walls and wide moats offer a glimpse into life in feudal Japan.
New Tokyo
Take in all of Tokyo's vastness from high up with a visit to the Tokyo Tower, which offers a panoramic view of all the sprawl. A ticket to the main observatory costs 980 yen ($11.47) and takes you 492 feet high, offering a view that stretches to Mount Fuji on a clear day. Another 600 yen ($7.02) gets you into the 820-foot-high special observatory.
Tokyo from the ground is best seen with a visit to the Shibuya neighborhood. Shibuya is quintessential Tokyo, where neon lights, electronics shops and rivers of pedestrians are the defining features. Be sure to stop by Shibuya Crossing, the city's answer to Times Square in New York.
Lastly, the Ginza shopping district is worth a visit, even if you don't plan on buying anything from its glitzy, high-end department stores. It's a great place to ogle Tokyo's fashion-conscious residents, while the cavernous stores offer excellent — and cheap — food options.
Eating
One of the best parts about Tokyo is the food — its abundance, quality and affordability. Staples for the budget traveler will include rice, noodles, fish and miso soup. Expect to find one of these items in nearly every meal you eat — including breakfast.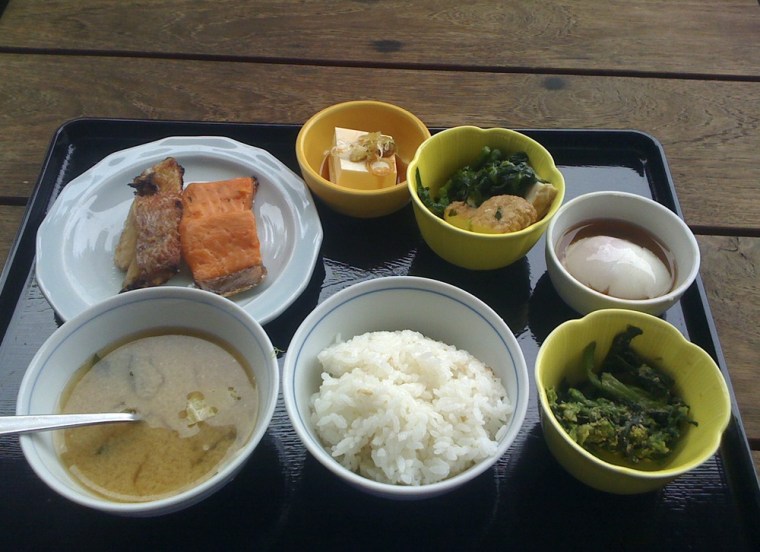 Most of this stuff is surprisingly cheap. A healthy-sized bowl of noodles and soup, sometimes with some vegetables thrown in or tempura on the side, can be had for between 500 and 1,000 yen ($5.85 to $11.70) at many of the city's small, anonymous noodle shops. (Ginza's department stores have an abundance of these.) It sounds boring, but a bowl will prove a good deal more satisfying, and tasty, than the stringy ramen you lived on in college.
First-time travelers might expect sushi to be consumed in abundance in Japan, but most of the fish eaten here is not raw. Like in the U.S., sushi in Japan is consumed sparingly and is something of a delicacy. It also commands a price premium similar to that in the U.S.
That said, you should still sample as much raw fish as your bank account allows because it's sure to rank among the best you'll ever eat. The best place to do it is the Tsukiji fish market, where seemingly around every corner lurks an affordable eatery. A bowl of raw tuna and rice with a side of miso soup and tea will run you around 1,100 yen ($12.87) at most restaurants here. If you're feeling adventurous and you enjoy the texture of Jell-O, a bowl of plain fish eggs will cost you half that much.