/ Source: msnbc.com staff and news service reports
Just a few months ago Mariner Energy was celebrating its imminent marriage to Apache Corp.
On Thursday, Mariner found itself in the middle of a potential BP-style crisis, with a rig off the coast of Louisiana that exploded and perhaps was leaking oil into the Gulf of Mexico.
Mariner shares dropped on the news, shedding more than 2 percent. Shares of Apache also fell.
The rig explosion and concerns that Hurricane Earl may threaten refining capacity along the East Coast sent oil prices higher. U.S. crude settled at $75.02 a barrel, up $1.11 on the day.
Mariner, a Houston-based independent oil and gas company, is a relatively small player compared with BP, Shell and other oil giants operating in the Gulf.
In April, Apache said it planned to buy the company for $2.7 billion, though the deal hasn't been completed yet.
Most of Mariner's operations are in West Texas and along the Gulf Coast. The company also owns more than 240 blocks in shallow parts of the Gulf of Mexico.
The platform that exploded is called Vermilion 380. According to regulatory filings, Mariner owns 100 percent of the platform.
Mariner said in a statement that the platform had been producing both oil and natural gas. During the last week of August, the Vermilion produced an average of 9.2 million cubic feet of natural gas per day and 1,400 barrels of oil.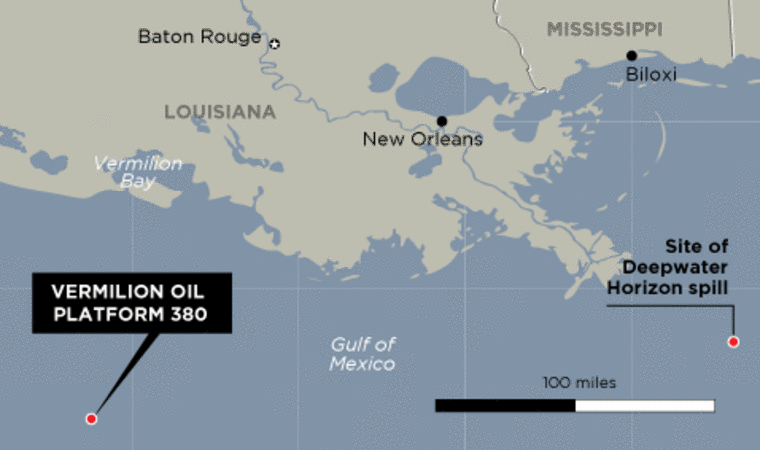 It's unclear if the platform was producing when the explosion occurred, but the Coast Guard said that a mile-long sheen is now visible.
The explosion was reported around 10 a.m. EDT by a commercial helicopter. The company said all 13 crew members were evacuated and no injuries were reported.
Mariner's platform is in 340 feet of water, which would make any spill response much easier than the response to BP's blown-out well. The BP well is about 200 miles east of the Mariner platform and lies at a depth of 5,000 feet. Crews were forced to rely on remote-operated vehicles to tend to the underwater equipment. Experts say shallow-water wells are much easier to handle.
The Coast Guard responded to the explosion with helicopters, airplanes and cutters.