/ Source: msnbc.com staff and news service reports
Cindy Dorsey has lived near the Straight River in southern Minnesota for 15 years and never laid a sandbag before Friday.

But the river's swift rise from heavy rain forced Dorsey to learn quickly and, after rising at dawn, she had placed at least 200 of the bags outside her Owatonna home to protect it.

"It's going to be one heck of a cleanup," said Dorsey as she watched water lap against the sandbags. "Let's hope it's just getting rid of the sandbags."

Several towns across southern Minnesota and southwest Wisconsin grappled with a flood threat brought on by a powerful storm system that dumped almost a half-foot of rain on the region a day earlier. Hundreds of homes were evacuated, including 70 in Owatonna, a town of 24,000 about 65 miles south of Minneapolis.

Friday was dry for much of the region, giving a respite to emergency workers dealing with the flooding. But rain was back in the regional forecast for Saturday, though not nearly as much as Thursday's downpours.

In the Wisconsin town of Arcadia, about 90 minutes east of Owatonna, water was receding from downtown Friday. Businesses were open and drawing crowds. A day after emergency officials evacuated 343 homes, some residents were returning as the creeks that flooded downtown dipped.

But other parts of the community of about 2,400 were dealing with rising water. About 20 people were evacuated Friday morning from a senior housing complex in Arcadia.

People living in homes just northwest of the Trempealeau River were asked to leave as the river rose near the top of Arcadia's two main bridges. Residents gathered on the swollen river's banks, snapping pictures and shaking their heads.
"I'm not freaking out," said Andrew Droullard, who stood on the sidewalk in front of his River Street home, about a half-block from the river. "We're in a swamp. That's all it is."

Droullard watched brown water fill the street. The 56-year-old handyman said he had 4 feet of water in his basement. He moved his belongings off his floor and packed his truck with essentials in case he had to leave.

"Just watch and wait, said Droullard's neighbor, Jerrod Skilling, 21, a roofer. "Hope for the best."

Skilling sat on his front porch with a case of beer, watching his girlfriend's 4-year-old daughter, Serenity Apicella, frolic in the curb-high water.

The National Weather Service said Friday afternoon that the Trempealeau River had begun to recede.

Meanwhile, in southeast Minnesota, more than a dozen homes near a dam in the small town of Oronoco were evacuated Friday for fear that torrential rains had weakened the dam. Not far away, all of Zumbro Falls' 180 residents were evacuated as rising floodwaters threatened access. At least 10 school districts canceled classes.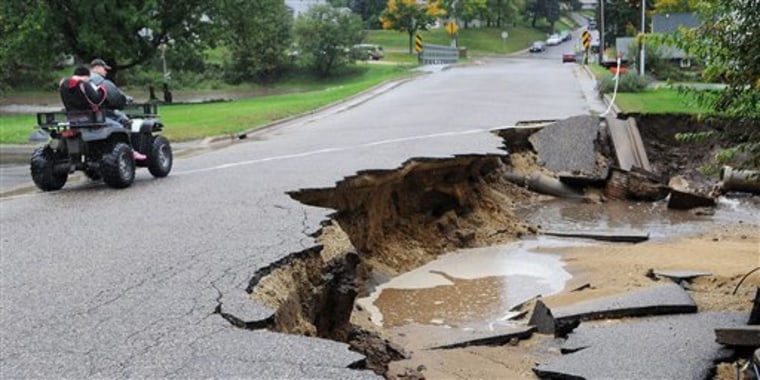 North of Owatonna, the north-flowing Straight River's high water was headed for other towns. Medford, which has about 1,000 residents, was sandbagging along the river and Northfield was dealing with flooding in its public safety building.

Many highways and county roads throughout southern and southeast Minnesota were flooded and barricaded.

In Wisconsin, flood warnings were issued in more than a dozen counties across the western and north-central parts of the state. Officials working the Hatfield Dam in Clark County issued a "red alert condition," warning that all gates were open. Eighty homes in Black River Falls and seven in the village of Marathon City were evacuated.

Minnesota Gov. Tim Pawlenty toured flood-damaged areas Friday, a day after he and Wisconsin Gov. Jim Doyle declared emergencies in portions of their states. Pawlenty, who praised those dealing with the water, said he would work with legislative leaders for a possible special session to approve money for the flood damage.
"These communities may be physically damaged, but their spirit is strong," Pawlenty said.

In Owatonna, officials said the Straight River was cresting Friday, dispelling worries that two more neighborhoods would have to evacuate. The high water did wash out high school homecoming festivities.

About a third of Owatonna's 24,000 residents lost power Friday morning, but it was restored to most after just a few hours. Schools canceled classes because the flooded roads made traveling difficult.

"We're doing a lot of work to hold our ground here," said Fire Chief Mike Johnson, who's also the county's emergency management director.

Owatonna resident Steph Danielson, 29, said she had watched water move up her street since Thursday, leaving a nearby baseball diamond under 3 feet of water. Danielson started stacking sandbags Friday morning, but she was ready to leave with her husband and two young sons if the sandbagging didn't work.

"We have the van packed and ready to go," Danielson said. Later Friday, the water had begun to recede.

Crests are expected in Minnesota early next week along the Minnesota and Mississippi rivers, possibly bringing more problems.

"This is going to be a long-term kind of issue," said Doug Neville, a spokesman for the state Department of Public Safety.
now on an island, WEAU-TV reported.
"I thought it was something like you watch on the Weather Channel, that there would just be a big puff of insulation and smoke and your house would be gone," Finner told WEAU-TV.