/ Source: The Associated Press
Fear of mad cow disease hasn't kept Cecelia Coan from eating her beloved deep-fried cow brain sandwiches.
She's more concerned about what the cholesterol will do to her heart than suffering the brain-wasting disease found in a cow in Washington state.
"I think I'll have hardening of the arteries before I have mad cow disease," said Cecelia Coan, 40, picking up a brain sandwich to go at the Hilltop Inn during her lunch hour. "This is better than snail, better than sushi, better than a lot of different delicacies."
The brains, battered with egg, seasoning and flour, puff up when cooked. They are served hot, heaping outside the bun.
They are traced back to a time when southern Indiana newcomers from Germany and Holland wasted little. Some families have their own recipes passed down over the generations.
A little mad cow hysteria won't scare this crowd, said Coan, a bank teller who likes her brain sandwich served with mustard and pickled onions.
"You're going to die anyway. Either die happy or you die miserable. That's the German attitude, isn't it?" Coan said.
The local delicacy is served at area German-heritage restaurants like the Hilltop Inn, a former stagecoach stop in the Ohio River city that opened in 1837. They're also popular at annual festivities like Evansville's fall festival, where they typically sell out early at church booths.
The only thing that will stop many of the sandwich's fans from buying them is its availability. New rules from the U.S. Department of Agriculture's Food Safety and Inspection Service will ban selling brains of cattle 30 months or older.
The 30-month cutoff is used because the incubation period for cattle to develop the disease is many months to many years, said Denise Derrer, spokeswoman for the Indiana State Board of Animal Health.
Same organ, different animal
But some Evansville-area meat suppliers, such as Dewig Brothers Meats in Haubstadt, have stopped selling the cow brains completely. Since it opened in 1916, the supplier had saved the brains to sell to individuals and restaurants. The going price was from $1.50 to $2 a pound.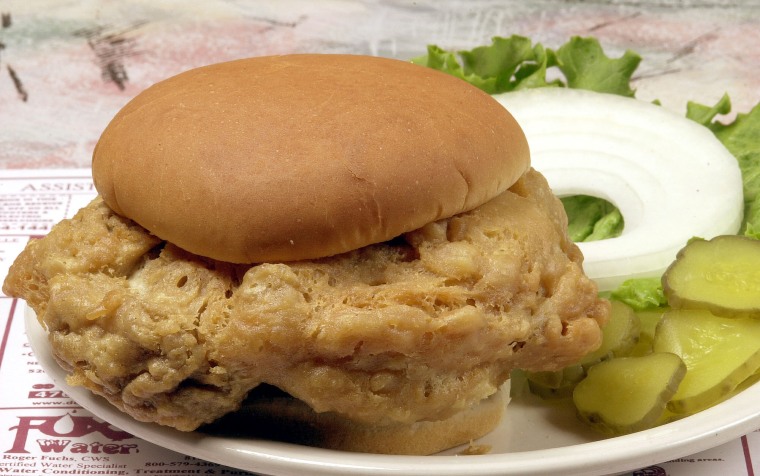 The decision means customers will have to switch to pork brains, which they tend to not like as much because they are smaller and more difficult to work with, owner Tom Dewig said.
Consumers, however, are not likely to tell the difference.
"The taste is really carried in the batter," Dewig said.
Although some people consider eating cow brain an area novelty, it is not just limited to Indiana, Dewig said.
In California, in cities such as Stockton, cow brain is commonly sold as taco filling and sold from trucks. They are referred to by their Spanish name, "sesos."
In Texas border towns, barbacoa, made from the cow's head and brain, is served during the holidays.
Dangers and delicacies
Across the Ohio River in Kentucky, eating squirrel brain served with fried eggs was once considered a rural delicacy in some parts. Its popularity declined, however, after researchers in 1997 found a possible link between eating squirrel brains and contracting mad cow.
Mad cow disease, or bovine spongiform encephalopathy, eats holes in the brains of cattle and is incurable. Humans can develop a brain-wasting illness, variant Creutzfeldt-Jakob disease, from consuming contaminated beef products.
Federal officials said after the case of mad cow was detected Dec. 23 in Washington state that the meat supply was safe.
The cow brains would have to be heated to about 1,200 degrees to kill the rogue proteins called prions that cause the disease, said Derrer of Indiana's animal health board. That temperature is more than double that of deep frying.
It will take more than one case of mad cow disease, however, to keep Nick Morrow, a 45-year-old pipefitter from Evansville, from eating the brain sandwiches he's enjoyed since a child.
Morrow talked his buddy, Scott Moore, into eating at the Hilltop Inn just so he could have one.
Mad cow disease was far from his mind.
"Well, I haven't won the lottery yet, so I don't figure I'll get that," Moore said as a hot cow brain sandwich cut in half sat on a plate before him.