With Egyptian President Hosni Mubarak in danger of being toppled by waves of street protests, Secretary of State Hillary Clinton on Sunday urged "a peaceful, orderly transition to a democratic regime," but refused to engage in speculation about possible U.S. sanctuary for Mubarak if he were driven into exile.
Appearing on NBC's Meet the Press, Clinton told NBC's David Gregory the central issue was not whether Mubarak was taking the necessary steps to salvage his 30-year rule, but whether he would respond to "the legitimate needs and grievances expressed by the Egyptian people and chart a new path."
Meanwhile, in Egypt thousands of people gathered again Sunday in Cairo, calling for Mubarak to give up power and leave the country. Demonstrators in Cairo's Tahrir Square chanted,  "Mubarak, Mubarak, the plane awaits."
Increasingly residents in Cairo were taking steps to defend themselves and their property from looting and violence.
"The looting is what Egyptians are mostly focused on right now," reported NBC News correspondent Richard Engel from Cairo. "Many people have set up private vigilante groups in front of their homes…. People are afraid. This is no longer just a political movement with protesters on the streets, but there is a basic collapse of law and order," Engel said.
There were some signs of anti-American sentiment in the protests demanding that Mubarak resign and dismiss his appointment of Vice President Omar Suleiman. "Hosni Mubarak, Omar Suleiman, both of you are agents of the Americans," protesters shouted.
Clinton had a word of praise for the Egyptian army, as did Sen. John McCain who appeared on CNN Sunday.
Praise for role of Egyptian military
"We have to recognize that we have to deal with the situation as it is and we are heartened by what we hear from our contacts that, at least thus far, the army has been trying to bring a sense of order without violence," Clinton said.
"The good news, I think, is that the army is playing a very constructive role," McCain said on CNN, calling the military "the only real stabilizing force in the country right now."
He added, "Fortunately, we've had very close relations with the Egyptian military. There's a lot of very good strong people there."
Clinton's comments underscored the limited effectiveness of repeated U.S. appeals to Mubarak to allow democratization.
"We have been urging free and fair elections for many years…. Through Republican and Democratic administrations alike, America's message has been consistent: We want to see free and fair elections," Clinton said.
"We have tried to, in our partnership with Egypt, to make the point over and over again about what will create a better pathway for the Egyptian people" — that is, an open, democratic political system and more economic opportunity.
Also appearing on Meet the Press, Senate Republican Leader Mitch McConnell called Egypt "an indispensable ally and we hope that, at the end of the day when whatever changes are going occur do occur, that we will still have an important ally."
McCain said the way out of the crisis was for Mubarak to announce he would not run for president, to turn over power to a caretaker government, and for that interim regime to proceed with elections in September.
"This is a narrow window of opportunity. The longer the unrest exists, the more likely it is to become extreme," he said.
He urged President Obama to propose a plan for Mubarak to end emergency rule and announce that elections will be held in September. "I have confidence in the Egyptian people that they are not going to elect an extremist, not going to allow an extremist group to hijack their country — and that can be prevented if we have a fair and open process, beginning now," McCain said.
If the transition to democracy is successful, Egypt could serve as a model for the entire Middle East, McCain said. "This could be really a seminal moment in the history of the Middle East."
"There's all kind of bad scenarios here, and really only one good one," he said.
McCain voices fears 
"My great fear is obviously a radical Islamic extremist (regime) — the Iran scenario…" he said. "The longer this unrest, the more likely the radicals see openings to take power — the Lenin scenario."
He also said he feared that turmoil might spread to Yemen, Jordan and other countries in the region, potentially strengthening the hand of radical Islamists.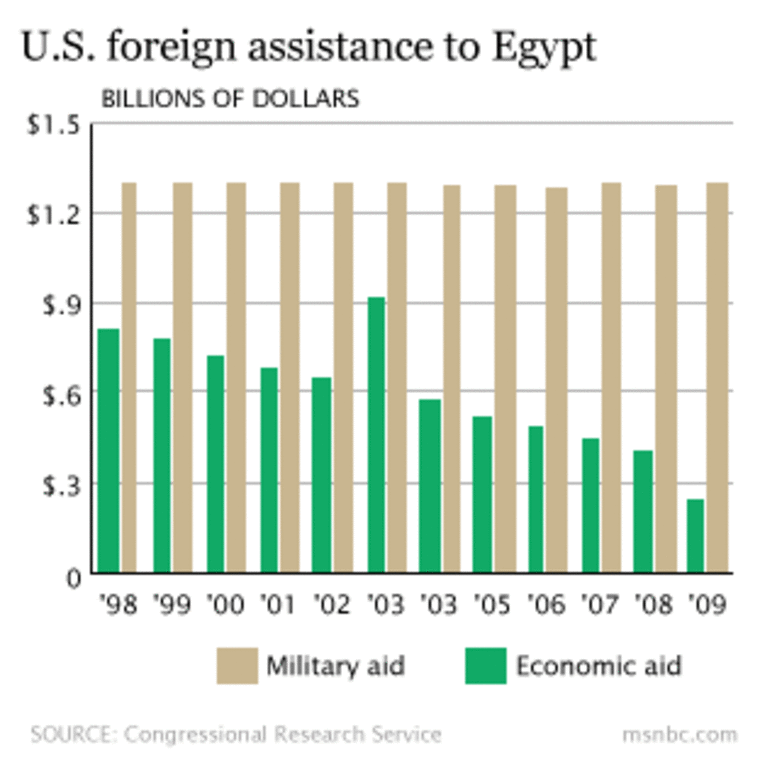 McCain, who lost the 2008 election to Obama, was mildly critical of the president for not being more assertive in calling for democracy. Obama needs to "get a little bit more out ahead" of events, the Arizona senator said, and "lay out a scenario" of a shift to democratic government in Egypt.
"We need to be on the right side of history" and "we need to do a better job of emphasizing and arguing strenuously for human rights," he said.
"Isn't the lesson of history that you cannot have autocratic, repressive regimes last forever?" he asked. "And the longer they last, the more explosive are the results. And that's a lesson we have to learn."
In fiscal 2009, the United States spent about $1.5 billion on aid to Egypt, with most of it in the form of military aid. Since 1979, Egypt has been the second largest recipient, after Israel, of U.S. foreign assistance.
White House spokesman Robert Gibbs said Friday that the U.S. aid package would be reviewed in light of how Mubarak's government responds to the unrest.
Obama said in a statement Friday night that Mubarak had "pledged a better democracy and greater economic opportunity.  I just spoke to him after his speech and I told him he has a responsibility to give meaning to those words, to take concrete steps and actions that deliver on that promise."
The president also said the United States "will continue to stand up for the rights of the Egyptian people and work with their government in pursuit of a future that is more just, more free, and more hopeful."
The Associated Press and Reuters contributed to this story.