/ Source: The Associated Press
State Marine Patrol Sgt. John Reilly paused briefly as his 27-foot Boston Whaler bobbed in the choppy waters of Boston Harbor and considered the ship he was helping to protect.
At 930 feet long, the Inigo Tapias is one of the largest ships to do business in the harbor. Stood on end, it would dwarf the city's tallest building, the 750-foot John Hancock tower. And its cargo is certainly the most menacing.
Every few days, tankers like this one carry 33 million gallons of liquefied natural gas to a plant in Everett. They pass within a few hundred yards of downtown Boston and Logan Airport, where terrorists hijacked two planes and torpedoed them into the World Trade Center.
Safety armada for each ship
With Sept. 11, 2001, in mind, the Coast Guard coordinates an armada of protection for each trip — a helicopter, police divers, marine patrol, environmental police, firefighting tugs, city police boats, Coast Guard vessels. The Tobin Bridge, a major commuter pass, is closed as the tankers move below its 135-foot-high span.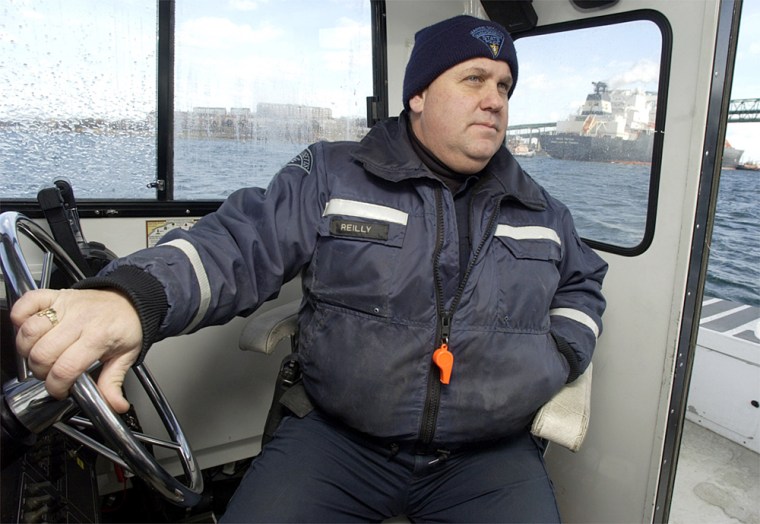 "I've seen it come in I don't know how many times since Sept. 11 — 100 times — and every time it just kind of amazes you. Just the sheer size of it," Reilly said as the tanker made its way under the bridge.
Heightened fears of terrorism and a recent surge in proposals to build dozens of gas terminals around the United States have raised questions about whether they're too dangerous for metropolitan areas. Boston is currently one of just four ports in the continental United States to receive liquefied natural gas by ship, and the only one in a commercial and residential hub.
Liquefied natural gas, or LNG, is natural gas in a liquid form that has been cooled to minus-259 degrees. The liquid is warmed and turned to gas, which is used for heating and cooking as well as electricity generation. LNG imports account for only about 1 percent of the U.S. gas supply, but Federal Reserve Chairman Alan Greenspan has advocated expanding imports to ease energy prices.
Boston route since 1971
Ships carrying the fuel contain energy much more concentrated than crude oil — a fact not lost on the industry, or those who warn about the dangers of transporting it, or those who live and work nearby, although the ships have been taking this same route since 1971 without a fatal incident.
"Every day you're thinking about it. It's very, very dangerous," Anthony Pinto, of East Boston, said as pointed his cane across the harbor, down the Mystic River, past the Tobin Bridge to the dock for Distrigas, the company that runs the area's LNG facility.
Some studies say an attack by a missile or boat bomb on a tanker could spill half the cargo over the water, causing a catastrophic, searingly hot fire that would burn people and buildings a half-mile away. But a study paid for by the industry and used by the Coast Guard in approving a safety plan for Boston found the burn zone would be contained to a much smaller area. Not only would it be immediately doused with water from the tug boats, but the ship's design would protect more of the cargo from spilling, according to the study.
As pressure mounts to build more terminals to supplement the nation's shrinking supply of natural gas, U.S. Energy Secretary Spencer Abraham has asked Sandia National Laboratory to study LNG safety issues, particularly transportation.
The industry maintains it has established rigorous safety standards in cooperation with the Coast Guard.
Frank Katulak, senior vice president of operations for Distrigas, said some concerns arise from misconceptions about a relatively new form of fuel for this country.
"We had a higher profile than perhaps we would like, I think mostly because our ships are visible to people. They see them and they're so large and they say, 'Is this some type of a risk?'" Katulak said.
Mayor wants ships out
Boston Mayor Thomas Menino wants to take no chances. He sued to keep LNG tankers out of the harbor after Sept. 11 — even after the Coast Guard said they could safely transit. He lost that fight but maintains they should not be coming into a metropolitan area.
The three other continental U.S. ports that receive LNG by ship are Lake Charles, La.; Cove Point, Md.; and Elba Island, Ga.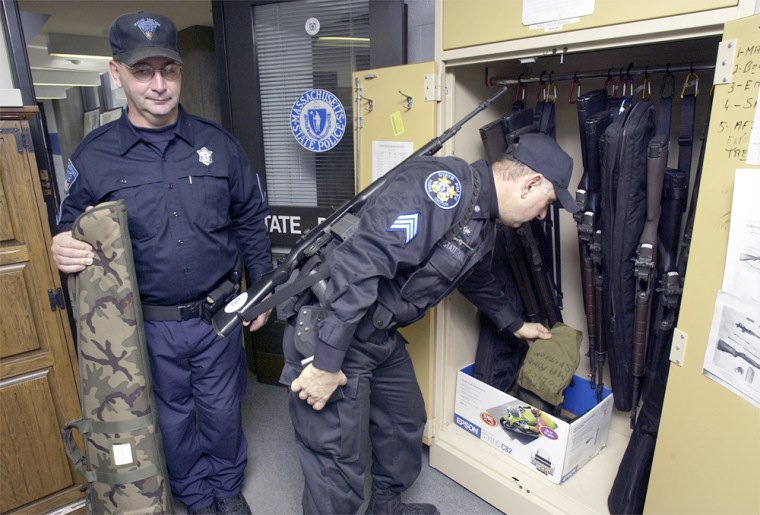 James Fay, a professor emeritus of mechanical engineering at the Massachusetts Institute of Technology, is a leading expert on liquefied natural gas and former chairman of the Massachusetts Port Authority board. He believes a boat bomb, like the one used against the USS Cole in 2000 would cause at least half of the ship's cargo to seep over the water and ignite in a raging blaze.
"There's no doubt that with a big enough bomb you can blow a hole in the side of the vessel and the cargo will burn," Fay said. "It's well understood that for the big fires we're talking about that distances like half a mile or so, you can get second-degree burns to exposed skin in about 30 seconds."
Those in the LNG industry said Fay overestimates the potential damage because LNG carriers are doubled-hulled and have other protections around the tanks, making them stronger than ships such as the Cole.
Katulak said Fay exaggerated the likely impact of a fire. Still, while Katulak acknowledged LNG "has certain inherent hazards," he added, "we've been frustrated there's been a lack of perspective."
Worst fatalities in 1944
The only fatalities due to LNG have occurred on land. The most serious accident was in Cleveland in 1944 outside an LNG-storage facility. LNG escaped from a faulty tank, forming a vapor cloud that seeped into surrounding streets and sewers then ignited, killing 128 people.
Jerry Havens, a University of Arkansas professor and expert in both fires and weapons of mass destruction, said he agrees with Fay's assessments. Both he and Fay recognize LNG as a valuable resource — but one with risks.
"I for one believe that serious consideration should be given on a site-by-site basis to whether or not the risk since 9-11 is sufficient to cause increased reason to take it offshore or put it someplace else," Havens said.
But the concerns and fears are not universal.
Herb Motley, of Nahant, a merchant marine captain and sailing instructor, has been in one of his 26- or 33-foot sailboats when LNG tankers pass him in Boston Harbor. He is reassured by the large security presence and is more worried about getting out of the tankers' way than a terror threat.
"I understand these things are pretty damn solid. ... I think we're well protected," he said as he did some maintenance work on the Boston Harbor Sailing Club fleet. "The important thing is to make sure that we don't knuckle under. We're continuing to do our job. We're continuing to enjoy our recreation on the water. We're maintaining life."