/ Source: NBC, msnbc.com and news services
A German court sentenced John Demjanjuk to five years in prison on Thursday for his role in the killing of 28,060 Jews at a Nazi death camp.
The Munich court found the Ukrainian-born former Ohio resident guilty of being an accessory to mass murder as a guard at Sobibor camp in Poland during World War II, but Demjanjuk, 91, will be freed from jail — pending an appeal — because of his advanced age, the court said.
"The accused is to be released," Judge Ralph Alt told the Munich court after handing down a guilty verdict and sentencing Demjanjuk to five years in jail.
Though such a move is common under the German system, it drew the immediate ire of some of those who had been pushing for Demjanjuk's conviction.
"We don't think that that's appropriate given the heinous nature of his crimes," Efraim Zuroff, the chief Nazi hunter at the Simon Wiesenthal Center, said in a telephone interview from Jerusalem.
Still, Zuroff called the conviction "a very important victory for justice."
"The verdict sends a very powerful message that, even many years after the crimes of the Holocaust the perpetrators can be brought to justice," he said. "We're hopeful that this verdict will pave the way for additional prosecutions in Germany."
Demjanjuk, who emigrated to the United States in the early 1950s, became a naturalized citizen in 1958 and worked as an engine mechanic in Ohio, had been exonerated in a separate Holocaust trial two decades ago in Israel. In that trial he was initially sentenced to death for being the notorious "Ivan the Terrible'' camp guard at Treblinka in Poland, but the ruling was overturned by Israel's supreme court after new evidence exonerated him.
Demjanjuk, who was once top of the Simon Wiesenthal Center's list of most wanted Nazi war criminals, said he was drafted into the Soviet army in 1941 then taken prisoner of war by the Germans.
Demjanjuk attended the 18-month court proceedings in Munich — birthplace of Adolf Hitler's Nazi movement — in a wheelchair and sometimes lying down, with his family trying to argue that he was too frail to stand trial.
Son protestsHis son, John Demjanjuk Jr., said in an email ahead of the verdict that his father was a victim of the Nazis and of post-war Germany.
"Fact is, the Germans are preparing a verdict based upon U.S. government fraud which, if necessary, will not survive German or U.S. judicial review," Demjanjuk's son, John Demjanjuk Jr., said in an email.
"While those who refuse to accept that reality may take satisfaction from this event, nothing the Munich court can do will atone for the suffering Germany has perpetrated upon him to this day,'' the email said.
Prosecutors had faced several hurdles in proving Demjanjuk's guilt, with no surviving witnesses to his crimes and heavy reliance on wartime documents, namely a Nazi ID card that defense attorneys said was a fake made by the Soviets.
Guards at Nazi death camps like Sobibor were essential to the mass killing of Jews because extermination was the focus of such camps, prosecutors said. Some 250,000 Jews were killed at Sobibor, according to the Wiesenthal Center.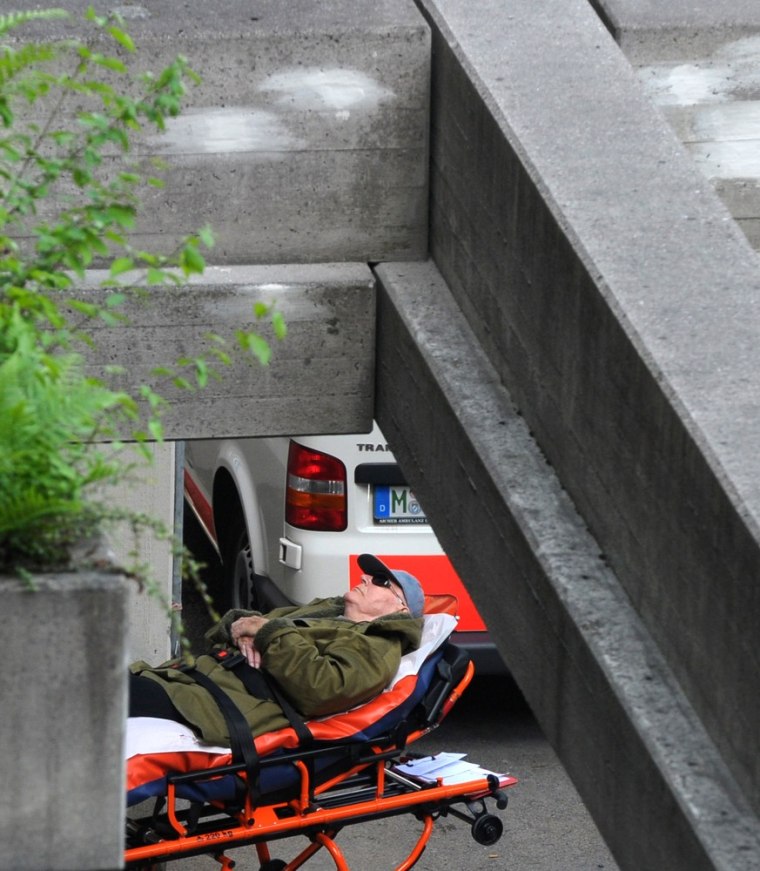 Defense attorney Ulrich Busch told the Munich court on Wednesday that even if Demjanjuk did become a prison guard, he did so only because as a prisoner of war he would have either been shot by the Nazis or died of starvation.
Faked evidence?Demjanjuk is accused of having served as a "Wachmann," a guard, the lowest rank of the "Hilfswillige" volunteers, who were subordinate to German SS men.
The SS identity card that allegedly shows a picture of a young Demjanjuk, and indicates he trained at the SS Trawniki camp and was posted to Sobibor, was integral to the prosecution's case.
Though court experts have said the card appears genuine, the defense maintains it is a fake produced by the Soviet KGB.
The U.S. Department of Justice's Office of Special Investigations also has said the card is genuine, but documents unearthed by the AP and brought to light in a story last month indicate that the FBI had doubts similar to those aired by Demjanjuk's defense about the evidence — though the material was never turned over to them.
In a 1985 report, the FBI's Cleveland, Ohio, field office concluded that: "Justice is ill-served in the prosecution of an American citizen on evidence which is not only normally inadmissible in a court of law, but based on evidence and allegations quite likely fabricated by the KGB."
The revelation has led to new court action in the U.S., with a District Court judge in Cleveland on Tuesday agreeing to appoint a public defender to represent Demjanjuk there, raising the prospect of renewing the decades-old case.