/ Source: msnbc.com news services
Troops recaptured a Pakistani naval air force base Monday after a 16-hour battle with as few as six Taliban gunmen who had launched their brazen attack to avenge the killing of Osama bin Laden.
The assault casts fresh doubt on the military's ability to protect its bases following a raid on the army headquarters in the city of Rawalpindi in 2009 and is a further embarrassment following the surprise raid by U.S. special forces on the al-Qaida leader's hideout north of Islamabad on May 2.
Interior Minister Rehman Malik said just six militants were believed involved in the attack on the PNS Mehran base in Karachi late Sunday, destroying or damaging two aircraft and laying siege to a main building in one of the most heavily guarded bases in the unstable, nuclear-armed country.
At least 10 military personnel were killed and 20 wounded in the assault that started at 10.30 p.m. Sunday (1:30 a.m. ET), a navy spokesman said.
Malik said three militants were killed in the gunbattle while the body of a fourth was believed to be buried under the rubble of a collapsed wall. Two suspects were believed to have fled the scene, he added.
The Pakistan Taliban, who are allied with al-Qaida, said they had staged the attack to avenge bin Laden's death.
"It was the revenge of martyrdom of Osama bin Laden. It was the proof that we are still united and powerful," Taliban spokesman Ehsanullah Ehsan told Reuters by telephone from an undisclosed location.
Two ladders
Malik said the militants, aged between 20 and 25, used two ladders to scale the walls of the base and jumped in by cutting barbed wire.
He said the militants had used guns and grenades in their attack on the base, 15 miles from the Masroor Air Base, Pakistan's largest and a possible depot for nuclear weapons.
PNS Mehran is ringed by a concrete wall with about 5 ft of barbed wire on top. An aircraft, armed with rockets, hangs on show on a stand outside.
As troops wound down their assault, some Karachi residents said they could not believe security could have been so lax.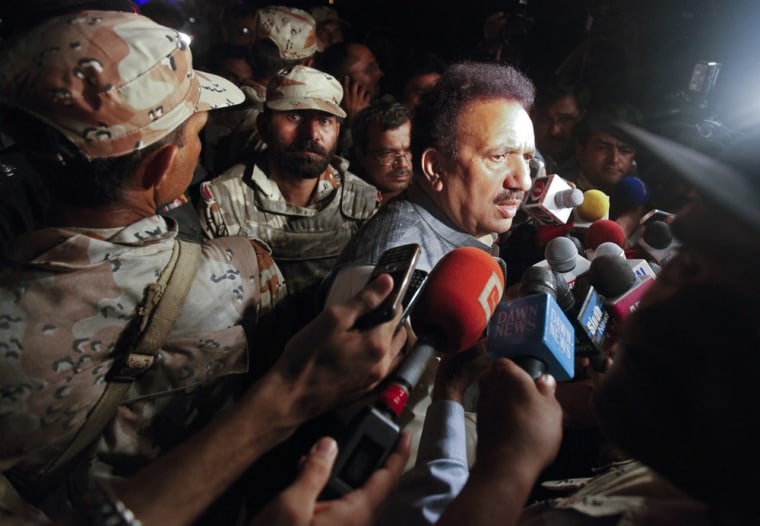 "If these people can just enter a military base like this, then how can any Pakistani feel safe?" asked Mazhar Iqbal, 28, an engineering company administrator taking a lunch break in the shade outside the complex where a crowd had gathered.
"The government and the army are just corrupt. We need new leaders with a vision for Pakistan."
Malik said 17 foreigners — including 11 Chinese and six Americans — were inside the base at the time. All had been evacuated safely.
One P-3C Orion, a maritime patrol aircraft supplied by the United States, had been destroyed and another aircraft had been damaged.
Taliban denies Mullah Omar killed

Pakistan has faced a wave of assaults over the last few years, many of them claimed by the Pakistani Taliban.
Others have been blamed on al-Qaida-linked militant groups once nurtured by the Pakistani military and which have since slipped out of control.
The Taliban have stepped up attacks since bin Laden's death, killing almost 80 people in a suicide bombing on a paramilitary academy and an assault on a U.S. consular vehicle in Peshawar.
Malik said militants had planned to attack sensitive military installations as well as important figures at a meeting in North Waziristan — a global hub for militants on the Afghan border — after bin Laden's killing.
Monday, at least seven militants, including three Arab nationals, were killed in a missile strike by a U.S. drone aircraft in North Waziristan, local intelligence officials said.
The Pakistani Taliban are led by Hakimullah Mehsud, whose fighters regularly clash with the army in the northwest, parts of which are bases for Afghan militants.
Monday, an Afghan television station reported Taliban leader Mullah Omar had been killed in Pakistan, but the group denied it, saying he was safe and in Afghanistan.
The United States sees Pakistan as a key, if difficult, ally essential to its attempts to root out militant forces in Afghanistan.
Pakistan, however, sees militant groups as leverage to ward off the influence of its old enemy India in Afghanistan, and the discovery that bin Laden was living in the town of Abbottabad has revived suspicion that militants may be receiving help from the security establishment.
Pakistan says its senior leadership did not know of bin Laden's whereabouts, but his presence, and his killing, have strained already fragile ties with the United States and deeply embarrassed Pakistan's military.
The military, for its part, has come under intense domestic pressure for allowing five U.S. helicopters to penetrate Pakistan's airspace and kill the al-Qaida leader.
Many U.S. lawmakers are questioning whether to cut the billions of dollars of aid Pakistan receives to help root out militants.
Monday, the Pakistani rupee fell to a record low against the U.S. dollar, partly because of concerns that growing tension with the West could choke off much needed foreign aid.