/ Source: msnbc.com news services
Iceland's volcanic eruption has died down and is no longer spewing out ash, officials said on Wednesday as airlines began to get back to normal after canceling about 1,000 flights in northern Europe.
European air traffic controllers said they expected about 700 flights to be canceled on Wednesday, but Eurocontrol added that traffic in European airspace could return to normal Thursday.

"There were very few eruptions by the volcano over the last six to 12 hours, so the volcano is in a reasonably calm state at the moment," said Brian Flynn, head of network operations for Eurocontrol. "Assuming that continues, we would expect that the European aviation would be able to return to almost a normal situation within the next 24 hours."
U.S. President Obama, who left Ireland early on Monday to travel to Britain to avoid being caught by the ash, is due to arrive in Poland later this week.
Ash from the volcano forced the cancellation of hundreds of flights over Britain on Tuesday as winds blew the ash over Scotland, but British airspace was clear on Wednesday.
Four German airports -- Bremen, Hamburg and Berlin's Tegel and Schoenefeld -- closed on Wednesday only to be reopened hours later.
Eurocontrol said the ash has reached parts of Russia, but has not affected air traffic there. Transpolar flights through the region were being diverted around the affected area, but were flying as scheduled. About 500 flights to and from Europe cross the Arctic every day.
The ash cloud from Grimsvotn's Saturday eruption belched as high as 12 miles into the sky, but it did not trigger the kind of travel chaos caused last year by when ash by a different Iceland volcano closed European airspace for six days and stranded more than 10 million people. That cost airlines $1.7 billion.

However, Grimsvotn's eruption did expose disarray among the authorities who decide on aviation safety as they try to apply new rules to avoid another mass closure of European airspace.
Aviation authorities now give airlines detailed information about the location and density of ash clouds. Any airline that wants to fly through the ash cloud can do so if it can convince its own national aviation regulators it is safe.
Experts say particles in the ash could stall jet engines and sandblast planes' windows, but many in Britain argued the flight bans were a massive overreaction by badly prepared safety regulators.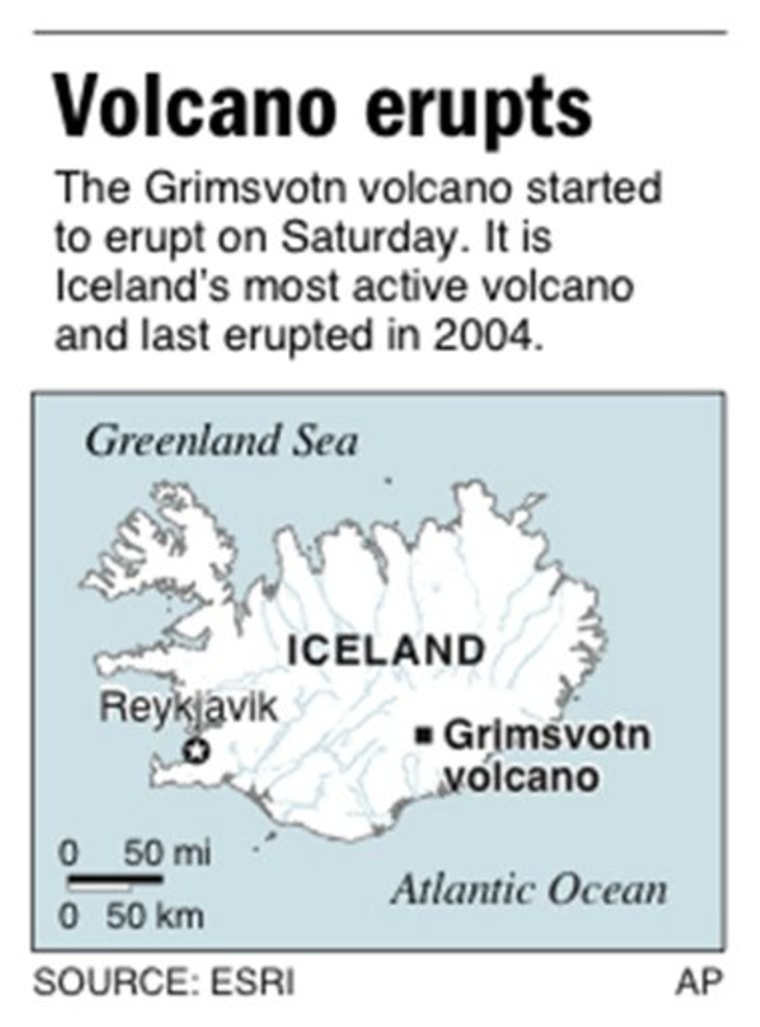 A British Airways test flight passing through the affected area was unaffected, said Willie Walsh, the chief executive of International Airlines Group — formed from the merger of BA and Iberia.

"We flew in the red zone for about 45 minutes at different altitudes over Scotland" and the north of England, Walsh told BBC radio. "All the filters were removed and will be sent to a laboratory for testing. The simple answer is that we found nothing."

Irish budget airline Ryanair has also challenged the results, saying Tuesday it had sent its own airplane into Scottish airspace and found no ash in the atmosphere.

But German transport minister Peter Ramsauer insisted the precautions are justified. "We have developed a very refined regulation since the big ash cloud last April," Ramsauer told ARD public broadcaster. "We are much better prepared to handle such a situation."
The main international body representing carriers, the International Air Transport Association, complained to the British government Tuesday about the way it had handled the most recent eruption, saying it should have had Cessna planes ready to carry out tests, instead of relying on the weather service.