/ Source: The Associated Press
Weary and frustrated, the women had been lined up for days in their dust-covered cars waiting to fill up at Tripoli's women-only gas station. A scowling female soldier kept order with the help of a few dozen male volunteers.
The men, in groups of two or three, pushed cars with their tanks on empty as the line snaked slowly forward.
"Push! Push!" one man grunted as a woman sporting large black sunglasses sat behind the wheel and steered her gray sedan. Behind her, a line stretched for miles as women sat numbly in their vehicles, their children playing in the street outside the cars.
The men, some wearing postcard-sized portraits of Moammar Gadhafi around their necks, slowly propelled the woman's car to a gas pump. There, a man stamped her fuel ration book, allowing her to buy government-subsidized fuel for a few cents a gallon.
A 35-year-old khaki-clad soldier, Ibtisam Saadeddin, occasionally barked orders. A heavyset woman in a green Muslim headscarf — the iconic Gadhafi regime color — wore a Gadhafi pin on her uniform and another above her forehead, pinned to her headscarf.
"He is the crown of my head," Saadeddin declared proudly, her heavily made-up face beaming.
The scene at the Gurji Women's Gas Station highlights the sharp shortages faced by Libyans throughout the areas ruled by Gadhafi's regime, where fuel, medicine, some food and commercial goods are scarce and streets filled with idle cars resemble parking lots.
Can-do spirit
They also show how a can-do spirit in this chaotically run country is helping residents get by.
The country is roughly divided between Gadhafi's rule in his Tripoli stronghold in the west and the rebel's bastion of Benghazi and a smattering of other towns in the east. The rebels are aided by NATO airstrikes, but fighting is at a stalemate.
The warfare has limited the oil-rich nation's ability to refine its own fuel. NATO-allied ships divert fuel tankers, and supply routes are often disrupted.
Foreign workers have fled the violence, paralyzing industry. And with banks limiting withdrawals to a few hundred dollars a month, residents are short of cash.
The gas station on Tripoli's main Gurji road has always been just for women, said Sarhan al-Hashm, taking a break from pushing cars.
The gender-segregated station is an oddity in a country where Gadhafi's mix of personality cult and authoritarian, socialist-style rule has pushed women to break cultural taboos, even as it savagely prevents other freedoms.
Unlike their sisters in other Arab countries, women in Libya serve in the military and police force, and sometimes occupy high-ranking positions in the Libyan government.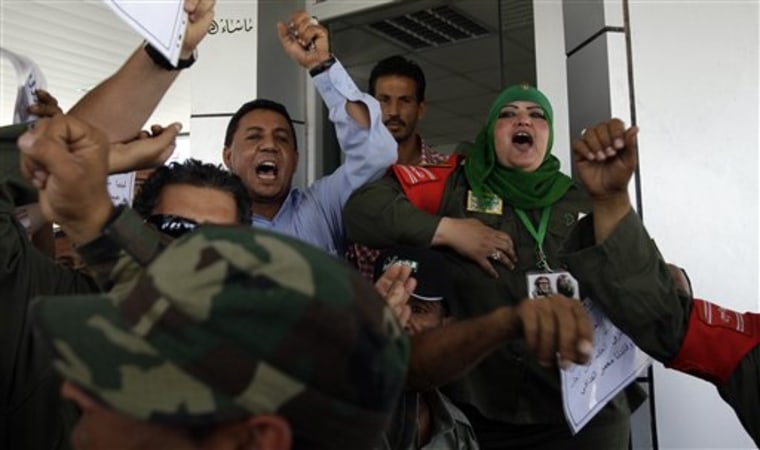 Still, having a gas station just for them has been a blessing, the women told The Associated Press during a government-sponsored visit over the weekend.
Other gas stations are mostly frequented by men whose tempers flare over the long wait and soldiers frequently fire their weapons in the air to break up fights.
Four-day wait for fuel
And while the lines are long here, they're among the shortest in the city. Other gas lines stretch over bridges, around overpasses, clogging up main arteries as far as the eye can see.
"I've waited four days for fuel. It's so tiring," said Sana Njeim, a 26-year-old computer student. She said her life revolved around gas lines. She leaves only to go to class, eat and sleep, leaving her car in neutral so the men can roll it forward.
It wasn't just the fuel, the young woman said.
"The price of food — it's on fire. Meat, vegetables ... it's all expensive," she said.
Her words were borne out by a series of visits to markets.
Fish — a staple food here — has shot up in price and is scarce because there isn't fuel for boats. And many fishermen — who mostly were Egyptians — fled the violence weeks ago. An upscale supermarket sold scattered chunks of veal and camel meat.
As Njeim spoke, indignant Gadhafi loyalists surrounded her vehicle.
One man demanded she only say "nice" things about Libya. Another shoved a picture of Gadhafi on her rearview mirror.
"Tell her you love the leader!" he barked.
The interview was cut short after another man ordered Njeim to stop speaking.
"You journalists all lie!" screamed Saadeddin, the female soldier, her round face registering her fury.
She stood before the gas pumps, pumping her fists and shouting pro-Gadhafi chants as two dozen soldiers and Gadhafi loyalists rushed to her side.
"Gas doesn't matter. We want our leader!" they chanted.
None of the women waiting in cars joined in.