/ Source: Special to msnbc.com
A billionaire oilman was ordered to pay $28.8 million to a member of the Jordanian royal family on Wednesday in a lawsuit over multi-billion-dollar contracts to supply fuel to U.S. troops in Iraq.
While a business dispute between Mohammad al-Saleh, the brother-in-law of Jordan's King Abdullah II, and Florida businessman Harry Sargeant III and his oil company was at the center of the case, the testimony often seemed to have sprung from the pages of a Tom Clancy novel, with allegations of bribery, double-crossing and war profiteering leveled during the three week trial.
In a case first reported by NBC News in June 2008, the eight-person jury affirmed that Sargeant conspired to deprive al-Saleh of a one-third share in profits from the contracts. In an email, defense attorney Roger Kobert said his client expects to appeal.
The verdict could foreshadow another legal entanglement for Sargeant. The Justice Department is investigating the alleged bribery, according to al-Saleh's court filings. If a criminal case materializes, it could become one of the largest-ever prosecutions under the Foreign Corruption Practices Act, whose enforcement the Obama administration has made a top priority.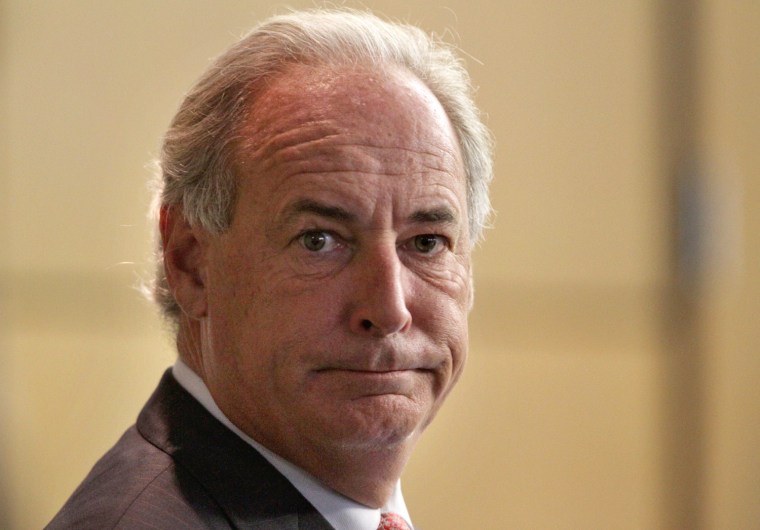 A former Top Gun pilot and high-level GOP fundraiser, Sargeant did not attend the reading of the verdict. In his place at the defendants' table was Marty Martin, one of the oil company's top executives and formerly a senior CIA operative who, for two years after 9/11, advised former President George W. Bush on terrorism.
In 2007, he left a long career in covert intelligence for a lucrative post at Sargeant's firm, the International Oil Trading Co. (IOTC) of Boca Raton, Fla. Martin was not a defendant in the trial but became one of its central characters when al-Saleh alleged that he was hired to replace him and then orchestrated a massive bribery scheme in Jordan.
Filing out of the courtroom past a beaming al-Saleh, the former head of the CIA unit formed to track down Osama bin Laden looked stricken.
During the trial, al-Saleh alleged that Sargeant and Martin directed $50 million in graft to the highest levels of the Jordanian government. The money, he claimed, bought the oil company a continued monopoly on supply lines of fuel through Jordan to U.S. forces in Iraq.
The existence of that monopoly cost the American military as much as $200 million in excess charges, according to a congressional investigation and Pentagon audit.
On the stand, Sargeant denied the payments were bribes and claimed that the government reports actually exonerated him.
Sargeant rarely speaks to the press. But during the trial, a portrait emerged of a tanned, hard-driving oilman obsessed with crushing competitors – or "bleeding them out like pigs," as Sargeant put it in one email. That competitive instinct, the court ruled, prompted him to turn on al-Saleh, formerly a close friend and business partner.
In November 2003, Sargeant jumped on the opportunity to profit from the war in Iraq, flying his private jet to Baghdad in search of deals. Then, on a stopover in Amman, Jordan, he met with King Abdullah II, laying the groundwork for a new business venture that would make Sargeant, with Exxon and BP, one of the main dealers of oil to the Pentagon.
In 2004, Sargeant formed a company called International Oil Trade Center, a three-way partnership between him, defendant Mustafa Abu-Naba'a, and al-Saleh, who was "useful" to the company because of his royal connections.
Using those connections, the company secured a letter of authorization from the Jordanian government that gave IOTC an exclusive right-of-way in trucking oil through Jordan to U.S. bases in Iraq. The Pentagon would only award contracts to firms with that letter.
According to trial testimony, al-Saleh leaned on his government to keep the letter of authorization in IOTC's hands and out of the hands of competitors.
But while he was doing so, he said, Sargeant and Abu-Naba'a formed a new company in Florida with the same acronym and a nearly identical name – the International Oil Trading Co. -- to win another U.S. fuel contract for the forces in Iraq.
Shortly after Martin was hired in mid-2007, he told a representative of Jordan's all-powerful spy agency over email that al-Saleh's partnership had been terminated. Martin said the company would continue to seek "direct interaction and cooperation" on the fuel deals with the spy agency and the offices of the king, according to evidence presented at the trial.
Martin also asked the spy representative for the Jordanian government to convey assurances to Washington that IOTC would remain the only bidder with the prized letter of authorization. In November 2007, a month after he made the request, Martin wired a $9 million payment to a mysterious figure referred to as "Basha," who was Gen. Mohammad Dahabi, then-head of the Jordanian intelligence agency and second in power to the king.
Al-Saleh's attorneys alleged that the money was a kickback intended to curry favor with the Jordanian government even as a member of its royal family was being elbowed out.
Sargeant presented an alternative narrative. His attorney, Kobert, framed al-Saleh as a money-grubber prone to explosive "hissy-fits" and issuing death-threats. He had become an embarrassment to the king, and so was ordered out of the fuel deal against Sargeant's wishes, Kobert argued.
Kobert claimed that the spy agency and the king replaced al-Saleh with a new partner for IOTC, a Jordanian firm called Taurus Trading Co. The $9 million, though wired to a government account, was the first in a series of payments to Taurus Trading that totaled $50 million, Kobert said.
But under cross-examination by al-Saleh's attorneys, IOTC officials testified that they did not know for sure where the $9 million wound up and were unable to clarify exactly what services Taurus Trading performed in exchange for what eventually totaled $50 million in payments.
And Kobert told msnbc.com that there was no contract or any written agreement with Taurus Trading, despite the enormous payments to the company and its involvement in the risky fuel shipments to U.S. forces.