/ Source: msnbc.com staff and news service reports
A bizarre ransom note bearing the name of a fictional character was left by a ski-mask-clad man who broke into a suburban Sydney home and chained a fake bomb to the 18-year-old daughter of a wealthy Australia businessman, officials close to the case said Thursday.
The man apparently was spotted running away from the home in the suburb of Mosman by a neighbor and her driver, who told police he leapt into a car driven by a woman who had been "driving up and down the street, looking nervous," sources .   
After telling police the car sped away, the neighbor, champion racehorse trainer Gai Waterhouse, to chastise the "crazy person" who sparked a 10-hour ordeal Wednesday as police removed the bomb-like device from Madeleine Pulver.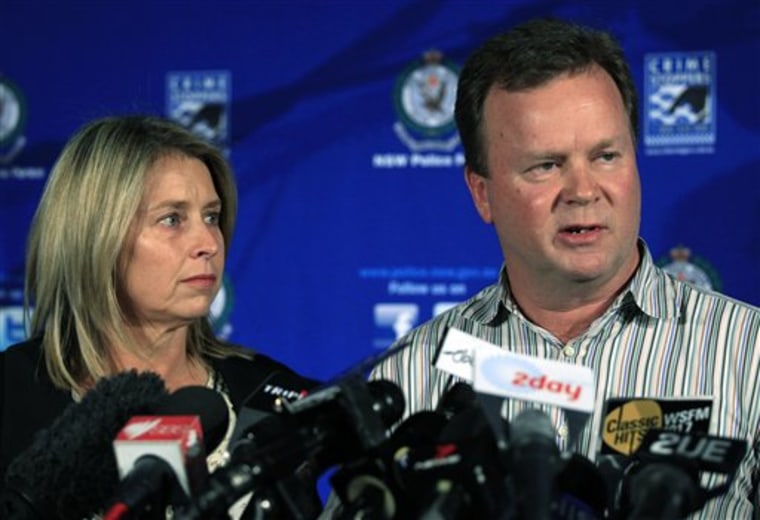 "Some crazy person had supposedly tied a bomb to young girl who lives down the street. What is our world coming to, if people can't feel safe in their own homes," Waterhouse wrote. "This young lady could easily be affected for life by this horrendous experience. How dare someone violate the privacy that she and her family are entitled to, not to mention the unimaginable terror and strain they were put under, the boot should be put on the other foot."
Police on Thursday revealed the name on the ransom note that contained a threat to detonate the device was Dirk Struan, the lead character in the 1966 novel "Tai-Pan," by author James Clavell and set during the time of the 1842 Opium War. The plot involves two businessmen who set out to destoy each other. It contains a passage in chapter 12 in which Struan is told there is a price on the heads of his mistress and children.
The typed note also contained instructions directing Pulver to contact the writer by the Internet and not to call police. It made no money demands, despite the family's wealth.
A USB stick — a mini electronic data storage device — was reportedly recovered from inside the fake collar bomb police removed from Pulver's neck.
The incident is being treated as extortion, but investigations are still in the early stages as police process evidence from the scene, Robbery and Serious Crime Squad commander Luke Moore said. Police interviewed neighbors and searched the Pulvers' three-story home and took computers to analyze.
The girl's father, William Pulver, is a successful businessman who serves as the CEO of an information technology company. On Thursday, he fought back tears as he talked about his daughter's horrifying ordeal.
"We as parents are extraordinarily proud of Maddy," William Pulver said, his equally tearful wife, Belinda, at his side.
"I think she has woken up this morning in pretty good spirits. She's a little tired, a little sore, from holding this damned device in place for about 10 hours," he said.
William Pulver thanked the bomb squad and others for putting their lives at risk to help their "beautiful" daughter, .