/ Source: msnbc.com staff and news service reports
As police in British cities prepared to flood the streets Friday to ensure weekend drinking does not reignite the rioting that swept the country this week, a prominent former U.S. top cop said he was in talks with the U.K. government to become an adviser on calming the violence there.
William Bratton, who as police chief in New York, Boston and Los Angeles built a reputation for quelling gang activity, said he received a phone call Friday from Prime Minister David Cameron asking him whether he would consider becoming a consultant for British police. He said he thanked Cameron for the opportunity and will continue speaking with British officials to formalize an agreement.

"This is a prime minister who has a clear idea of what he wants to do," Bratton told The Associated Press in a phone interview. "He sees this crisis as a way to bring change. The police force there can be a catalyst for that. I'm very optimistic."

Bratton left the Los Angeles police in 2009 and is now a private security firm executive.

On Thursday, as Britain's Parliament took up an emergency debate on the riots, Cameron told lawmakers he would look to cities like Boston for inspiration, and he mentioned Bratton as a person who could help offer advice.

Earlier, a Downing Street spokeswoman denied a British tabloid report that Bratton had already been "taken on" by Cameron as a "top adviser."
"The PM might meet with him but I wouldn't say he's been taken on in any formal capacity," she told msnbc.com Friday morning.
Police to flood London's streets
Steve Kavanagh, deputy assistant commissioner of the Metropolitan Police, said 16,000 officers, instead of the usual 2,500, would remain on duty in London in their biggest peacetime deployment — a measure of the perceived public order challenge.

Other forces, including those in Nottingham, Birmingham and Liverpool, said they would maintain a high level of policing over the weekend, although they said that after a couple of nights of quiet they were not anticipating further trouble.
But Cameron's remarks drew a sharp response from the police service, which is facing deep cuts in numbers as part of a sweeping government austerity drive aimed at slashing public debt.
"The fact that politicians chose to come back is an irrelevance in terms of the tactics that were by then developing," said Hugh Orde, head of the Association of Chief Police Officers, referring to Cameron and other senior ministers who cut short their holidays after two days of mayhem at home.
"The more robust policing tactics you saw were not a function of political interference," he told the BBC. "They were a function of the numbers being available to allow the chief constables to change their tactics."

Almost 600 arrested in London
On Friday, police said they had charged almost 600 people with violence, disorder and looting over deadly riots in London. Mayor Boris Johnson said Londoners wanted to see "significant sentences" handed out to the guilty.

Across the country, more than 1,700 people have been arrested. Courts in London, Birmingham and Manchester stayed open through a second night to deal with hundreds of alleged offenders, and hundreds of extra police remained on the streets to deter violence as the weekend approached.
Hundreds of stores were looted, buildings were set ablaze and five people died amid the mayhem that broke out Saturday in London and spread over four nights across England.

Victims include three men in Birmingham run down by a car as they defended their neighborhood. Police are questioning three suspects on suspicion of murder.

And detectives opened a murder inquiry after a 68-year-old a man found in a London street after confronting rioters died of his injuries late Thursday. A 22-year-old man was arrested Friday on suspicion of murder.

A man was found with gunshot wounds to the head in south London amid riots on Monday and later died.
Cameron has said authorities were considering new powers, including allowing police to order thugs to remove masks or hoods, evicting troublemakers from subsidized housing and temporarily disabling cell phone instant messaging services.
Cameron also said the government, police and intelligence services were looking at whether there should be limits on the use of social media sites like Twitter and Facebook or services like BlackBerry Messenger to spread disorder.
BlackBerry's simple and largely free messaging service was used by rioters to coordinate their activities, Cameron's office said.
Little leniency for accused rioters
Meanwhile, portraits of those accused of violence, disorder and looting began to emerge Friday.

They included suspects with criminal records, but also a teenage ballerina, the mother of a 6-week-old child, college students, and a gifted track and field athlete who has served as a youth ambassador for the London 2012 Olympics.
The court system has shown little leniency in dealing with those accused of the participating in the unrest.
According to The Guardian, most judges considered the maximum punishment available to magistrates in lower courts — six months in prison and about $8,100 — to be insufficient for the alleged offenders. The cases were generally referred to higher courts, where they will be heard before a jury.
Few suspected rioters were granted bail.
Eighteen-year-old Chelsea Ives, a talented runner who has been pictured with lawmakers and sports stars in the House of Commons, was charged with rioting in east London after her mother saw her throwing bricks at a police car on television.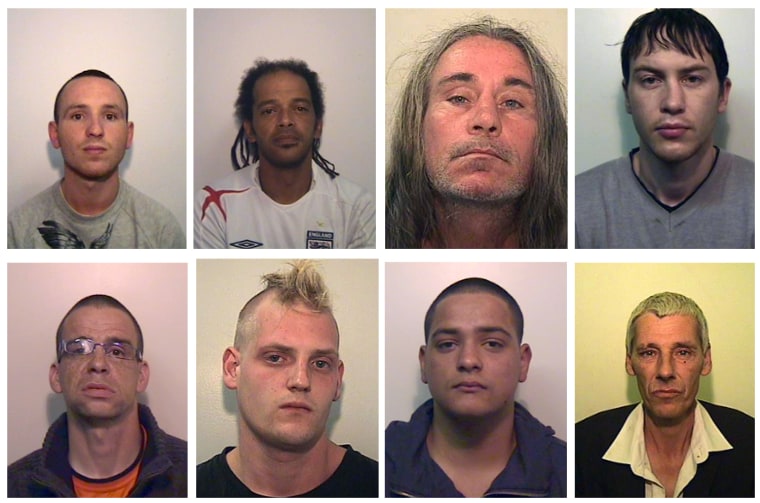 She even boasted that she had "the best day ever," the court was told, according to The Telegraph. In her role as an Olympics ambassador, she has met London Mayor Boris Johnson and London Olympics chief Sebastian Coe, the paper said.
"It was gut-wrenching but it was right. What could normal, honest parents do?" her mother Adrienne Ives told The Daily Express.
In the northern English city of Manchester, 47-year-old Gary Herriot, who has 126 previous convictions, was found with $1,600 worth of jewelry, a court heard. He pleaded guilty to handling stolen goods and is set to be sentenced later, the Express said.
An 11-year-old girl in the central city of Nottingham was accused of being part of a "large scale rampage" when she hurled stones at windows, according to The Telegraph. She reportedly admitted to her part in the unrest and refused to apologize in court.
The girl was referred to a youth offender panel and she and her father were ordered to cooperate with local youth authorities, the paper said.