/ Source: The Associated Press
Keith Nolan spent a decade applying repeatedly to the Army's Reserve Officers Training Corps' program before the deaf man's tenacity paid off and a commander finally let him audit the classes.
Nolan became a top performer in the ROTC program's Bravo Company at California State University at Northridge, and his instructors were so impressed they let him wear a uniform. He was distraught when he turned it back in and said goodbye to the other cadets in May. He could advance no further under the military's current policy that requires cadets pass a hearing test to be commissioned by the Army.
It was a stinging moment that burned in the soul of the bespectacled 29-year-old teacher, who is determined to break that barrier and achieve his lifetime dream of working in military intelligence.
"All I really want to do is join the Army," said Nolan, a confident, clean-cut man with a boyish face who signed to an interpreter in an interview at the university's ROTC office. He was flanked by posters with inspirational messages urging people to join. "I want to do my duty, serve my country and experience that camaraderie, and I can't, owed to the fact that I'm deaf."
Soldiers with disabilities have been returning to active duty in increasing numbers due largely to the fact that medical advances today are ensuring more people survive serious war injuries. All branches of the U.S. armed forces over the past decade have started offering the opportunity for seriously wounded or disabled service members to remain on active duty by finding them jobs they can perform.
Today about 300 seriously wounded service members — some of whom have been blinded by blasts, lost their limbs or have severe head injuries — work in a variety of Army positions, and their work has been vital, especially in aiding other recovering troops, said Erich Langer, a spokesman with the Army's Warrior Transition Command in Alexandria, Va.
Some have even returned to war zones.
"These cases help folks with disabilities across the board by opening more doors," he said.
Nolan said their presence shows there is a place in the military for disabled people. He sees the military's changing attitude as a window of opportunity that he hopes to pry open further so any deaf person — not just wounded combat troops — could be eligible to serve.
Nolan, who was born deaf to deaf parents, has wanted to join the Army ever since he learned of the experiences of his grandfather and great uncles who fought in WWII.
His father, Kevin Nolan, successfully won a city council seat against a 20-year incumbent in Northhampton, Mass., and taught his son to defy the odds.
"My wife and I were very emotional about this," Kevin Nolan said of Nolan's ROTC participation, in a phone interview assisted by an interpreter. "We're proud."
Capt. Sid Mendoza, a training supervisor of the program at Northridge, said he had no idea Nolan was deaf when he saw his application online.
Once he met Nolan, Mendoza said he wanted to see if there was a way to give him military experience because he was so interested in the armed forces.
"At the beginning we weren't sure how it was going to work," Mendoza said.
But with the help of a deaf interpreter, Nolan excelled, Mendoza said. He showed up at 5 a.m. exercises even though he was not required to and despite initially straining to see the interpreter in the darkness, he immediately was able to follow the commands, and earned a perfect score in his military sciences class.
Mendoza said he learned sign language for the word "motivation" because Nolan's interpreters used it so much when relaying to Nolan what people were saying about him.
"He definitely was one of our top performers," Mendoza said.
Nolan said he was crushed when the course ended and he had to step aside as the other cadets were commissioned by the Army.
"When I gave my rucksack away to the cadet in the van — that was when it really hit me that it was over for me," he wrote in his journal.
Mendoza said it was also hard on his fellow cadets, who are now second lieutenants.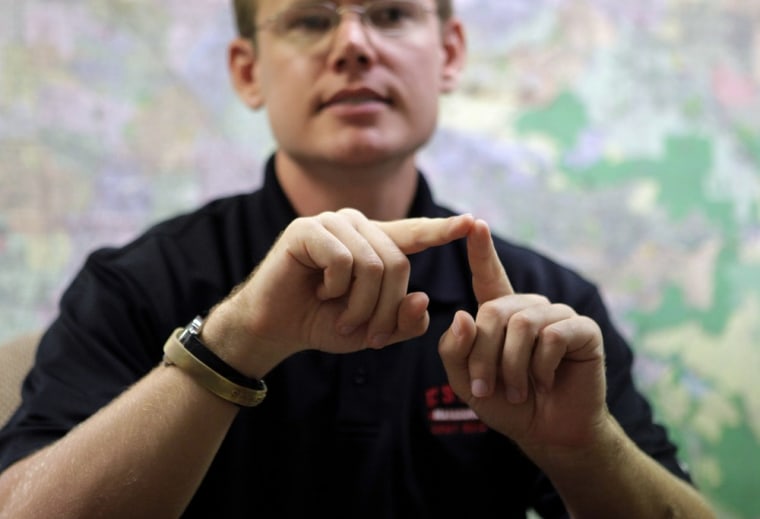 "For all of us, it was really tough because we saw his enthusiasm to want more, but it's outside of our control," he said.
The office of Rep. Henry A. Waxman, D-Calif., said the congressman plans to meet Nolan in the fall to continue to work on his behalf. Nolan wants Waxman to sponsor a bill allowing deaf people into the armed forces.
Nolan has sent an inquiry to the Army and is waiting for a reply explaining why he could not be commissioned. Waxman's office said their inquiry to the Army got an "unfavorable" response but the congressman is still interested in seeing what he can do.
"I am looking forward to meeting Keith Nolan during his upcoming visit to Washington," Waxman said in a statement sent to The Associated Press. "He is an exceptional young man, and he has raised a compelling issue that I believe is worth examining."
In the meantime, Nolan has been spreading the word to drum up support for his cause, speaking at universities and other public events.
More than 2,000 people have responded in support of his Facebook page, "Commission Cadet Nolan Now," which features a picture of Nolan holding folded camys and a pair of Army boots as if he were joining.
Nolan traveled in 2010 to Israel where he met with 10 deaf military service members to document how they function in their jobs. The soldiers he met worked in everything from intelligence to dog training.
Deaf people are not drafted like other Israelis but can volunteer to serve and are deployed in noncombat positions, the Israeli military spokesman's office said. Many people with disabilities volunteer as military service plays a central role in Israeli culture and is considered a rite of passage.
"Many were shocked to hear America does not accept disabled people in its military," Nolan said.
Deaf people once served in the U.S. military too. During the American Civil War, more than a dozen deaf soldiers were in the armed forces.
History gives Nolan hope.
"I in no way want to degrade our military on the basis of disability or equality rights," he said. "But, with the support that I have received from both civilians and military personnel as well as what I have learned from my research, I am convinced that there is a noncombat position that I can do in the military without harming our armed forces' effectiveness and readiness."
_____
Ian Deitch in Jerusalem contributed to this report.