/ Source: msnbc.com staff and news service reports
About 130 protesters were arrested at an Occupy Chicago demonstration early on Sunday after they set up tents and refused to leave a public park after closing time, police said.
The protests, which have spread across the United States and to other countries since starting in New York last month, focus on anger over inequality of wealth, government bailouts of big banks and persistently high unemployment.
The breakup of the protest in Grant Park was the second mass arrest of Occupy Chicago demonstrators in the past week. A week ago, about 175 protesters were arrested.
Occupy Chicago spokesman Joshua Kaunert vowed after the arrests that protests would continue in the Midwest city.
"We're not going anywhere. There are still plenty of us," Kaunert told The Associated Press after the arrests, which took police more than an hour to complete.
The protesters were charged with violating a city ordinance, the equivalent of the lowest misdemeanor, and most were released after agreeing to appear in court, Chicago Police Officer Robert Perez said.
Grant Park, the site of large protests against the Vietnam War during the Democratic Party's convention in Chicago in 1968, is supposed to be closed after 11 p.m., police said.
Police began taking people into custody just before 1 a.m. Sunday, first taking people away one by one and then in groups to vans and two large white buses. Some waiting to be arrested shouted to police: "Take me next! Take me next!" Others chanted: "We'll be back!"
Officers had begun placing metal barricades around the part of Chicago's Grant Park known as Congress Plaza about 11:10 p.m. Saturday, minutes after the park had closed. Soon after that, police went through the crowd and warned people to leave or risk arrest for remaining in the closed park in violation of a city ordinance.
Several of the protesters who remained inside the barricades in the park sat on the ground in the chilly Chicago night air. Others locked arms and then the arrests began as trickle before picking up speed.
"We are going to hold this space, and that's what we are going to do," protest organizer Brit Schulte, 23, told the Chicago Sun-Times. "Our ability to invoke our civil rights to protest shouldn't be limited, and we shouldn't be censored."
'There was no violence'
Kaunert said none of those arrested had resisted.
"Everybody was very peaceful and smiling and there was no violence, though a lot of chanting," he added.
He urged authorities to let the people protest peacefully against the perceived corporate greed and other ills they see on Wall Street and elsewhere. He noted it was the second straight weekend that arrests had been made after at least 175 arrests in the same park the previous Sunday after protesters set up tents past public hours.
"The police came in and again took away our right to free speech and assembly," he said before dawn Sunday, adding those led off weren't immediately released. "Several paddywagons left and they had two very large prison buses and those are gone now."
Paulina Jasczuk, a 24-year-old dental receptionist, watched as her boyfriend, Philip Devon, was led away. She threw him a white sweater against the chill.
"I'm proud of everyone who got arrested tonight," she told AP, adding she hoped they would inspire more demonstrators to join in the movement in the weeks ahead.
Demonstrators were taken away one by one and handcuffed with white plastic ties and. Some on the scene shouted: "This is what democracy looks like!"
Drums banged and some people clanged on metal.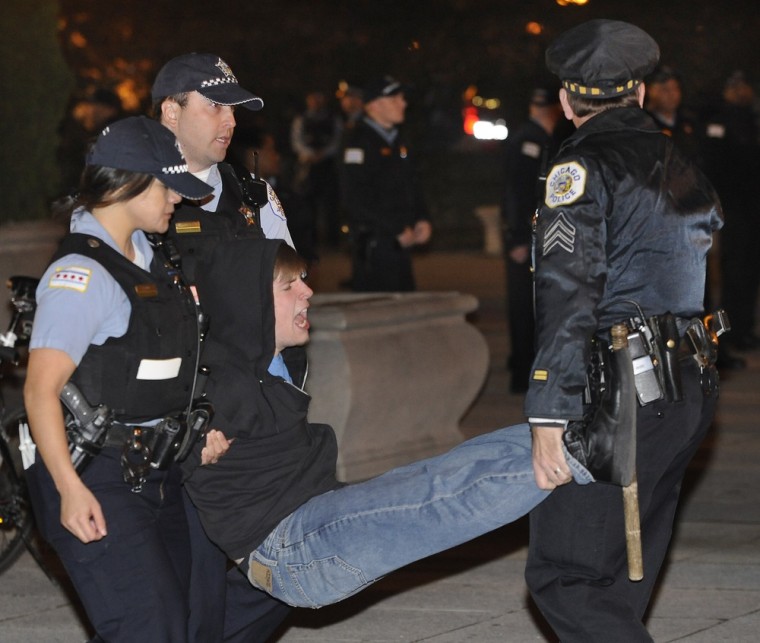 "One: We are the people! Two: we are united! Three, the occupation is not leaving!" people shouted, including others just outside the park.
Jonathan Sumner, 25, of Chicago, watched the arrests from outside the park and began shouting at officers: "Why are you doing this?"
"It's a sad day for the CPD" he said, using the acronym of the Chicago Police Department.
Some said earlier that arrests only signal the importance of the Occupy movement.
"This movement will not be a serious movement until we take a stand, and getting arrested is just one way of taking a stand," said Max Farrar, 20, a junior political science major at DePaul University, speaking Saturday to a reporter.
About 1,500 people gathered for Saturday's protest, descending on the city park with hopes of making it the movement's permanent home. The group started in Chicago's financial district and marched to the park.
'Greed Sucks'
Along the way, marchers chanted "Banks got bailed out, we got sold out!" and held signs that read "Greed Sucks" and "No War But The Class War" while police on horses blocked them from walking on the street on Michigan Avenue, leaving them with just the sidewalks to occupy.
Occupy Wall Street began a month ago in New York among a few young people, and has grown to tens of thousands around the country and the world.
A city ordinance prevents the Occupy Chicago group from camping outside the Federal Reserve Bank and although the protesters want to make Grant Park their permanent home, they lack permits for their occupation. Some called the ordinance "unconstitutional."