/ Source: InnovationNewsDaily.com
Each fan who visits Miami's Sun Life Stadium has individual parking habits, bathroom break patterns, favorite concession stand foods and ideal seats from which to watch the big game or live concert event.  Stadium managers hope to respond to the wants and needs of every single visitor by teaming up with IBM to track the ebb and flow of humanity inside the 75,000-seat building.
A first step comes from monitoring anything that might affect the crowds that come to enjoy WrestleMania in the spring or a Miami Dolphins NFL game in the fall. The stadium's new IBM's Intelligent Operations Center allow the staff to respond almost instantly to changes in parking, weather forecasts and even shortages of beer or nachos at a specific concession stand — the first real-world test is set for an soccer game between Mexico and Columbia on Wednesday.
"The stadium is really a microcosm of what we're experiencing with smarter cities," said Michael Gerentine, global vice president of channels and midmarket marketing at IBM. "Traffic, security challenges, weather, crowd control; a lot of these issues exist in a small or large cities."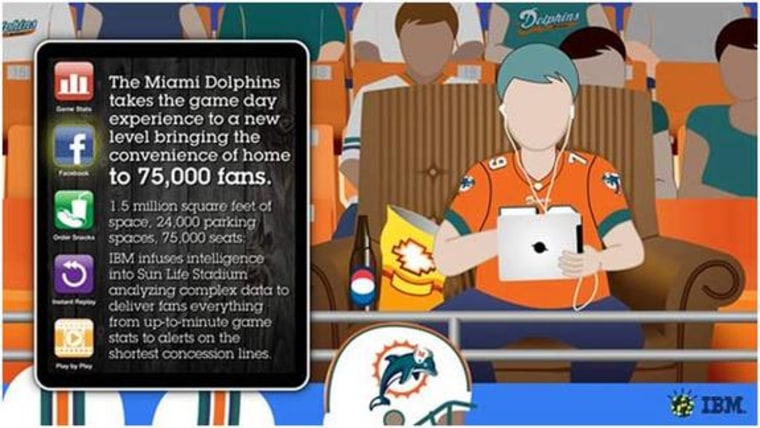 Stadium staff can already use IBM's system to quickly redirect fans to free parking spaces and shut off full parking lots among the 24,000 available spaces. But the stadium could someday also have sensors to track each incoming car, rather than put someone on the roof to count traffic using a pair of binoculars, said Tery Howard, chief technology officer for the Miami Dolphins.
"We compete with the high-definition TV within the comfort of their homes," Howard told InnovationNewsDaily. "We don't want it to be an effort for fans to come out because of issues with parking and standing in line to buy a hot dog."
IBM's system helps the stadium manage the world's largest collection of venues selling everything from tickets to T-shirts. Staff members receive alerts about certain sales or foot-traffic benchmarks being hit, and can move quickly to enforce the cutoff on alcohol sales at the end of the third quarter during Miami Dolphin games.
The latest weather forecasting also plays a role in a city where rainstorms can break out in the middle of a sunny day. IBM's center gives up-to-the-minute information about the possibilities of bad weather in a 10-mile radius and lightning strikes in a 5-mile radius around the stadium.
"Operations staff is ecstatic because they can be at command post or walking around stadium getting alerts when thresholds are hit," Howard explained. "They can go online and see the pulse of the stadium at any given time from when gates open to when gates close."
Howard praised IBM's system for fitting in on top of the stadium's "legacy" systems without disrupting any of its normal ticketing or sales. The IBM Intelligent Operations Center simply sits on top of everything so that it can scrape and grab data — information that could someday help the stadium respond to individual fans rather than just the overall crowd.
"When dealing with 75,000 potential fans for a four-hour production, we strive to personalize the experience for the masses," Howard said. "That's what we want to achieve."
You can follow InnovationNewsDaily Senior Writer Jeremy Hsu on Twitter @. Follow InnovationNewsDaily on Twitter @, or on Facebook.