/ Source: The Associated Press
Supporters of an anti-American cleric rioted in four Iraqi cities Sunday, battling coalition troops in the worst unrest since the spasm of looting and arson immediately after the fall of Saddam Hussein. At least 22 Iraqis, eight U.S. troops and one Salvadoran soldier died.
Hundreds were wounded as fighting raged in Baghdad, Najaf, Nasiriyah and Amarah. Tanks rolled through the Iraqi capital and two Humvees burned in the streets of its eastern Sadr City neighborhood.
Protesters, some dressed all in black or waving green banners, raced toward the fighting in Najaf as heavy gunfire echoed through the city. One man stood on a bridge, a rocket-propelled grenade launcher at the ready.
'Happy to die'
The riots were ignited by the arrest on Saturday of an aide to anti-American cleric Muqtada al-Sadr, known to his reverent followers as 'al-Sayed,' or master.
"I am happy to die for al-Sayed," 21-year-old Ali Hussein said after being shot in the arm during fighting with troops in Najaf. "Take me to see my mother first then let me die."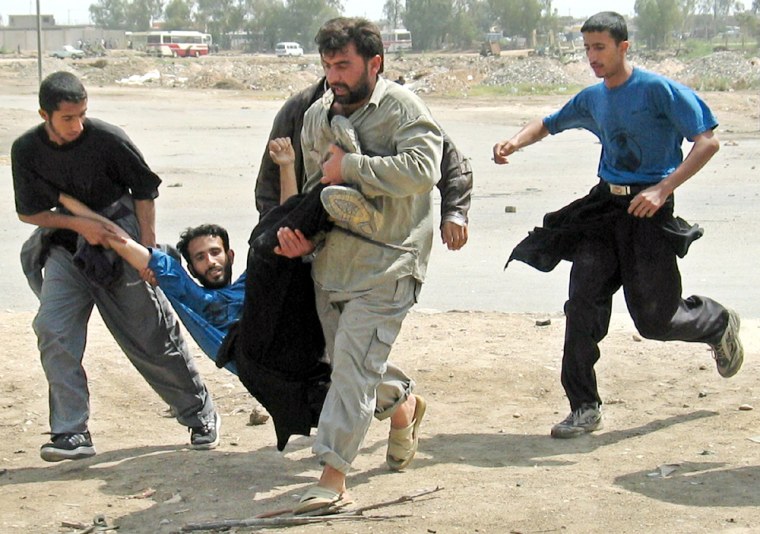 The unrest appeared to be a show of force by Al-Sadr, a 30-year-old Shiite cleric backed by an illegal militia and hundreds of young seminary students. They are devoted to him because of his anti-U.S. stance and the memory of his father, a Shiite religious leader gunned down by suspected Saddam agents in 1999.
Al-Sadr issued a statement later Sunday calling off street protests and saying he would stage a sit-in at a mosque in Kufa, where he has delivered fiery weekly sermons for months.
The explosion of violence will likely place al-Sadr back under the scrutiny of the U.S. military, whose leaders threatened to arrest him six months ago after his militia fought gunbattles with U.S. troops and moderate Shiites, who support the coalition.
Sunday's violence — along with the unrelated killings of two Marines in Anbar province — pushed the U.S. death toll to at least 610.
In the Baghdad neighborhood of Sadr City, a militia loyal to al-Sadr attacked police stations and government buildings — touching off battles that killed seven U.S. soldiers and wounded at least 24, the U.S. military said in a written statement.
A resident said some American soldiers had taken refuge in a building. The report could not be independently confirmed, and it was unclear whether the soldiers involved were those who died.
Spanish garrison
Near Najaf, supporters of al-Sadr opened fire on the Spanish garrison during a street protest that drew about 5,000 people.
The Spanish and Salvadoran soldiers inside the garrison fired back, and assailants later regrouped in three clusters outside the base as the shooting continued for several hours.
Two soldiers — a Salvadoran and an American — died and at least nine other soldiers were wounded, the Spanish defense ministry said. Twenty-two Iraqis died and more than 200 were wounded, said Falah Mohammed, director of the Najaf health department.
In nearby Kufa, al-Sadr supporters took over a police station and seized guns inside. No police were in sight.
Militiamen demonstrating against al-Yacoubi's detention also traded fire with Italian troops in the southern city of Nasiriyah, said Italian Lt. Col. Pierluigi Monteduro. One Italian officer was wounded in the leg.
Protesters also clashed with British troops in Amarah, the British Ministry of Defense said. It was unclear whether there were casualties.
The violence was touched off by the arrest of Mustafa al-Yacoubi, a senior aide to al-Sadr, on charges of murdering Abdel-Majid al-Khoei, a rival Shiite cleric. A total of 25 arrest warrants have been issued in the case, and 13 suspects have been taken into custody, an official at the coalition headquarters said.
Al-Sadr supporters also were angered by the March 28 closure of his weekly newspaper by U.S. officials. The Americans alleged the newspaper was inciting violence against coalition troops.
Shiites comprise about 60 percent of Iraq's 25 million people but were brutally repressed by Saddam, a Sunni Muslim. Al-Sadr is at odds with most Shiites, who hope to gain substantial power in the new Iraqi government.
In other developments Sunday:
Two U.S. Marines, both assigned to the 1st Marine Division, were killed by an "enemy action" in Anbar province Saturday, the military said. One died Saturday and the other Sunday, the statement said without providing details. Anbar includes Fallujah, a city where four American civilian contractors were killed and mutilated on Wednesday.
A bomb killed three security officers and wounded another at a checkpoint in Samarra, about 60 miles north of Baghdad, that was manned by Iraqi Civil Defense personnel, workers at Samarra General Hospital said.
In Kirkuk, also in the north, a car bomb exploded, killing three civilians and wounding two others, police said.
U.S. administrator L. Paul Bremer announced the appointments of Ali Allawi, the interim trade minister, as the new defense minister and Mohammed al-Shehwani, a former Iraqi air force officer who fled Iraq in 1990, as head of the Iraqi National Intelligence Service.
U.N. envoy Lakhdar Brahimi arrived in Baghdad with a team to help in the transition to an interim government after sovereignty is handed back to Iraqis on June 30.