/ Source: The Associated Press
President Bush will come under intense pressure this week from both sides in the Arab-Israeli dispute over a plan by Israel's prime minister to withdraw unilaterally from some Arab areas.
Bush's decisions, which could have a bearing on his stated goal for an eventual Palestinian state beside Israel, could be influenced greatly by his troubles in Iraq.
"Look what the president is facing," said Edward S. Walker, former U.S. ambassador to both Israel and Egypt. "Collapse in Iraq is on his hands. His democracy program is being rejected by the Saudis and the Egyptians."
The tug-of-war begins Monday at the president's ranch in Crawford, Texas, with a visit by President Hosni Mubarak of Egypt. Like other Arab leaders, Mubarak is leery that the Israeli plan might be Prime Minister Ariel Sharon's way to hold on indefinitely to other occupied Arab land.
Both Bush and Sharon, whom the president sees Wednesday at the White House, need a political lift. Walker said that might lead Bush to approve Sharon's proposal to withdraw from Gaza and part of the West Bank.
Mubarak and King Abdullah II of Jordan, who calls at the White House on April 21, are apt, in contrast, to press Bush for assurances that an Israeli pullback would be only a first step in peacemaking with the Palestinians.
Arab allies likely to press Bush on Iraq
The two moderate Arab allies also may press Bush on the worsening situation in Iraq, which is causing protests across the greater Middle East. Bush would like Sharon to "step up to the plate" and offer an agreement that he can show to the Arabs, said Stephen P. Cohen, president of the private Institute for Middle East Peace and Development.
Instead, Cohen said, Sharon will press Bush for a commitment on the partial withdrawal idea, which "will alienate the Arabs further along to total alienation."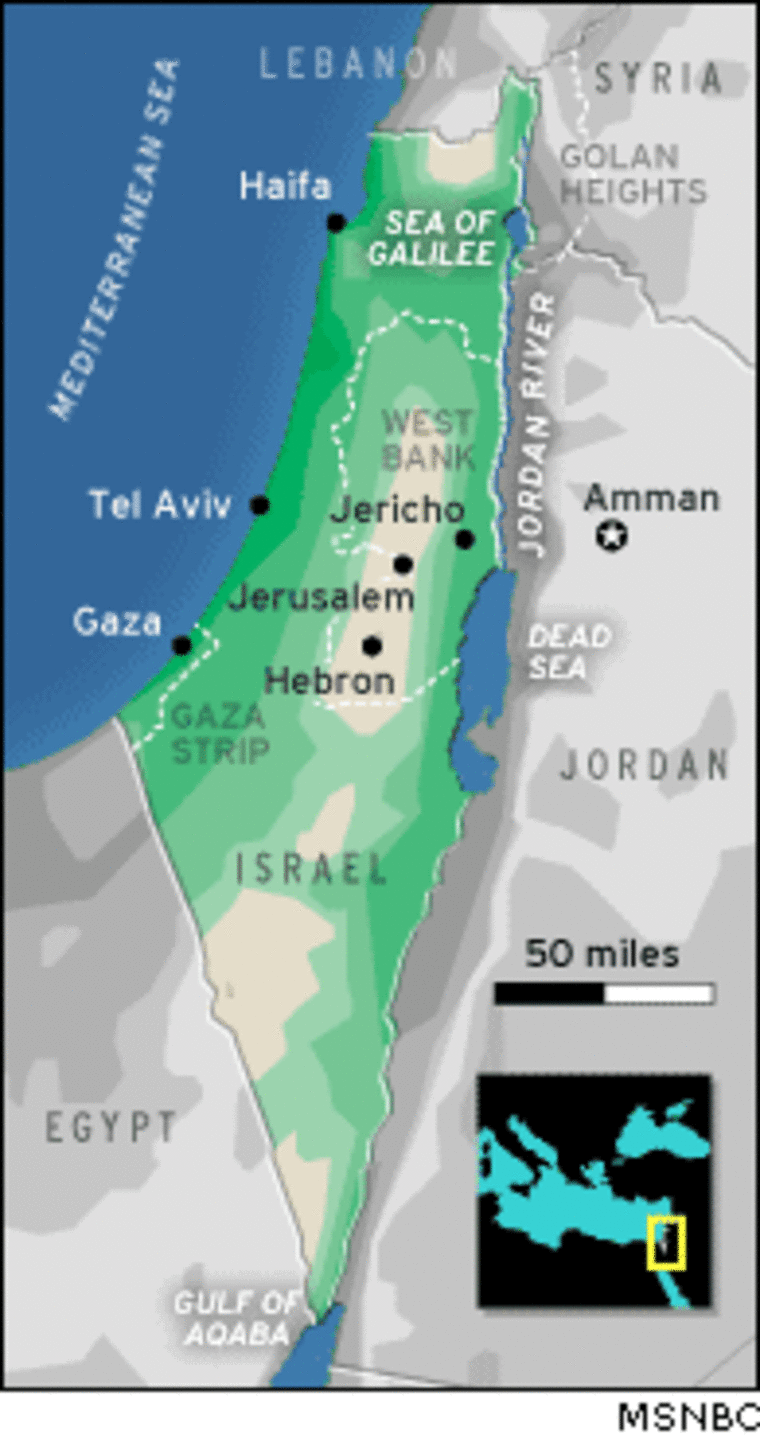 Sharon's plan would close all 21 Jewish settlements in Gaza and four of 140 settlements on the West Bank but would impose a de facto border on the West Bank with no promise of renewed negotiations. Israel took Gaza and the West Bank in the 1967 Six-Day War.
And yet, Cohen said, now that Bush is in deep trouble in Iraq, he has to deal with the Israeli-Palestinian dispute "at a time of weakness, and he has a much greater need for this to be successful."
Martin Indyk, a former U.S. ambassador to Israel, has no doubt that Bush is going to bless Sharon's plan.
"Absolutely, that's the choreography," Indyk said.
Also, the former Clinton administration official said, "we need Mubarak" to help prevent a takeover in Gaza by Hamas, a group responsible for suicide bombings in Israel. Hamas already wields major power in the densely crowded, impoverished strip on the Mediterranean coast.
In pitching to Bush, Indyk said, "Sharon is bound to succeed because Sharon is offering to evacuate settlements, to withdraw from Arab territory and to do something to fill a vacuum left by administration disengagement."
Besides, "in this political season, the Israeli prime minister is bound to be embraced by the president," said Indyk, director of the Saban Center for Middle East policy at the Brookings Institution.
Bush warms to Sharon's proposal
After first keeping its distance from Sharon's proposal, the Bush administration has warmed gradually to the withdrawal idea, provided it is linked to a more sweeping agreement with the Palestinians.
Three senior U.S. officials, Assistant Secretary of State William J. Burns; Stephen J. Hadley, deputy director of the National Security Council; and the council's Middle East specialist, Elliott Abrams, have made three trips to the area since mid-February to work on the details and the implications.
But Sharon keeps refining his plan. On Friday, in another development, Israeli officials said the Likud Party would hold its vote on a Gaza withdrawal by late April, sooner than expected.
The plan faces strong opposition within Sharon's ruling party. The move could be an attempt to head off opposition while anticipating a green light from Bush.
For Bush, and for Israel, a key issue is the kind of role Mubarak would play to keep a lid on the volatile Gaza area. Gaza borders on Egypt's Sinai Peninsula, and Egypt administered the strip before the 1967 war.
Apparently, Mubarak is willing to guard Egypt's side of the border and to train and equip Palestinians to take charge of security on their side. Egypt has ruled out policing Gaza itself.
Noticeably absent from the parade of Middle East leaders in the United States is Yasser Arafat, head of the Palestinian Authority. Bush has not relented in his boycott of the Palestinian leader, blaming him for attacks on Israel.
But Arafat's foreign minister, Nabil Shaath, will be in Washington on April 21, the day Jordan's king visits Bush, to see Secretary of State Colin Powell and Condoleezza Rice, the President's national security adviser.
Shaath has said the Americans have promised to make no decision on Sharon's plan until they have heard the Palestinian position.