Queen Elizabeth jumping out a helicopter; the Mongol Empire topping the medal table; tens of thousands of people singing and dancing to "YMCA" by the Village People; and sneaky British cyclists using "specially round wheels."
The London Olympics began with an opening ceremony noted for its humor with actor Rowan Atkinson, aka Mr. Bean, among the stars, but there have been a few notably funny moments and string of jokes, good and bad, ever since.
The Queen later told London Mayor Boris Johnson that her opening ceremony stunt — in which she appeared to parachute into the main stadium with James Bond, played by Daniel Craig — had been "a bit of a laugh."
Johnson, known to play up his buffoonish side for comic effect, was then caught on film as he slid mostly backward down a zip wire — dressed incongruously in a gray suit — while waving two British flags. Then he got stuck about halfway along.
"Get me a rope, get me a ladder," he was heard shouting to the amusement of people on the ground.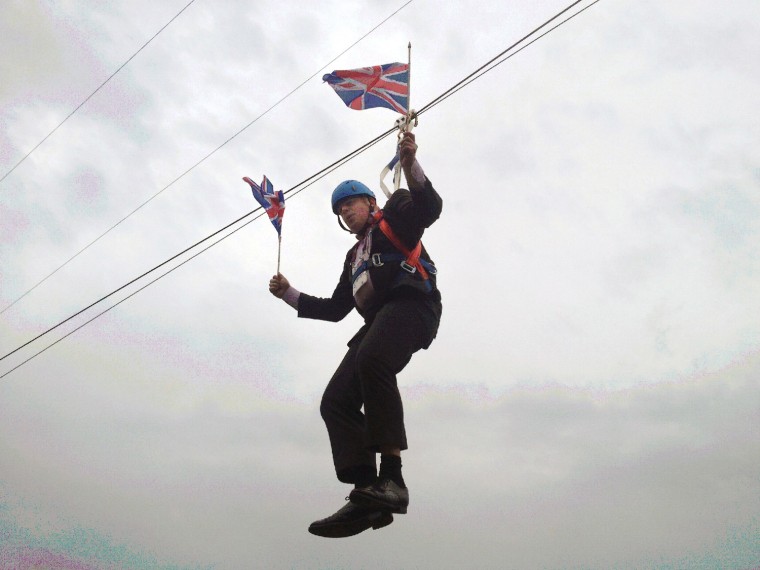 Another leading Conservative politician, Culture Secretary Jeremy Hunt, also caused laughter when he took part in a bell-ringing event across London to mark the start of the Games. He rang his bell so "enthusiastically" that the ringer snapped and flew off, ITV News reported.
It narrowly missed a group of people and a clearly flustered Hunt said, "My goodness me, are you alright? That was a terrible moment. Health and safety. Are you OK? Disaster averted."
Napoleon triumphs over Romans
Britain and France have a rivalry going back centuries and the U.K.'s recent success at cycling — Bradley Wiggins won the Tour de France in July and then helped Team GB win eight cycling golds to France's none at the Games — sparked a few jabs.
Amid suggestions in French newspapers that the British were somehow cheating, British Cycling's director Dave Brailsford quipped that they had been using "specially round wheels."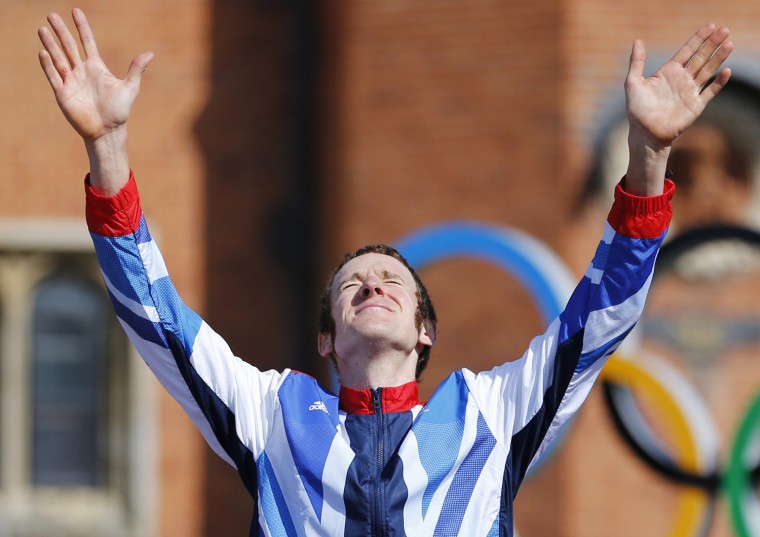 U.S. talk show hosts have also being weighing in on the subject of the Games.
"Some people are saying that the reason Michael Phelps isn't doing so well is because he let himself get too out of shape. I just have to say that I have been watching the Olympics, and if that guy is out of shape, I have been dead for five years," Conan O'Brien said.
Stephen Colbert explained China's presence at the top of the medal table. "Naturally the U.S. trails in gold medals because every time we win one, we hand it over to the Chinese to pay off our debt," he said.
Some of the humor has been particularly inventive with one historically minded Olympics fan, Jason Chown, creating "Ye Oldelymics Medal Table"  showing how empires throughout history would have fared if they still existed today.
He said he was a "reasonably avid war-gamer" and the idea dawned on him while watching the flags being raised at medal ceremonies.
The Mongol Empire from the year 1280 topped the table with 79 gold medals, thanks mainly to China's strong performance at the London Games, with the 1910 British Empire second, followed closely by Napoleonic France of 1810. The Roman, Spanish and Austro-Hungarian empires also featured on the table.
Chown, who works for an analytics company in Liverpool, England, said he'd faced some tricky decisions. "I've had a few people saying 'What about America, couldn't you put them in [to the British Empire's score]?" he told NBCNews.com, adding that he had stuck to his guns. "The 13 colonies were long gone by 1910."
Tweeters pile on
The crowds have also being getting in on the act. The party atmosphere in the 80,000-seater main stadium combined with loud music and an hour-long break between events Thursday saw large numbers of people taking to their feet to perform the actions to the Village People song "YMCA."
"Things I didn't expect at #Olympics: 80,000 people of all nations dancing (with actions) to YMCA," wrote one Twitter user, Ewan Phillips.
Read more from NBC News about the Olympics
Other Twitter humorists couldn't resist the chance to have their say.
"Everyone in my timeline very jolly about canoeing and shooting. Sort of the opposite of [the film] Deliverance," comedy writer Simon Blackwell tweeted.
U.S. satirist Lizz Winstead quipped that "I am sorry, Dressage is like watching a lost horse that won't stop and ask for directions."
And offered up: "Respect to China's Yi Siling winning Gold in the 10-metre Air Rifle event, I don't think I could even pick up a 10-metre air rifle."
But for one Twitter user, Ted Rock, of Glasgow, it was all getting a bit much.
"I for one am getting sick of the constant stream of Olympics-themed jokes," he wrote. "How does everybody else feel about this? Discus."