If you have a child starting school for the very first time this fall, then you know this can be a stressful time for your offspring. And you. Yes, especially for you.
Heading off to school is a big step and plenty of parents worry about whether their sons and daughters are ready to make the leap. (In fact, right this very minute, I'm fretting about my own 5-year-old who starts school next week.)
Take a deep breath. Take another. School is fun! They will do great! You will do great!
While you're deep breathing, here's a look at some educational games and apps geared toward kindergartners. From teaching numbers and addition to spelling and phonics, these excellent apps will help prepare your young kiddoes for their very first school experience … and will offer some supplemental education (and perhaps a bit of entertainment) throughout the year.
Alas, the only thing that will help us parents is a good stiff gin and tonic. Feel free to administer after your baby rides off on the school bus.
Numbers
Motion Math: Hungry Guppy ($2.99) is a great app for those just starting to wade into addition. In this fun, underwater game, kids must feed a hungry fish food that is the right sum to match their taste. Pinch food bubbles together and watch them add up to the right number for the fish. As your child progresses, she'll get to pick new colors for her gilled pal. For older or more math-savvy kids, try the more advanced which adds bigger numbers, subtraction and negative numbers to the game.
Team Umizoomi Math: Zoom into Numbers ($3.99). I had a hard time getting my son to stop playing this app based on Nickelodeon's colorful math-themed "Team Umizoomi" show. The app delivers a variety of numbers-themed mini-games that increase with difficulty as your child continues to play. From basic counting in the toy store mini-game to simple addition and subtraction problems in the balloon mini-game, your kid will not only practice their number skills, they'll also have lots of fun.
($2.99) is a fantastic app for helping the young students understand the relationship between numbers and the quantity they stand for. Based on the the app offers a variety of activities that let students manipulate blocks and beads as they experiment with the notion of quantity and see how it relates to written numerals. The app introduces addition, subtraction and the decimal system and offers a variety of levels for children with different skills.
Speaking of the Montessori method, be sure to check out ($4.99) for a spare-but-gorgeously designed beginning math app that follows the Montessori method, as well as ($2.99) which is designed to help your child learn counting and number sequencing up to 100 along with even and odd numbers.

Letters and words
Numberlys ($5.99) — The distant worlds of numbers and letters merge into one in this beautifully designed interactive book/game app that pays homage to Fritz Lang's famed silent film Here readers are transported to a world where letters do not exist, only numbers. Throughout the course of the story, children follow a band of quirky characters on an adventure to transform numbers into the letters of the alphabet. Each chapter is a kind of mini-game in which players must figure out how to summon a letter into existence. Yes, Numberlys is relatively pricy, but it's well worth it.
Super Why ABC Adventures: Alphabet ($2.99) The PBS children's program "Super Why" is a favorite around our house for the way it turns learning to read into a magical, story-filled adventure. This companion app puts five literacy-themed mini games into one solid package. Kids will join the show's characters as they go on adventures that have them learning letter sounds, writing letters and forming simple words.
Futaba Word Games (free, $2.99 for additional content) is a fun word quiz game designed for up to four children to play at one time. The idea is simple: four kids sit around an iPad. A picture appears in the center and the first child to select the correct word to match the image wins the round. Win three rounds and earn a reward. Even better, you can create your own quizzes using your own photos. And for a really feature-rich app with more four-player educational games, check out ($4.99).
Life lessons
There's more to school ... and life ... than learning your numbers and letters. These apps teach a few lessons about living in the larger world.
Hickory Dickory Dock ($2.99) Learning to tell time is one of those skills that takes, well, some time. But this whimsical, interactive clock app makes time-telling into a wacky and amusing game. A fluffy mouse takes kids through the clock, tempting them to move the hands and discover a different game/activity with each hour. For something a little less whimsical and a little more full-featured and advanced, check out ($2.99).
Toca Store ($1.99) is a two-player app that lets children explore the buying and selling of goods in a simple, colorful way. Players take on the role of storekeeper and customer. The store keeper decides what to sell and the customer decides what to buy, and in this way kids explore some basic math and resource management. It's simple enough for pre-schoolers to play and yet my kindergartner was endlessly amused by it.
Also worth checking out: Toca House ($1.99) which includes a variety of domestically-themed games designed to imparts some important lessons about what it takes to upkeep a home (doing dishes, ironing, sweeping and tending to a garden for example).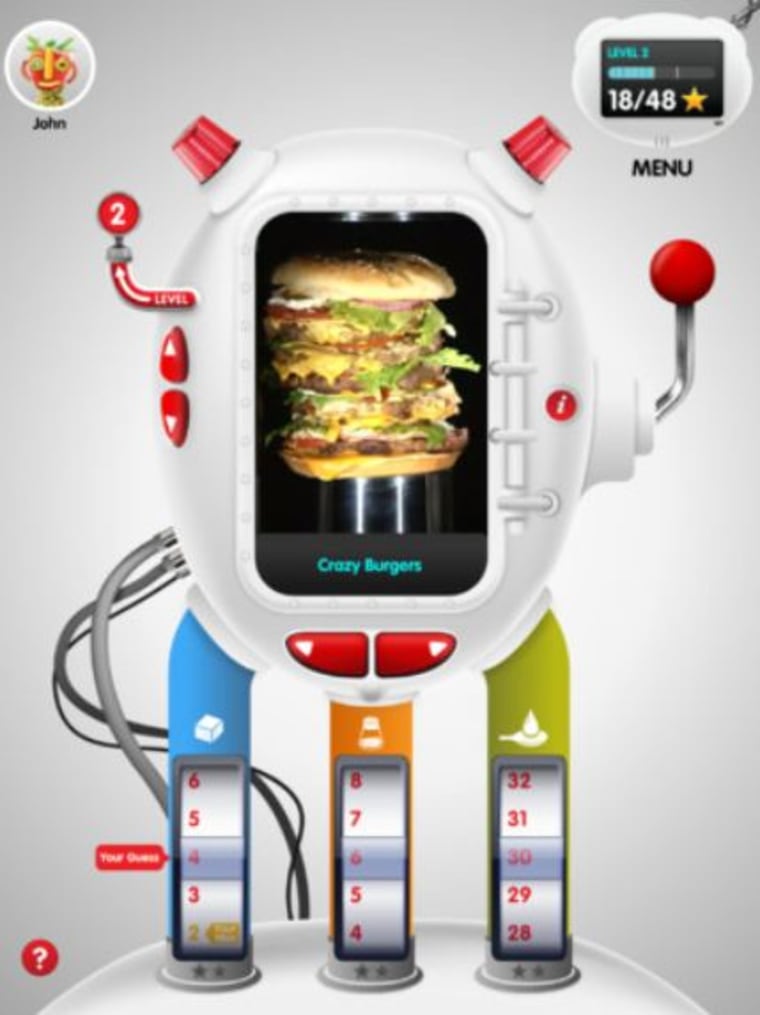 (free, $2.99) is a hilariously disgusting yet totally awesome app to help teach kids about eating healthy. Winner of Michelle Obama's Apps for Healthy Kids national competition, Smash Your Food does just that: lets kids watch everything from donuts to corn dogs to cans full of soda get smashed to smithereens all while they play a game in which they must guess how much sugar, salt and oil these food items contain. It's yucky yet informative.
Winda Benedetti writes about video games and other things for NBC News. You can follow her tweets about games and other things on Twitter here @WindaBenedetti and you can follow her on Google+. Meanwhile, be sure to check out the IN-GAME FACEBOOK PAGE to discuss the day's gaming news and reviews.