Turkish police probing a suspected plot to bomb a NATO summit in Istanbul next month said on Tuesday nine men had been charged with belonging to an illegal organization and seven others had been released.
President Bush, British Prime Minister Tony Blair and French President Jacques Chirac are among dozens of Western leaders due to attend the summit in Turkey's largest city on June 28-29.
The police said the nine men charged by a state security court are believed to belong to Ansar al-Islam, a banned militant Islamist group. They were detained on April 29 in the town of Bursa, 160 miles south of Istanbul.
The seven freed men had no proven link to the organization. On Monday a state security court in Istanbul freed nine other men briefly detained for suspected involvement in the plot.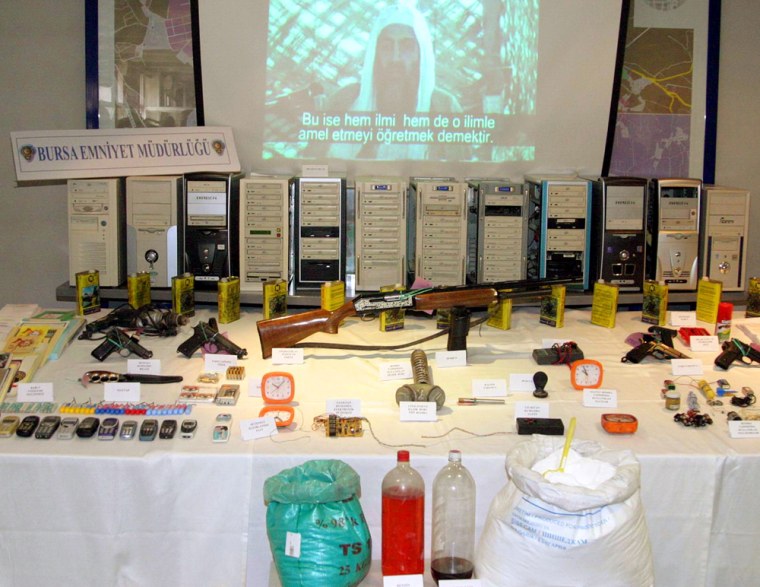 Ansar al-Islam is based in Kurdish northern Iraq and has been accused by Washington of being an ally of al-Qaida and a force behind attacks on U.S. troops occupying Iraq.
Police said on Monday they had seized guns, explosives, bomb-making booklets and 4,000 compact discs featuring training instructions from al-Qaida leader Osama bin Laden.
Security concerns
The incident has highlighted security concerns in the run-up to the NATO summit. It will be the biggest gathering of foreign leaders in Turkey since the presidents of the United States and Russia attended a meeting of the Organization for Security and Cooperation in Europe in Istanbul in 1999.
Istanbul suffered four devastating suicide truck bomb attacks last November that killed 61 people. Al-Qaida claimed responsibility for those attacks, which targeted British and Jewish sites. The Hurriyet newspaper said three of the men arrested in Bursa had planned to become suicide bombers during the NATO summit.
It said one of the men detained had trained in Pakistan at a camp run by Ansar al-Islam. He had learned to operate a glider plane while there, Hurriyet said.
Police have said the Bursa detainees also planned attacks on a local synagogue and on a bank to raise funds for their operations.
Turkey, the only Muslim member of NATO, is viewed as a prime target for militant Islamist groups due to its secular democracy and close security ties with the United States and Israel.