A desert airdrome in Mojave, Calif., is on the final glide path to getting government approval for becoming an inland gateway to space.
The Federal Aviation Administration's associate administrator for commercial space transportation is expected next month to certify the Mojave Airport Civilian Flight Test Center as a nonfederal spaceport to handle horizontal launches of reusable spacecraft.
As such, Mojave Airport can offer a range of launch and landing services, making it a hub for high-flying craft intended to help spark public space travel. The Mojave Airport is located approximately 100 miles (160 kilometers) north of Los Angeles, in southeastern Kern County, along the western edge of the Mojave Desert.
The site is already home port for several enterprising suborbital space projects.
Most notably is Scaled Composites, builder and operator of the White Knight/SpaceShipOne piloted vehicles. XCOR Aerospace is also based at the Mojave Airport, engaged in testing its piloted EZ-Rocket as part of an expansive reusable rocket engine and rocket-powered vehicle program. Other firms, such as Orbital Sciences Corp. and Interorbital Systems, are part of the space scene at Mojave Airport.
The "up-and-going" commercial space launch market is not only spawning new startup firms and fostering inventive technology. Deep-pocketed venture capitalists, such as Microsoft co-founder Paul Allen, find themselves frequenting the Mojave Airport. (Microsoft is a partner in the MSNBC joint venture.)
No showstoppers
"It's what happens when you energize an emerging industry. You stimulate innovative thinking … and that's what happened," said Stuart Witt, Mojave Airport manager. "I think it's going to be a wild ride the next 20 years as this industry emerges."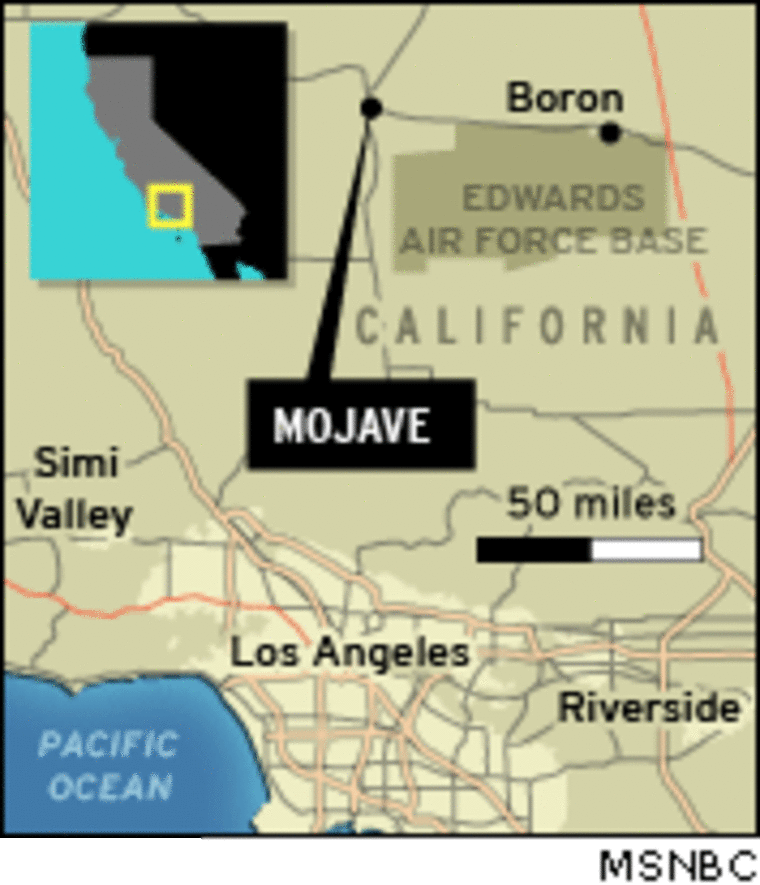 Mojave Airport's application to become the first certified inland spaceport has been under review by the FAA's space transportation office. A public meeting was held in December 2003 regarding the airport's environmental assessment, as required by the National Environmental Policy Act and the California Environmental Quality Act.
"There are no showstoppers. We're going to get our license," a confident Witt said. FAA signoff on the license is anticipated in late June, he said, with July 7 the outside date that the government has to respond by law to the Mojave Airport application.
After a year and a half of effort, Witt and his associates clearly suffered paper cuts in the process of filing government forms.
Countless square boxes were "X'd" on questionnaires. Statutes regarding regulation of propellants, object-free zones and public safety issues had to be addressed. The boundaries of the spaceport needed to be defined and how best to operate space vehicles in national airspace.
Furthermore, at times when Mojave Airport becomes a spaceport, rules must be followed in releasing "Notices to Airmen" and "Temporary Flight Restrictions" to other air traffic.
Shell game
Running a spaceport also means keeping a watchful eye out for Gopherus agassizii. For those of you still living in your shell, that's the desert tortoise, found in the Mojave and Sonoran deserts of Southern California. This tortoise was listed as threatened under California's state Endangered Species Act in 1989.
"Ironically … at 300 takeoffs and landings a day, nobody asked us to ever do a tortoise check. But before I can clear a spaceship to land, I have to do a tortoise check of the primary runway," Witt said.
Witt said his Mojave team as well as the FAA's space stransportation office learned a great deal in moving toward gaining spaceport status. As they worked together, thorny matters were ironed out, he noted.
"I'm sure that I haven't been that easy to live with, because I get a little frustrated with the bureaucracy at times," Witt admitted. "I'm a doer … and we operate here at the speed of business."
Magnet for projects
Witt said a lot of the existing federal statutes were written with the mind-set that you stick a person on top of a pointed missile and shoot them straight up.
"The FAA is now finding that the statutes as crafted don't fit. So now they have to be very liberal in their interpretations of the law in order to accommodate the emerging technologies," Witt explained.
Witt said he expects Spaceport Mojave to become a magnet for runway-to-space projects.
"I can't imagine why not. It's always about location. We have air space. We have an encroachment-free airport. We're close to the largest market in the world. It's a natural. That's why Mojave is here in the first place," Witt said.
Today, the Mojave Airport serves as a home for companies involved in modification and flight test of major military jet and civilian aircraft, aircraft storage and other high-tech industries.
Mojave Airport is a leading civilian flight test center and is home to some of the most unique and exotic aircraft ever built. That includes the Voyager, the plane that made the first-ever nonstop, unrefueled flight around the world. Its design was led by Burt Rutan, chief of Scaled Composites.
Deified in delicacies
In Spaceport Mojave mode, the location already comes complete with a popular eatery for breakfast and lunch. The Voyager Restaurant has already deified in delicacies Rutan's aeronautical skills.
The menu lists the "Long EZ" — an aircraft designed by Rutan — served up as two eggs any style. Then there's "The White Knight," which consists of bacon and eggs. Or you can order the ever-popular "SpaceShipOne," a plate full of ham and eggs.
Other food items include sausage patties and eggs labeled "The Blackbird" after the super-fast U.S. Air Force reconnaissance plane. Another selection is "The Hangar Queen," a plain omelet of three eggs whipped and folded.
And of course you can't miss "Joudi's Crash Landing," featuring two poached eggs served on corn tortillas, topped off with mixed cheddar, jack cheese and special Ranchero sauce.
First outing
One of the first "outings" for Spaceport Mojave is expected to be the bid by Scaled Composites and its SpaceShipOne to snag the $10 million Ansari X Prize cash award. That purse will be won by the first team that privately finances, builds and launches a three-person spaceship that rockets up to 62.5 miles (100 kilometers) altitude, returns safely to Earth, then repeats that trek with the same ship within two weeks.
"Under Witt's leadership, Mojave has become an amazing incubator for entrepreneurial space companies such as Scaled Composites, XCOR and Interorbital," Peter Diamandis, X Prize chairman, told Space.com. "I'm excited that this historic venue should become one of the first truly commercial spaceports."
Diamandis saluted the efforts by Witt and his associates to hack away at federal red tape so that spaceships can smoothly sail up and through blue sky.
Earlier this month, the X Prize Foundation announced it had selected the Southwest Regional Spaceport — a proposed site near Las Cruces, N.M. — to stage the X Prize Cup. The foundation's plan calls for the two-week-long extravaganza would be initiated in 2005 and have a variety of privately financed, people-carrying suborbital spaceships competing for prizes.
"Getting into space is hard work. We need places such as Mojave that make it easier for young space companies by helping to manage the risk, interface with the government, and provide a 'can-do' attitude," Diamandis said. "I wouldn't be surprised if places like Mojave and Los Cruces became the birthplaces of the next Boeings and Lockheeds of space."