The newest road to outer space leads through an airport in California's Mojave Desert, which has just been named America's first inland spaceport and will serve as home base for the world's first private manned space launch on Monday.
The Mojave Civilian Test Flight Center, a 3,300-acre facility that serves as a spawning ground as well as a graveyard for aircraft, is gearing up for Monday morning's launch of SpaceShipOne, a rocket plane developed by one of the town's most famous residents, aviation designer Burt Rutan.
This won't be the first time Rutan has put the Mojave Airport on the map: He was also the designer for the Voyager, which in 1986 became the first airplane to make a nonstop flight around the world without refueling. Voyager's landing drew 30,000 spectators to Mojave (population 3,863). The airport's operations director, Bob Rice, told MSNBC.com that the town was again preparing for 30,000 to watch SpaceShipOne's milestone suborbital flight.
"The Voyager was a big deal, obviously," he said. "But I think this ranks right up at the top. ... I don't know if you can outdo this."
Aviation history being made
SpaceShipOne will be attached to the underside of its White Knight carrier airplane during takeoff from the Mojave Airport, at about 6:30 a.m. PT (9:30 a.m. ET) Monday. MSNBC.com will provide live streaming-video coverage.
At an altitude of about 50,000 feet, the rocket plane is to separate from the White Knight, light up its engine and shoot up to 100 kilometers (62 miles), the internationally recognized boundary of outer space.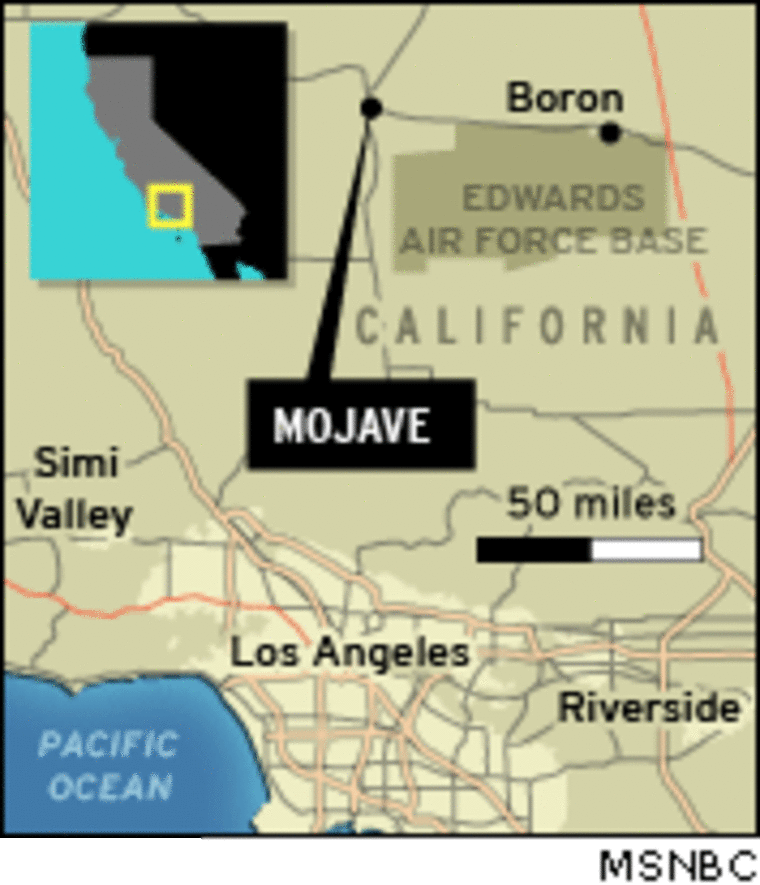 At that height, the pilot — who is yet to be named — should experience about three minutes of weightlessness and see the curvature of the earth below the blackness of space. The plane would then descend to a glide landing back at the Mojave Airport, about an hour and a half after takeoff.
In a sense, SpaceShipOne's flight is an exercise in "been there, done that." Back in the 1960s, the X-15 zoomed over the Mojave Desert to similar heights, and NASA's first manned Mercury launch in 1961 brought Alan Shepard to an altitude of 116 miles (187 kilometers) during a 15-minute suborbital mission.
Nevertheless, the fact that this high-tech space plane was built by the private sector, with funding from software billionaire Paul Allen rather than the government, has captured the imagination of space enthusiasts everywhere.
SpaceShipOne's privately sponsored success could well mark a new era for spaceflight, said George Whitesides, executive director of the National Space Society.
"We rarely can pencil into our calendars a day when the world is going to change, but we can here," Whitesides told MSNBC.com. "This is going to fundamentally shift the way people think about space. Specifically, it reawakens people's chance to dream about going into space themselves."
For those dreamers, Monday's launch serves as a "gathering of the tribes," Whitesides said. Among those likely to be in attendance are Apollo 11 moonwalker Buzz Aldrin, millionaire space passenger Dennis Tito and other luminaries of the space community.
Prelude to Ansari X Prize
The spectators also will include Rutan's rivals in the quest for the $10 million Ansari X Prize, which would go to the first team to send a privately developed, three-person spaceship to a 62-mile altitude twice in the course of two weeks.
"We are extremely excited that Burt and Paul Allen are going to be doing this," said George French, president of Oklahoma-based Rocketplane Ltd., another Ansari X Prize entrant. "We think it's a paradigm-shifting moment."
Although Monday's flight is aimed at satisfying the 62-mile requirement after a year of testing at lower altitudes, it will not be considered a formal Ansari X Prize attempt. Only the solo pilot will be taking aim at astronaut heights Monday. If the attempt is successful, later flights would carry two passengers (or their equivalent in ballast weight) to go after the $10 million.
French believes Rutan's Scaled Composites team is likely to end up winning the prize, while other rivals, such as the da Vinci Project's Brian Feeney, wonder if SpaceShipOne's rocket engine will have quite enough oomph to bring an extra 400 pounds or so to the required altitude.
"We're still absolutely in the hunt for the prize itself," Feeney told MSNBC.com this month.
The $10 million purse is backed up by a "hole-in-one" insurance policy, commonly taken out by golf courses, and it will disappear if the prize isn't won by the end of the year.
"I certainly don't want the insurance company to keep the prize money," millionaire video-game programmer John Carmack, who heads Armadillo Aerospace's X Prize team, wrote in a Web commentary this week. "If SpaceShipOne crashes, we will probably throw ourselves at an attempt, but it will be a long shot."
Following the money
Allen acknowledges spending more than $20 million on the SpaceShipOne project and is counting on an Ansari X Prize victory. Winning the prize would "cut our costs in half," he noted.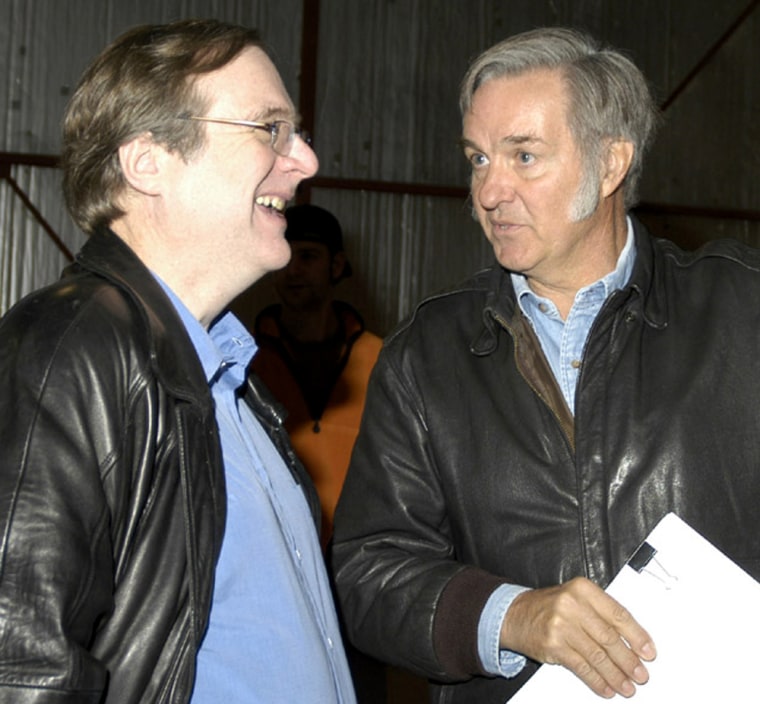 Allen ranks as the world's fifth-richest individual on Forbes magazine's annual list, with estimated net worth of $21 billion. He made most of that money by virtue of his role as a co-founder of Microsoft, a partner in the MSNBC.com joint venture. He also has invested in entertainment and sports interests ranging from DreamWorks and Charter Communications to the Seattle Seahawks and the Portland Trail Blazers.
When it comes to SpaceShipOne, part of Allen's motivation comes from his personal interest in space exploration and aviation — the same drive that led him to invest in Eclipse Aviation and create the Flying Heritage Collection as well as the newly opened Science Fiction Museum and Hall of Fame.
Amid the opening ceremonies at the Seattle museum, Allen told MSNBC.com on Friday that he was "seriously considering" taking a ride on SpaceShipOne at some point — although he would wait until a number of test flights had been conducted.
Some reports have hinted that Allen or other deep-pocketed investors, such as British millionaire/adventurer Richard Branson, might follow up on Rutan's success by funding suborbital passenger service. When asked about his future plans, Allen said that he wasn't yet sure whether the demand for suborbital flights would justify the costs, and that he didn't intend to bankroll a full-fledged space tourism operation by himself.
But would he consider investing along with others? "I might," Allen replied. "We'll see."
Some observers have said suborbital spaceflights might go on sale within three to five years, for $30,000 to $100,000 a seat — and the price would likely drop further over time.
At least that's the conventional wisdom. But in order for those spaceflight dreams to become a reality, some regulatory groundwork still has to be laid. In April, the SpaceShipOne effort received the first-ever launch license for a suborbital piloted spaceflight from the Federal Aviation Administration.
On Friday, the Mojave Airport announced that it received its long-awaited launch site license from the FAA, and the agency confirmed that the license (LSO 04 009) was issued on Thursday.
The license makes Mojave the nation's fifth commercial spaceport, joining Cape Canaveral in Florida, Vandenberg Air Force Base on California's coast, the Wallops Flight Facility in Virginia and the Kodiak Launch Complex in Alaska.
The spaceport status does not have any regulatory effect on SpaceShipOne, because strictly speaking, the rocket launch occurs in midflight rather than from the airport. But Mojave's launch site license would facilitate other suborbital rocket projects such as XCOR Aerospace. XCOR could not conduct spaceflights from Mojave, its home base, if the airport did not have the license.
Becoming a spaceport could promote economic development around the airport, making Mojave a desert Mecca for rocketeers.
At the same time, Congress is considering legislation that would solidify the FAA's regulatory regime — and open the way for paying passengers as well as pilots to ride on suborbital spaceflights.
That legislation has been held up by a debate over exactly what kinds of space vehicles would be covered, but there's still hope that Congress can pass the legislation this year.
An earlier version of this report mischaracterized Paul Allen's ranking among the world's richest individuals.