/ Source: Arthur Frommer's Budget Travel
Ten years ago, the idea of cutting-edge architecture as a massive popular draw was ludicrous—it was the domain of private residences and the occasional corporate headquarters. Frank Gehry's Guggenheim Bilbao changed everything: Now great buildings are popping up everywhere. What's even more remarkable, many are open to the public. We've picked the 12 best of the last five years.
• Auditorium Parco della Musica (Rome, Italy)
• Greater London Authority Headquarters (London, England)
• Contemporary Arts Center (Cincinnati, Ohio)
• Nasher Sculpture Center (Dallas, Texas)• Modern Art Museum of Fort Worth (Fort Worth, Texas)
• Jay Pritzker Pavilion in Millennium Park (Chicago, Illinois)•Prada Tokyo Epicenter (Tokyo, Japan)
• Milwaukee Art Museum (Milwaukee, Wisconsin)
• Walt Disney Concert Hall (Los Angeles, California)
• Jewish Museum (Berlin, Germany)
• Museum of Modern Art (New York, New York)
• Central Library (Seattle, Washington)

AUDITORIUM PARCO DELLA MUSICA
Rome, Italy
Architect: Renzo Piano, 2002
What it looks like: "Three giant armadillos."  —John L. Walters, The Guardian
Why people love it: The complex of three gently curved concert halls is a musical paradise. The roofs, covered in lead strips like traditional Roman buildings, curl over the buildings' sides—giving them each a bug-like carapace. Inside, the auditoriums, each a different size, are crafted of cherry wood. Even if you're not attending a concert, you can stroll the plazas and park, and lounge in an outdoor amphitheater. (The complex is north of the city center, behind the Stadio Flaminio.) During construction, workers found an ancient archaeological site; a new museum contains the artifacts.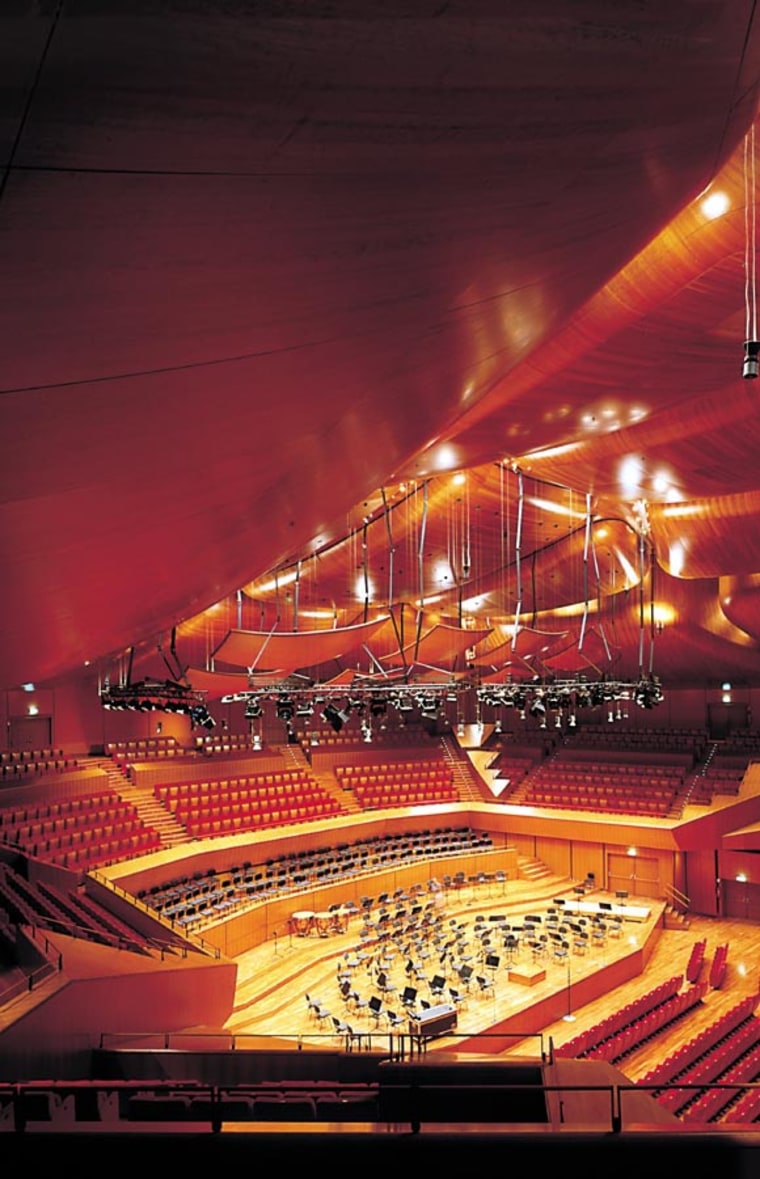 How to get in: Viale Pietro de Coubertin 30, 011-39/06-8024-1281, auditoriumroma.com. Open daily 10 a.m. to 8 p.m. (closing at 6 p.m. after October 31, when daylight saving time ends). To get there by metro, take line A to Flaminio, then take tram 2. Admission to the grounds is free. Guided tours of the grounds and music halls cost €9; tours in Italian run hourly Saturday and Sunday but must be booked in advance Monday through Friday. All tours in English must be booked in advance. The Accademia Nazionale di Santa Cecilia performs classical and symphonic concerts from October to June. Parco della Musica also features jazz, pop, and rock concerts year-round. Buy tickets at the box office, online, or by calling 199-109-783 within Italy.
Tip! A special Musica bus, the M, runs between the auditorium and Termini, Rome's main rail station, from 5 p.m. to after the last show.
GREATER LONDON AUTHORITY HEADQUARTERS (CITY HALL)
London, England
Architect: Norman Foster, 2002
What it looks like: "A glass testicle."  —Mayor Ken Livingstone
Why people love it: Everything about London's new City Hall is innovative. Its strange shape is designed for maximum energy efficiency, with the most volume for the least surface area. The upper floors jut out slightly to shade the lower ones—that's why it leans—and it consumes about a quarter of the energy of a standard office building.
How to get in: On the south bank of the Thames, near Tower Bridge, 011-44/20-7983-4100, london.gov.uk/gla/city_hall. Open 8 a.m. to 8 p.m. Monday through Friday, and two weekends a month (the website lists dates). Admission is free, but you must pass a security check at the entrance. Weekdays, visitors can look down on assembly meetings from a second-floor exhibition space. Weekends offer access to some areas that are usually restricted, including the Chamber and London's Living Room.
Tip! If you position yourself on the right spot of the lovely plaza, you can be photographed so that you appear to be holding up the tilted building, just like at the Leaning Tower of Pisa.
CONTEMPORARY ARTS CENTERCincinnati, Ohio
Architect: Zaha Hadid, 2003
What it looks like: "A giant three-dimensional jigsaw puzzle."  —Barry M. Horstman, Cincinnati Post
Why people love it: The Rosenthal Center, new home of the CAC, is the only building in the U.S. by the Baghdad-born, London-based Hadid, who just became the first woman to win the Pritzker Prize. At first glance the building seems quite polite—it sits neatly on a downtown corner without overpowering its neighbors—but look closer. See how the concrete sidewalk unrolls right into the glass lobby, then curves up to become the back wall. Or how the boxy shapes on the outside cantilever and zoom. Inside, the floors aren't conventionally aligned: Galleries and performance spaces jig and jag, as if they weren't so much constructed as scooped out. Enormous black steel beams, containing the stairs, slash diagonally through the interior. Tough stuff.
How to get in: 44 E. Sixth St., 513/721-0390, contemporaryartscenter.org. Open from 10 a.m. to 9 p.m. on Monday (free after 5 p.m.); 10 a.m. to 6 p.m. Wednesday through Friday; 11 a.m. to 6 p.m. Saturday and Sunday. Admission is $7.50, seniors $6.50, students $5.50, kids $4.50, under 3 free.
Tip! There's a lull in the crowd from noon to 2 p.m. Also, most hotels and restaurants downtown sell tickets (a good way to avoid lines).
NASHER SCULPTURE CENTERDallas, Texas
Architect: Renzo Piano, 2003
What it looks like: "A noble ruin."  —Renzo Piano
In downtown Dallas—home of big boots, big cars, big buildings—this exquisite museum is a polished gem in a quarry of rough stone. Italian master Renzo Piano spared no expense in his building of butter-colored travertine and glass, with an innovative, light-as-air roof that lets you see the big Texas sky overhead. The structure houses small pieces from the collection of shopping-mall magnate Ray Nasher and his late wife, Patsy—it's arguably the finest assemblage of 20th-century sculpture in private hands. Outdoors, in a lovely walled garden designed by landscape architect Peter Walker, are some of the Nashers' big pieces, by artists such as Richard Serra, Mark de Suvero, and Picasso. Talk about Texas rich—this museum is more precious than black gold.
How to get in: 2001 Flora St., 214/242-5100, nashersculpturecenter.org. Open 11 a.m. to 6 p.m. Tuesday through Sunday (until 9 p.m. Thursday); closed Mondays. Admission is $10, seniors $7, students $5, kids free. Docent-led tours of the architecture and the collection (included with admission) are offered Saturdays at noon; arrive by 11:30 a.m. to secure a spot. The audio tour is always free with admission.
Tip! Arts District Friends leads a free architectural tour, the Arts District Stroll, the first Saturday of every month at 10:30 a.m. It starts at the Crow Collection of Asian Art, across the street from the Nasher. 214/953-1977, artsdistrict.org. Reservations required.
MODERN ART MUSEUM OF FORT WORTHFort Worth, Texas
Architect: Tadao Ando, 2002
What it looks like: "A sprawling box sheathed in aluminum panels with vertical fins."  —Paul Goldberger, The New Yorker
Why people love it: East meets the Wild West in this oasis of serenity, a match for the elegant Kimbell Art Museum by Louis Kahn (1972) next door. The Japanese architect Ando—a onetime boxer who never went to architecture school—designed a series of pavilions in velvet-smooth concrete, then wrapped each one in glass and set them in a reflecting pool. The effect is luminous. Inside, the simple galleries are equally magical: The proportions are perfect. Ando also designed the landscape of the 11-acre compound.
How to get in: 3200 Darnell St., 817/738-9215, themodern.org. Open 10 a.m. to 5 p.m. Tuesday through Thursday and Saturday; 10 a.m. to 8 p.m. Friday; 11 a.m. to 5 p.m. Sunday; closed Mondays. Admission is $6,  students and seniors $4, kids under 12 free. Daily, docent-led tours of the architecture and collection are at 2 p.m. (free with admission).
Tip! The first Sunday of every month is free—and packed. Instead, visit on Wednesdays (also free), when there are no lines.
JAY PRITZKER PAVILION IN MILLENIUM PARK
Chicago, Illinois
Architect: Frank Gehry, 2004
What it looks like: "The trellis holding a state-of-the-art acoustical system is stretched like a gigantic skeletal beetle over the pavilion's lawn."  —Wynne Delacoma, Chicago Sun-Times
Why people love it: Chicago is proud of its heritage of modern architecture, going back to Louis Sullivan and Frank Lloyd Wright. Now it has a Frank Gehry structure, in the middle of downtown's new Millennium Park. An elaborate band shell, the pavilion can seat 4,000 people in permanent seating for concerts, plus 7,000 on the lawn. A sophisticated sound system hangs from an overhead, trellis-like roof—with a classic Gehry explosion of curling silver metal above the stage. It's the park's centerpiece, but also check out Lurie Garden, Crown Fountain, and the enormous, shiny silver sculpture by British artist Anish Kapoor. (It'll be covered for two months beginning September 13 while it's being polished.)
How to get in: 100 N. Michigan Ave., 877/244-2246, millenniumpark.org. Concert schedules were not available at press time; keep an eye on the website for details.
Tip! The Chicago Architecture Foundation offers one-hour park tours on Fridays and Sundays from May through October at 12:15 p.m. (Sundays only in October), $5. Meet at ArchiCenterShop, Santa Fe Building, 224 S. Michigan Ave., 312/922-3432, architecture.org.
PRADA TOKYO EPICENTERTokyo, Japan
Architects: Herzog & de Meuron, 2003
What it looks like: "An alien body with unfamiliar skin and a strange way of holding itself."  —Clifford Pearson, Architectural Record
Why people love it: Having known each other since kindergarten, Swiss architects Jacques Herzog and Pierre de Meuron started out building with Legos; now they're famous for their search for new shapes, materials, and ideas. Their Prada store is a five-sided, six-story building with an off-kilter peak. The outside is covered with a steel lattice filled in with glass diamonds, some panes bulging, some concave. At night, the thing glows like a surrealistic lantern; in the daytime, you can glimpse the Prada merchandise inside. Horizontal, diamond-shaped "tubes"—big enough to stand up in—slice through the interior, with spaces for browsing or trying on the clothes.
How to get in: 5-2-6 Minami-Aoyama, Minato-ku, 011-81/ 3-6418-0400, prada.com. Open 11 a.m. to 8 p.m.
Tip! The closest subway stop is Omotesando. The closest exit, A5, reopens in January.
MILWAUKEE ART MUSEUM Milwaukee, Wisconsin
Architect: Santiago Calatrava, 2001
What it looks like: "A futuristic ocean liner or a delicate bird poised for flight."  —Stephen Kinzer, New York Times
Why people love it: They love it for the drama of the huge white brise-soleil, or sun baffle, that looms above the entrance and overlooks Lake Michigan. The "wings" adjust to screen sunlight from the space below. (See our Contents page.) Beyond the structure is a vaulted gallery that Calatrava designed to connect his building (the Quadracci Pavilion) to the existing museum. The Spanish-born architect and engineer—known for his lyrical touch—also created a graceful white bridge linking the museum and its shorefront park to downtown.
How to get in: 700 N. Art Museum Dr., 414/224-3220, mam.org. Open daily 10 a.m. to 5 p.m. (until 8 p.m. Thursday). Admission is $8, seniors $6, students $4, kids under 12 free.
Tip! To see the wings open, be there right at 10 a.m. To see the wings open and close, you'll want to be there at noon.
WALT DISNEY CONCERT HALL Los Angeles, California
Architect: Frank Gehry, 2003
What it looks like: "The hula dancer of the L.A. skyline, a sensual, pushy play for attention."  —James Sterngold, San Francisco Chronicle
For the same reason they like certain movie stars—it's got sexy curves, gorgeous skin, and a sense of glamour and fun. It makes everything in the neighborhood, especially the dowdy Dorothy Chandler Pavilion across the street, look boring. Yet this stainless steel mélange of swoops and swirls isn't forbidding—it's people-friendly, with a big stairway sweeping up to an entrance that's like an embrace.
How to get in: 111 S. Grand Ave., 323/850-2000 (info), 213/972-7211 (box office), musiccenter.org. Audio tours—with no auditorium access—are available 9 a.m. to 10:30 a.m. on matinee days and 9 a.m. to 3 p.m. on non-matinee days, $10, students and seniors $8. Buy tickets to see the two resident companies—the L.A. Philharmonic and L.A. Master Chorale—at laphil.com and lamc.org, at 323/850-2000 (Philharmonic) or 213/972-7282 (Chorale), or through the box office (Tuesday through Sunday, noon to 6 p.m.).
Tip! For the Philharmonic: Call or go to the box office on the day of a sold-out performance: Tickets often get turned in. "Choral bench" seats ($15), behind the orchestra, are sold at noon on the Tuesday two weeks prior to a concert. And students and seniors can buy $10 rush tickets two hours before the show. Call ahead to check availability. For the Chorale: Rush tickets ($10), for all ages, are sold at the box office two hours before performances. The view is obstructed.
JEWISH MUSEUM
Berlin, Germany
Architect: Daniel Libeskind, 1999
What it looks like: "Some say the museum represents a broken Star of David; critics liken the building to a bolt of lightning striking the Jews."  —Phyllis Meras, Washington Times
Why people love it: A deeply haunting building of disorienting spaces, it conveys powerful messages in its architecture alone: For the first two years after it was finished, no exhibits were even installed. This was Libeskind's first important commission; he has more recently gained fame as the master planner of the World Trade Center site in New York City. The controversial structure is a zinc-covered zigzag, like a wound slashed across the site, its windows irregular slits in the walls. It took 10 years to get it built.
How to get in: Lindenstrasse 9-14, 011-49/30-25993-300, jmberlin.de. Open 10 a.m. to 10 p.m. Monday, 10 a.m. to 8 p.m. Tuesday through Sunday. Doors are shut an hour before closing time. Admission is €5, kids under 6 free.
Tip! If you can, go on a Monday evening. Although other museums in Berlin are closed on Mondays, the Jewish Museum is open—until 10 p.m., no less. Plus, there's live klezmer music at the museum's restaurant, Liebermanns.
MUSEUM OF MODERN ART
New York, New York
Architect: Yoshio Taniguchi, 2004
What it looks like: "A perfectly formed bento box."  —Glenn Lowry, MoMA director
MoMA's architecture had always been a vanilla backdrop to the art. So when the trustees decided to rebuild and expand the museum at its Midtown site, they bypassed avant-garde proposals and chose a quiet design by Taniguchi, famous in Japan but unknown elsewhere. (When the museum reopens next month, there will be an exhibition devoted to him.) His sleek, modern building increases the gallery space from 85,000 to 125,000 square feet, creates an atrium where daylight pours through skylights, and makes a centerpiece of the sculpture garden. The art, too, remains center stage: Taniguchi believes his architecture is successful if no one notices it.
How to get in: 11 W. 53rd St., 212/708-9400, moma.org. Open 10:30 a.m. to 5:30 p.m. Wednesday through Monday (until 8 p.m. Fridays); closed Tuesdays. Admission is $20, students and seniors $12, kids under 16 free, and free for everyone 4 p.m. to 8 p.m. Fridays.
Tip! The $48 CityPass gets you into MoMA and five other attractions over a nine-day period (buy at citypass.com or at the attractions themselves). The best part: You usually get to skip lines. Also, there will now be two entrances, on 53rd and 54th Streets. (Most visitors are accustomed to only having the 53rd Street entrance, so the 54th Street one should be quicker.)
CENTRAL LIBRARY
Seattle, Washington
Architect: Rem Koolhaas, 2004
What it looks like: "A Rubik's Cube cinched by a corset?"  —William Dietrich, Seattle Times
Why people love it: Weird as it is on the outside—with its honeycombed walls of glass and steel that cantilever out—inside, the library is easy to navigate. (To research the design, Dutch architect Koolhaas visited libraries to see how hard it is to locate a given book.) It has a big, bright lobby, lots of computers for the public, and open stacks. What's ingenious is that the shelves for its 800,000 books and other materials are arranged adjacent to a sun-filled atrium, along a snaking, gently sloped ramp, with the Dewey decimal numbers embedded in the floor.
How to get in: 1000 Fourth Ave., 206/386-4636, spl.org. Open 10 a.m. to 8 p.m. Monday through Wednesday, 10 a.m. to 6 p.m. Thursday through Saturday, 1 p.m. to 5 p.m. Sunday. Admission is free. Free architectural tours are given Monday through Wednesday, 5:30 p.m. and 6:45 p.m., and Saturday and Sunday, 1:30 p.m. and 3:30 p.m. Sign up at the welcome desk at least 15 minutes beforehand. There's usually a line to get in when the library opens, and many people go on their lunch breaks—but the afternoons are quiet.
Tip! Near the top of the building is the reading room, with expansive views of downtown Seattle and Elliott Bay.