It's getting to look a lot like Christmas -- especially to the electronics industry.  This is the time of year when companies begin releasing their shiniest/newest/greatest products to compete for your holiday shopping dollar.  I'm meeting with different companies on a daily basis to see what they hope you'll want to find under your tree less than three months from now.
Today PalmOne announced the Tungsten T5 PDA as one of their new holiday offerings. It's big. Not in dimensions per se (4.76 by 3.08 by 0.61 inches and 5.1 ounces) but in features, in what's inside.
The Tungsten T5 has a 416MHz Intel XScale processor running Palm OS 5.4.  There are 256MB of memory inside. That comes out to 215MB of actual storage, 160MB of internal flash and 55 MB of program memory for applications and data.  That's enough memory to store a bunch of compressed music inside without resorting to a plug-in card (although there's a SD/MMC card expansion slot if you need more).
The transflective, TFT color display is capable of 320 by 480 pixels, reproducing 65,000 colors and both landscape and portrait views. The Lithium-ion battery is rechargeable.  Bluetooth is built-in. Don't forget the built-in speaker (on the back) and the stereo headphone jack.
There are the usual PDA applications on board: Favorites, Files, Contacts, Calendar, Memos, Note Pad, Tasks, Calculator, World Clock and Expense, in addition to bonus titles like Adobe Acrobat Reader, eReader, Solitaire and AOL Mail access.
As for other features, DataViz's Documents To Go (Professional v7.0) now comes in the box.  That means support for Word, Excel and PowerPoint documents is now standard.  So are upgraded editions of Palm's VersaMail e-mail client and Blazer Web browser.
The new File Transfer application (for Windows users only) resides on your desktop and lets you drag-and-drop and manage all kinds of files and folders quickly between your handheld and your computer.  There's also something new called Drive Mode (for Windows and Mac users) that allows a T5 to behave like a separate USB drive to move files in and out of the 160MB flash drive (those files won't disappear if you run out of battery power.)
I got to see the T5 a few weeks ago and was very impressed.  Build quality seems to be excellent.  You can tell when you hold the T5 in your hand that it's a precision piece of gear.  Using it was easy.  It's fast, slim, sleek and beautiful.
Price wise, the Tungsten T5 takes over Palm's $399 slot – where the T3 used to be.  The Tungsten T3 sells for $349 and is available on PalmOne's Website.
Super security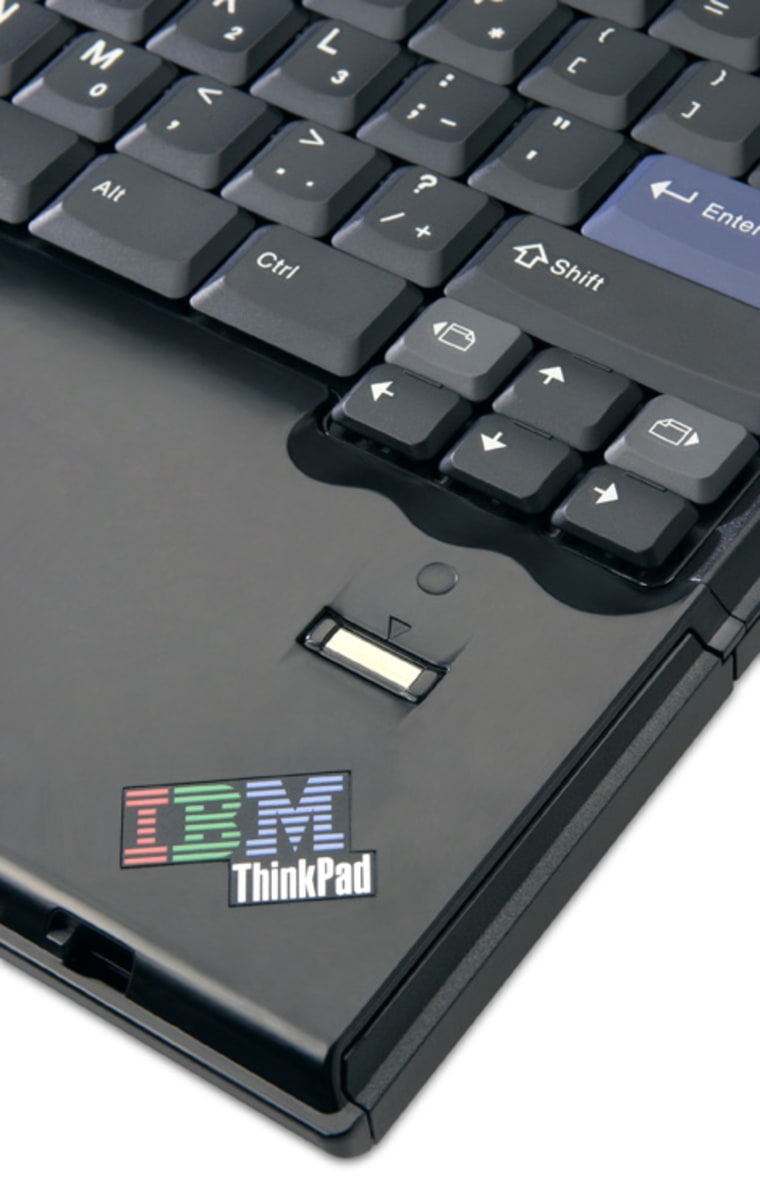 IBM announced a new laptop computer today -- but this one is for people who like keeping their information to themselves.  The new ThinkPad T Series T42 now comes with an integrated finger print reader for those who take their security seriously.
The T42 is one of IBM medium-sized machines.  Prices start at just under $1,500 for a machine with a 1.5 GHz Pentium M (for Mobile) processor, 256 MB of memory, a 30 GB hard drive, DVD-ROM drive and a 14.1-inch color display.  The base model weighs in at 4.5 pounds. 
The type of fingerprint reader IBM is using captures more data than a traditional picture capture window because it scans more of the fingertip's surface area, helping to prevent misidentification. Users swipe their finger across a small sensor to log-on to their systems, software applications, web sites, or databases.

The finger print reader can work in combination with new version of the hardware and software-based Embedded Security Subsystem, (a chip on the system board), that ships with every T42 laptop.  That system allows fingerprint identification and protects vital security information, such as encryption keys, electronic credentials and pass phrases, and guarding against unauthorized user access.
Price for the fingerprint reader is somewhere in the $50 range.  I think in the near future we'll be seeing a lot more of these types of biometric devices -– as well as smart card readers built into our computers.