/ Source: The Associated Press
President Bush said Thursday the trio of prime-time debates with Sen. John Kerry demonstrated he is running on his record — and his opponent away from his own — even as the Republican campaign acknowledged that Kerry had gained from the confrontations viewed by tens of millions of Americans.
"The senator's record is 20 years of out-of-the-mainstream votes without any significant reforms or results," Bush told thousands of cheering supporters amid post-debate polls showing Kerry was widely viewed as winning each one. "I'm proud of my record. My opponent seemed to want to avoid talking about his."
On the flight to Las Vegas from Arizona, Bush played down negative reviews of his debate performances.
"The pundits and the spinners — they all have their opinions, but there's only one opinion that matters, and that's the opinion of the American people on Nov. 2," he told reporters during a rare visit to the press cabin on Air Force One. "I feel great about where we are. My spirits are high. I'm enthusiastic about my chances."
Marc Racicot, Bush's campaign chairman, insisted that any advantage to Kerry from the debates would prove fleeting.
Assessing all the debates combined, Racicot said Kerry "did provide himself some temporary assistance with the first debate that got more leavened in the second debate, and then began to dissipate at a whatever unknown rate with last night's performance. I just think he was on his heels most of the night."
Democrats hail 'threepeat'
The Democratic Party was quick to publicize what it called a "threepeat," launching two videos Thursday morning mocking Bush at the Tempe debate.
"Exaggeration" shows Bush denying he ever said he wasn't worried about Osama bin Laden and then saying just that at a news conference. "What's So Funny?" shows Bush laughing when asked about uninsured Americans.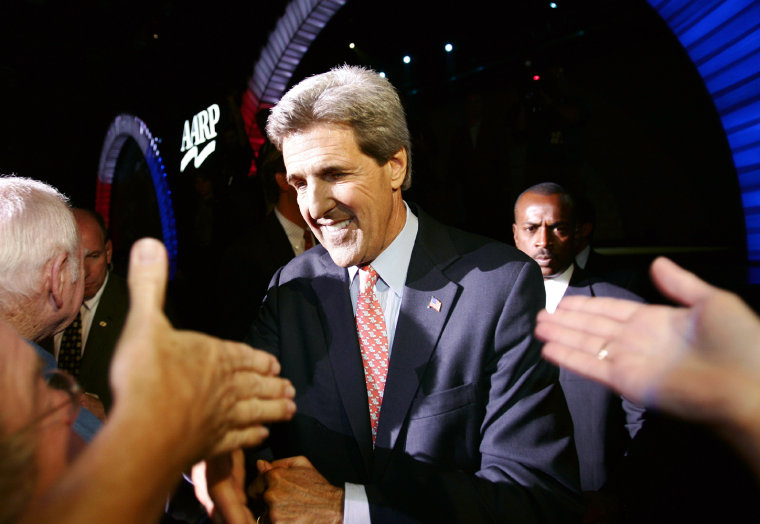 "They capture the essence of George Bush's four years in office. Four years of wrong choices which he won't even own up to," McAuliffe told reporters in a conference call.
Kerry also chose Nevada as the starting point for his dash to the end of the campaign trail, trying to tip the balance in a state where polls show the candidates are deadlocked. Nevada, a state with five electoral votes, is one of roughly a dozen still competitive in the final days of the race.

Kerry was addressing the Las Vegas convention for AARP, a lobbying group for people over 50 that was once known as the American Association of Retired Persons, before heading to Iowa for a rally in Des Moines.
Senator assails 'empty promises'
The four-term Massachusetts senator unleashed an attack on the Medicare legislation that Bush signed into law last year, saying it was "full of empty promises and special interest giveaways."

Kerry also faulted the prescription drug card benefit that took effect this year, a transition to a full overhaul of the Medicare program that he said does little to lower the cost of drugs.

"The truth is that after doing nothing to really lower the cost of prescription drugs for you, the president is now telling you that he solved the problem. Right. And those weapons of mass destruction are going to be found any day now," he said with sarcasm.

The organization of Americans 50 and older lent crucial support to controversial Medicare prescription drug legislation that Bush won from Congress a year ago. Kerry opposed the measure, and polls now show support for it lags among older Americans.
Bush decided to skip the convention, and first lady Laura Bush was taking his place. The president headed instead to a rally with Republican governors, also meeting in Las Vegas, before attending a rally in Reno. He was to finish his busy day at a rally at the Jackson County Fairgrounds in Oregon.
Nevada a critical battleground state
Recent polls show the race knotted in Nevada, a critical battleground state, reflecting a national race that also appears razor close.
Both sides were hoping the final debate Wednesday in Tempe, Ariz., would give their candidate momentum in the stretch run.
Bush, the Republican incumbent, and Kerry, the Democratic standard-bearer from Massachusetts, traded blows on taxes, gun control, abortion and jobs, striving in the final face-off in an effort to cement favorable impressions in voters' minds.
In Wednesday's debate at Arizona State University, Kerry cast himself as champion of the little guy and Bush the guardian of the wealthy, branding the president as reckless with the federal budget and with the use of American force. Bush labeled Kerry a carping liberal with questionable credibility, a do-nothing senator with an insatiable appetite for tax dollars.
Both men returned again and again to the question of federal spending and deficits, a subject that yielded one of their sharpest exchanges.
Sharp exchanges on economy
"You know, there's a mainstream in American politics, and you sit right on the far left bank," Bush said, charging that Kerry had voted to exceed budget ceilings 277 times.
"Being lectured by the president on fiscal responsibility is a little bit like Tony Soprano talking to me about law and order in this country," Kerry said. "This president has taken a $5.6 trillion surplus and turned it into deficits as far as the eye can see."
The debate ranged over virtually the entire landscape of domestic issues: jobs, the minimum wage, education, affirmative action, immigration, Social Security, health care, gay marriage.
It exposed deep differences.
Kerry said a hike in the minimum wage to $7 an hour is "long overdue," and blamed Republican congressional leadership for preventing a vote on it. Bush mentioned a Republican senator's minimum wage plan that he said he had supported.
On the assault weapons ban that expired last month, Kerry said it was a "failure of presidential leadership" that Bush had taken no concrete action to renew the law. Kerry said the law's expiration could help put more guns in the hands of terrorists and criminals. Bush said background checks at gun shows and vigorous enforcement of existing gun laws were the way to keep deadly weapons off the streets.
On affirmative action, Kerry said he opposes quotas but the nation has not moved far enough along to eliminate affirmative action. Bush also opposes quotas, but said he supports programs that help low- and middle-income families fund college, or small businesses get loans.
Kerry said he would not appoint judges who would overturn the Supreme Court's 1973 abortion rights decision of Roe v. Wade. Bush said he had no issue test for judges, and reiterated his support for the ban on so-called partial-birth abortion.
The last of the three debates offered fewer fireworks and more statistics than the two previous encounters, at times sounding like a dry dissertation on the bureaucracy. Each candidate threw out a dizzying array of figures and an alphabet soup of government acronyms.
Bush seemed to find his stride after two debates that most viewers and analysts thought he lost. He stifled most of the facial expressions that marred his first performance, ending each answer with a smile, though the camera occasionally captured him dropping it abruptly a few seconds later. After letting his voice rise to a shout during the second debate, Bush toned it down, speaking more softly.
Undecided voters were mixed in their response.
Pamela Russell, a 55-year-old undecided retiree from Detroit, said Kerry addressed issues dear to her — uneven quality of schools and abortion rights. "I was with Kerry most of the night," she said.
But Dennis West of Redondo Beach, Calif., a 32-year-old Republican who works in the defense industry, said he remained inclined toward Bush.
"I'm afraid the Democrat is a little too liberal and I could be looking for a job," West said. "This is the first time I've ever voted for my job."