Another computer/electronics show — just what the world needs, right? Despite the recent demise of Comdex and CeBIT America, today is opening day for Digital Life at New York City's Javits Center. And this one just might be a winner.
If this show is a success, it will be due to the smart move of opening it to the public: people interested in learning about and buying new computers, digital cameras, home networking, home theater, HDTVs and the like instead of the jaded journalists and disinterested industry wags who usually attend these functions. One observer described it as a kind of auto show for the electronics industry — held right before Christmas.
Digital Life, and the concurrent GameOn NY, a video game expo and tournament, run through this weekend. The $15 ticket price includes a 10-issue subscription to Sync magazine.
Everyday consumers aren't the only folks here, however; manufacturers seem to be taking this show seriously. In the past two days, I've attended a number of press-only previews where I've seen a number of cool new items debuting at the show.
Archos is a European company that makes portable media devices. Long before Apple's iPod popularized the idea, this company was the first to produce a MP3 music player with a hard drive inside. They've also been making portable video devices for years. Others now are trying to catch up.
So when I saw this little silver MP3 player (see photo at the top of the page), I assumed it held something like 128 MB or 256 MB — or at the most it had one of those tiny 2-5 GB hard drives inside. I was wrong, wrong and wrong.
Try 20 GB. The player is called the Gimini XS200 and Archos announced it here at the show. At 2.9" by 2.3" by 0.7" the device is smaller than an iPod Mini. With that 20 GB hard drive inside, Archos has produced a player that has four times the Mini's capacity for the same price: $249.  You do the math.
The XS200 has a 2-inch gray-scale display, a fast USB 2.0 connection for speedy downloads and works on both PCs and Macs.  It should be available by the end of the month.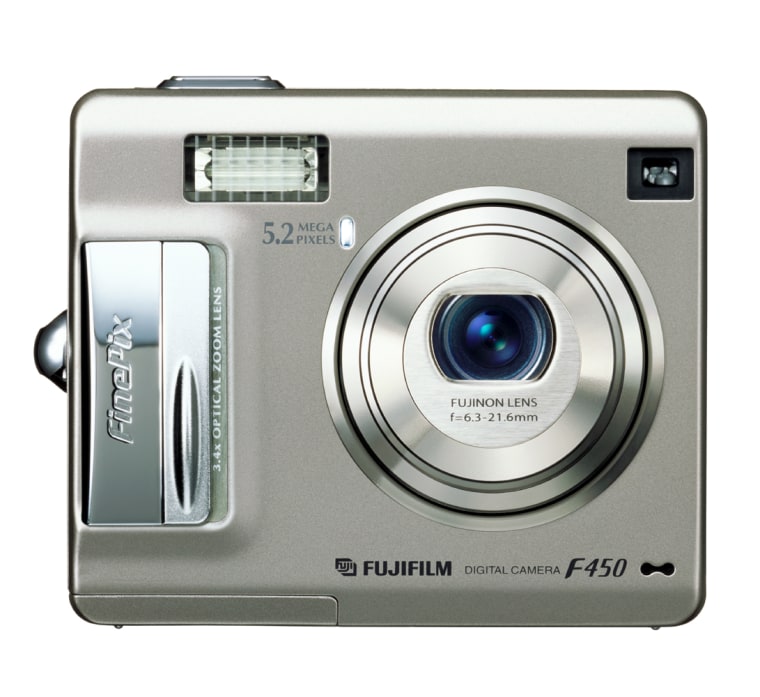 As for other things small and cute, the fine people at Fujifilm have come up with a pair of new, mini digital cameras of note: the FinePix F440 and 450. One's a 4.1 megapixel — the other is 5.2. 
Both share the same 5.3 ounce, 2.9" by 2.5" by 0.8" metal body, a 3.4 optical zoom lens (plus 3.6 digital zoom), a 2-inch LCD screen and both use Fuji's xD Picture mini storage card.  They're priced at $299.95 and $399.95 respectively.
Media centers
Toshiba was introducing their new Qosmio laptop with Windows Media Center 2005 software — and a 17-inch, wide format screen.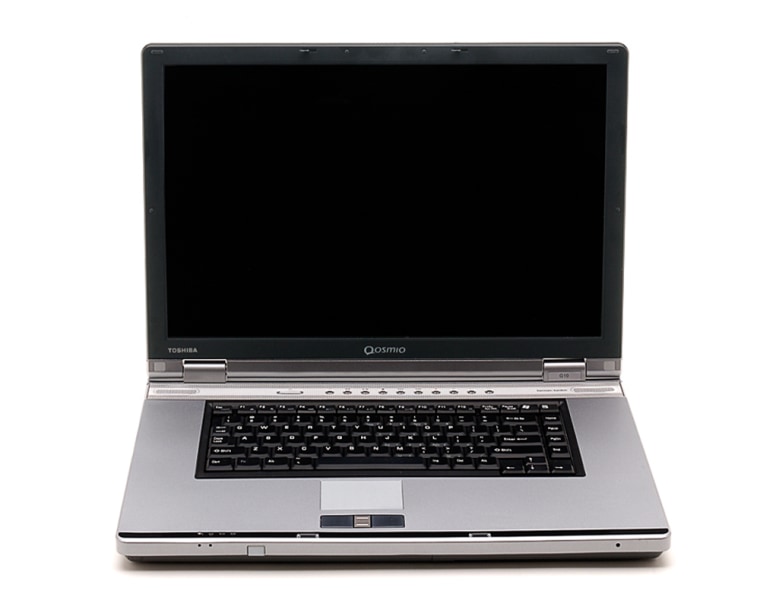 The Qosmio G15-AV501 is what Toshiba calls a "four-in-one" device, containing a computer which also functions as a DVD player, PVR (personal video recorder), TV and stereo.  The Qosmio F15-AV201 offers the same functionality with a 15.4-inch diagonal wide-screen display.
Both models run on a 1.8 GHz Pentium M processor, 512 MB of RAM, 802.11b and g wireless networking and accept SD, MMC Memory Stick and even Fuji, xD memory cards.  The 17-inch model also has enough physical room for two hard disk drives – with capacities up to 100 GB of storage. Prices run $2,599 for the F15 and $2,999 for the G15.
Speaking of media centers, Pinnacle was showing off their Media Center 100 solution as well.  Made to compete with Microsoft's new OS, Pinnacle's kits comes with the software and hardware needed to turn your Windows XP PC into a PVR to handle TV, photos, DVDs and CDs.
It comes in two versions, one with a TV tuner in an external box which connects via a USB 2.0 port (100e) and the other with the tuner on an internal PCI card (the 100i).   Each version retails for $129.99.
Helping with your final bid
As for new software, I thought Vcom's FinalBid looked interesting. This program goes into action in the last minute before an online auction closes, placing the lowest possible bid above the current price up to your pre-set maximum. FinalBid will continue to bid the smallest increment allowable, countering any other bidder within seconds. It even automatically connects to the Internet if your PC is offline.
I know half of the fun of online auctions is watching what happens in the last minute or so — but I sometimes bid on items being sold overseas — and that means waking up at insane hours to make sure I win. FinalBid will let me sleep through the night. I think that's worth $49.95.  Can't wait to try it.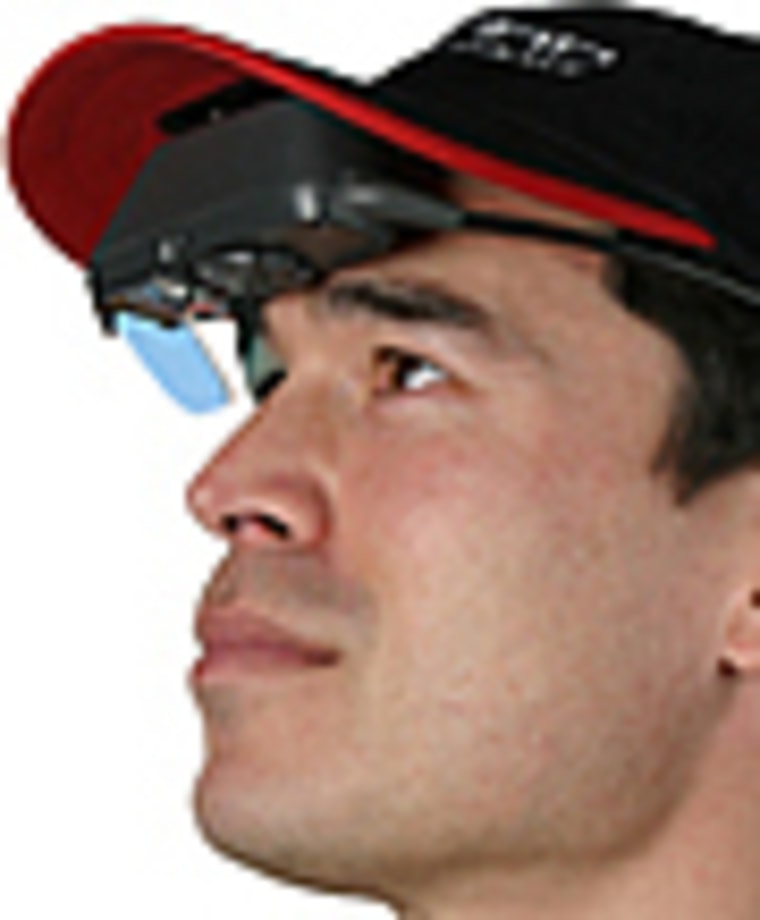 Interesting technology being displayed by the people from Microvision's Nomad Display Systems. Intended for both military and business use, Nomad is the world's only wireless wearable computer with a head-worn, head-up display.
When you put it on you see an amazingly sharp monochrome (in this case red) picture right in front on your face.  It could be contain still or moving pictures.  It could show soldiers a map or floor plan of a location they need to visit.  Or, it could show a car repair expert the layout under the hood while they're working on the vehicle – and then switch to a video of how to remove (or install) a particular part.  Very cool.
Games I remember
Finally, even though I leave reporting on new games to my colleague Tom Loftus I can mention an old game or two brought back to life.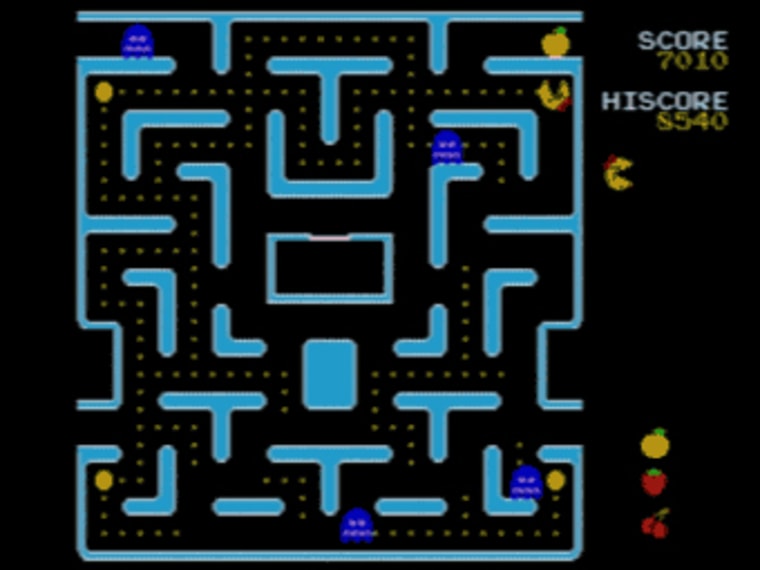 The people at Jakks Pacific have introduced a series of devices called TV Games.  They're simple devices the size of a hand-held joystick loaded with up to five games, some of them classic favorites.  Titles like Ms. Pac-Man, Galaga, Canyon Bomber, Street Racer, Super Breakout, Arcade Pong as well as Disney Games, SpongeBob SquarePants titles and World Poker Tour. 
The best part is that no console is needed — each self-contained device plugs directly into your TV. Price wise you can't beat 'em: $20 each — less than the price of a cartridge for some of those fancy boxes.