For 1st Lt. Taylor Biggs, the day usually begins in darkness. Last week, the Marine combat engineering officer was up by 4 a.m. and getting ready to lead one of the most hazardous missions for coalition forces. In military parlance, it's a logistics convoy; to the 1,000 Marines of the 2nd Battalion, 5th Marine Regiment, it's simply known as "Boxcar."    
"We pick up all the chow, water, fuel and necessities for each of the bases in town," Biggs said. "You can be ambushed at any time along the route. They can hit you with anything from AKs and RPGs, to roadside bombs." 
Driving the four-mile route through the heart of Ramadi to each of the three forward operating bases, or "firm" bases as the Marines call them, is far from routine.
The dangers of these logistics operations were underscored elsewhere in Iraq last week when a U.S. Army Reserve unit reportedly disobeyed orders to deliver fuel along a particularly dangerous road.
The 19 men and women from the 343rd Quartermaster Company refused to deliver the shipment from the Tallil Air Base near Nasiriyah to another base much farther north because they believed that the mission was too dangerous. The company commander was relieved of her duties, the military said Thursday.
Delivery of vital supplies
"This is definitely not a leisurely hop through town," Biggs said of the challenges in Ramadi, a city in the so-called Sunni Triangle, a nerve center of anti-U.S. insurgency. "We need to maintain a constant rate of speed; you definitely try not to slow down or stop."
As a combat engineer on his first combat tour, Biggs' usual job is clearing and laying explosives. But on this day, he led a 15-vehicle convoy that is the lifeline for Marines in the area.
"Anytime you're rolling down the road, it's dangerous because you're an open target just waiting to get hit," Biggs said. "When you're in a base, yeah, you get mortared, but the exposure is far less."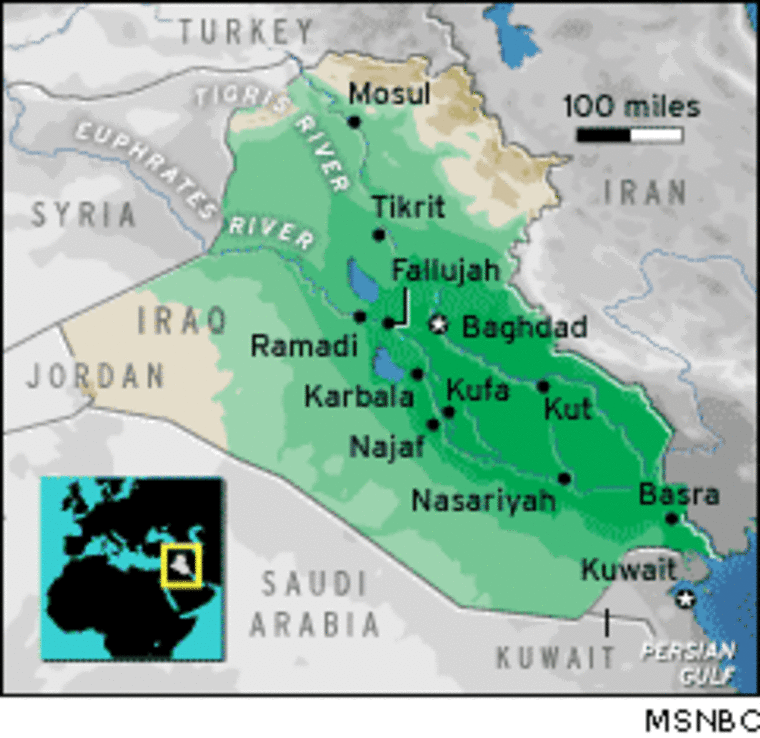 Despite the dangers of constant ambushes, Biggs and his men recognize the vital importance of undertaking and completing this particular mission.
"If we don't get this stuff out there, the Marines can't survive," he said. "It can get pretty intense if you're hit, but we've got enough firepower and Marines to take care of business."
Armored convoy
By daybreak, Biggs was taking inventory of his Marines and vehicles. Providing protection for the convoy would be five "gunships," armored humvees mounted with heavy machineguns and grenade launchers.
The rest of the convoy was made up of 7-ton trucks bearing the Marines' precious cargo. Each Marine checked his individual weapons consisting of an M-16A4 rifle and a 9-mm Beretta pistol. Body armor, Kevlar helmets and protective goggles were worn despite the stifling heat.
For  Biggs and his men, not being shot at is a rare occurrence.  "I've made 27 trips down this road so far and on 24 of those occasions I've been hit," Biggs said.
Each of his vehicles bore the scars of countless engagements. From armor plating pockmarked from shrapnel blasts to dents inflicted from AK rounds. The lead humvee's armored windscreen was a spider-web of broken glass.
"RPG round bounced off it the other day," Biggs said matter-of-factly.
No room for error
Before setting out, the young lieutenant gathered all the drivers and vehicle commanders for a quick brief on convoy procedures and route familiarization.
There could be no miscommunication on which turn to take or who does what during a firefight — it could be the difference between life and death. During the briefing, Biggs rattled off map grid coordinates and route names which all had cryptic "call-signs" to quickly identify the maze of streets and back alleys that crisscross Ramadi.
"I need you to understand, if you guys take hits — I need to be notified as soon as possible," said Biggs. "This is our standard convoy; we're going as fast as we can, but we don't want to lose anyone.  Remember to keep checking your rear mirrors."
Lastly, Biggs mentioned to his Marines the rules of engagement that must be adhered to in case of a firefight, "Make sure you have positive identification before you fire."
Sitting duck
The streets were narrow and jammed with traffic. Each building, rooftop and alleyway could be a hiding place for a sniper. While a few of the Iraqis smiled and waved, most greeted the Marines with a steely, hostile glare. 
"Come on man, move!" shouted the driver, a lance corporal.  He would try honking but the horn to his humvee wasn't working.
As traffic ground to a halt, Biggs realized his convoy was a sitting duck amidst the clogged roadway.  Through deafening car-horn blasts, Biggs barked out an order on his radio, "Jump the median." 
The entire convoy lumbered over the concrete center divider and drove toward oncoming traffic. The Iraqi drivers quickly moved off the road as the 2-ton humvees bristling with machine guns bore down on them.
"That is the worst situation to be in," said Biggs. "Stuck in traffic like that, you're just asking to be hit."
The Marines finally reach one of the "firm" bases. Like a professional NASCAR pit crew, the Marines off-loaded the palettes of food and supplies. They formed a human conveyor belt emptying the trucks in no time.
But Biggs was looking at his watch with a worried look on his face. "We're behind schedule — and we definitely do not want to be on the road when it's dark."
A radio call came in giving the lieutenant bad news. A car bomb had been found on their route and they would have to wait until the ordinance team cleared it out.
Biggs decided there was no time to waste. He pulled out his map, conferred with one of his senior sergeants, and planned an alternate route. 
As the convoy rolled out of the "firm" base, the Marines passed a sign posted at the gate, "Complacency Kills." 

"Some of the stuff I say sounds pretty basic, but it's important stuff," Biggs said. "You have to be meticulous and detail oriented all the time or people will die."