/ Source: The Associated Press
A U.S. Army helicopter flashes over insurgent-infested Iraq, flying fast and low. Instead of mounted weapons, this Black Hawk wears a red cross, identifying it as an ambulance but offering little protection to the medics inside.
As the four-member crew is the first to admit, picking up the wounded around Iraq can be a thankless task, involving great risk to the medics with little sense of accomplishment if the patient doesn't make it. And yet it is a job in high demand as insurgents battle U.S.-led forces.
"I wish no one got hurt down here, but unfortunately they do," said Sgt. Amos Ritter, a crew chief with the Army's 45th Medical Company.
Ritter is one of at least a dozen men and women in the company responsible for evacuating casualties in south-central Iraq. Based near the historic ruins of the ancient city of Babylon, they have three Black Hawks at their disposal.
Evacuating the wounded — including insurgents
The air ambulances alight at attack sites as well coalition-controlled landing zones to evacuate not just Americans and their allies, but also the insurgents they battle and civilians caught in the middle.
"I'm happy that wounded see us flying into these landing zones," said Ritter, 31, from Allentown, Pa. "Whether that comforts them is another thing."
The medics report a sharp climb in demand for their services, with insurgents' roadside bombs and ambushes increasingly targeting U.S. and coalition forces.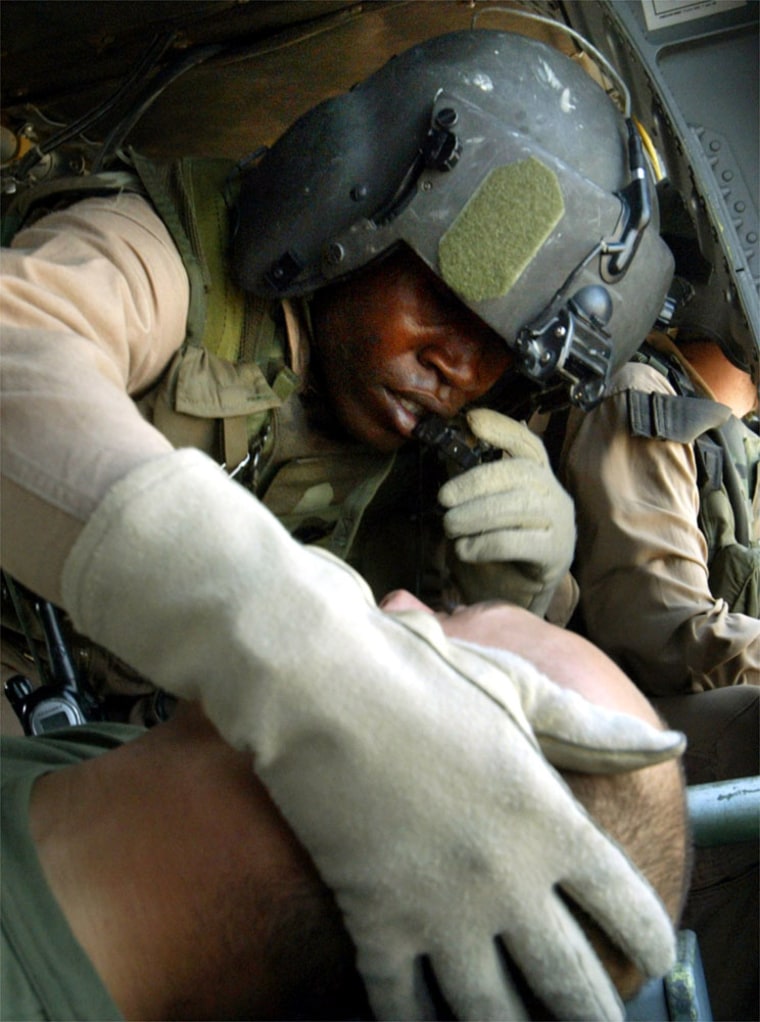 More than 8,000 Americans have been wounded since the U.S.-led March 2003 Iraq invasion, the Pentagon said this week. That is over double the number six months ago, when the insurgency suddenly accelerated. On April 5 the number wounded in action stood at 2,988.
The 45th ferries a steady flow of wounded to Iraq's main hospital, a U.S.-run facility in Baghdad's fortified Green Zone. The helicopters carry stretcher-borne patients as well as those able to walk.
The 45th rarely transports corpses, unless they pick them up at the attack site — to spare the deceased's comrades an agonizing trip back to base with the body.
The medics prefer not to know when a patient doesn't make it.
"We had a Romanian soldier we picked up under fire," said Chief Warrant Officer Joseph Carroll, a 35-year old pilot from Boulder, Colo.
"He was really bleeding bad. We came back to base and had lots of clean-up to do in the helicopter. We found out later he didn't make it."
'A body is a body'
Medical ethics dictate that everyone who boards the 45th's air ambulances gets the best treatment possible — even Iraqi insurgents hurt in firefights with coalition forces.
"A body is a body is a body. We just fix them," said Sgt. Rex Gates, 30, a medic from San Diego. "You just do what you need for the patient."
Not all injuries handled by the 45th are combat-related.
Some evacuations during one recent 48-hour period: U.S. soldier swallowed a retainer at chow hall; U.S. soldier hit in head with football; U.S. soldier struck by lightning; Polish soldier constipated.
"Last few days, we've had some weird ones," Carroll said.

But for the most part, the 45th's missions are deadly serious — and risky.

In April, Gates watched from his airship as a rebel-launched rocket-propelled grenade downed an Apache attack helicopter, killing a number of its crew.

One of the crews' greatest concerns is being targeted by a surface-to-air missile. The Black Hawks are equipped to foil heat-seeking or radar-homing missiles, but pilots take constant evasive action nonetheless.
Hazards of flying low
The Black Hawks fly at about 150 mph, staying low over the sandy scrublands and date groves to surprise would-be attackers.

The pilots often must pull up sharply to avoid flocks of birds or electrical wires, sending passengers' gizzards into their gullets.
On the ground, Iraqis can be seen waving.
"Some wave, some throw rocks and some kick their soccer balls at us," said Chief Warrant Officer Russ Toeller, 35, from Milwaukee.
The rescue Black Hawks frequently come under fire, despite the red crosses stenciled on the fuselage.
"At night, the Iraqis can't see the red cross," and tracer fire frequently crosses the Black Hawks, Gates said.
Also, Iraqis are less familiar with the red cross than the red crescent, the symbol Muslims use to indicate the non-combat status of a vehicle, he said.
While the medics carry pistols, their Black Hawks lack the heavy weapons of attack helicopters — and bullets often flash toward the aircraft.
"We get shot at a lot," Toeller said. "But we get missed a lot, too."