/ Source: The Associated Press
At least 78 people were suffocated or crushed to death after being arrested and packed into police trucks after a riot in southern Thailand, officials said Tuesday.
The announcement dramatically increased the death toll from the latest eruption of violence in Thailand's Muslim-dominated south. Officials had earlier said that six people were shot to death during clashes Monday at a police station in Narathiwat province.
Dr. Pornthip Rojanasunan, a forensics expert who works for the Justice Ministry, told a news conference Tuesday that she and a team of doctors conducted autopsies on 78 bodies at an army camp in Pattani province and found that most of them had perished from suffocation.
The dead were among some 1,300 people arrested Monday following the police station riot.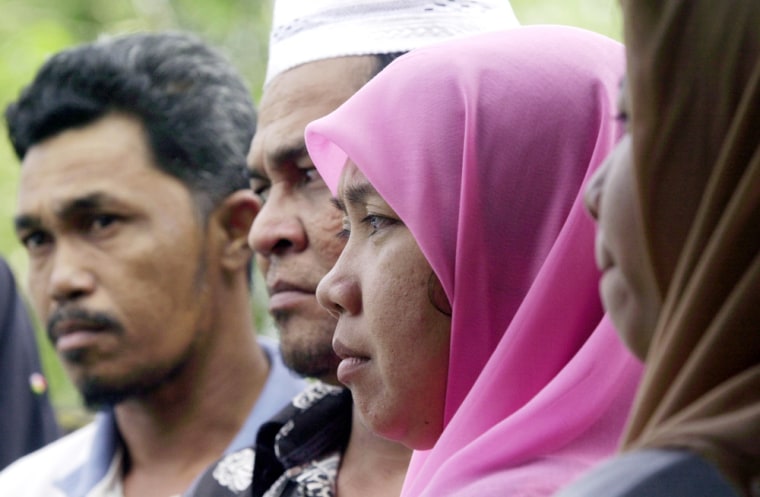 Maj. Gen. Sinchai Nujsathit, deputy commander of the fourth army, said the victims may have died from suffocation "because we had more than 1,300 people packed into the six-wheel trucks."
He did not say how many trucks were used.
Manit Suthaporn, deputy permanent secretary of the Justice Ministry, said the victims probably suffocated because they were piled on top of each other in the vehicles.
The violence erupted Monday when about 2,000 Muslim youths demonstrated outside a police station in Narathiwat's Takbai district to demand the release of six detained men.
Police and military forces tried to disperse the rowdy crowd with gunshots, water cannons and tear gas. Six people were killed and several injured in the melee, army commander Gen. Pisarn Wattanawongkhiri said Tuesday.